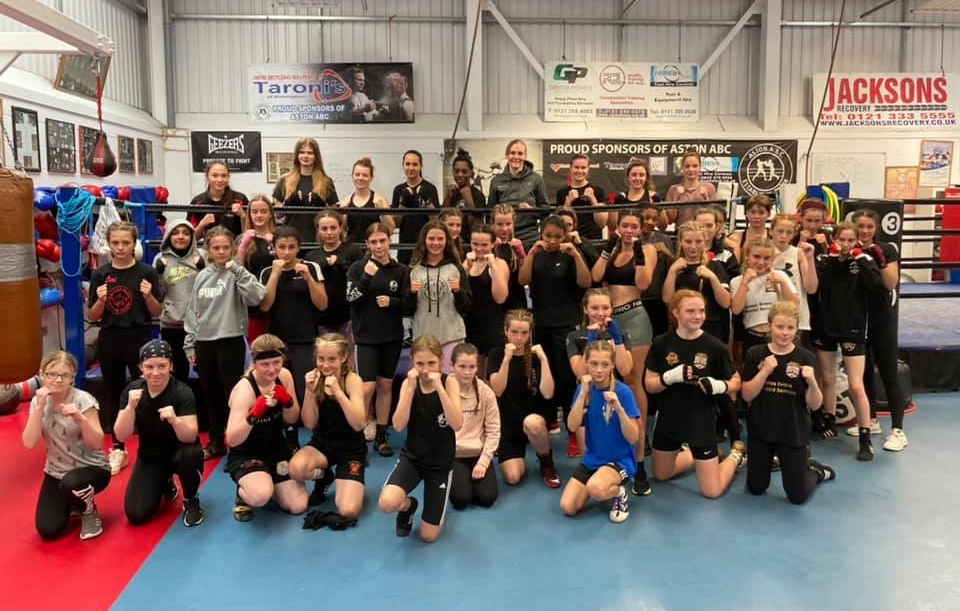 GB duo Davis and Willetts boost first Fight Like A Girl session since lockdown
August 24, 2021 | by Matt Halfpenny
The Midlands-based Fight Like a Girl (Flag) Squad has successfully staged its first gathering since before the Covid-19 lockdowns began in March 2020.
Sunday's activities (22nd August) were a resumption of the female-only session been running once a month at Aston ABC in Birmingham for the past five years, having been the collaborative brainchild of four Midlands clubs back in 2015.
Explaining how the squad came into being, John Homer, of Aston ABC, said: "Back in 2015 ourselves at Aston, along with, Stratford ABC, Priory Park ABC and Jewellery Quarter Boxing Club all had female boxers that were starting to make great advances on the national scene.
"The four club coaches got together and recognised that if we could create a platform where female boxers could meet regularly and enjoy training together and have the benefits of competitive sparring then it was very likely that they would all improve together as a group.
Since then, the squad has grown from strength to strength and now has a consistent attendance of up to 50 boxers.
Stratford coach and founder member Matt Pickering added: "The squad has developed hugely over the years and we have enjoyed tremendous success with the likes of Paige Goodyear (Brooklands ABC), Elise Glynn (Hall Green), Miriam Zouhou (Stratford), Ilana Ingram (Aston), Kelsey Oakley (Priory Park), Jess Barry (Christ the King), Georgia Keast (Tamworth) and Olivia Freeman (Jewellery Quarter).
"All have gone on to compete in, or win, a national finals and represent England on the International stage."
Sundays squad saw 48 boxers attending from a vast array of clubs all over the Midlands, with GB boxers Kerry Davis and Tori-Ellis Willetts dropped in and taking part in the session.
"The GB boxers were very welcomed by all the girls who see them both as inspirational figures in the field of female boxing," said Priory Park Head Coach Warren Davies.
"The importance of dedicated female squads and coaches who can work together to support its growth is a key element in the success of female boxing in the Midlands and nationally."
The Flag Squad is free of charge to all Midland female boxers and is made possible by the support of Aston ABC and the Maverick Stars Trust.
Anyone wishing to find out more can do so on the squad's Facebook page by clicking here.