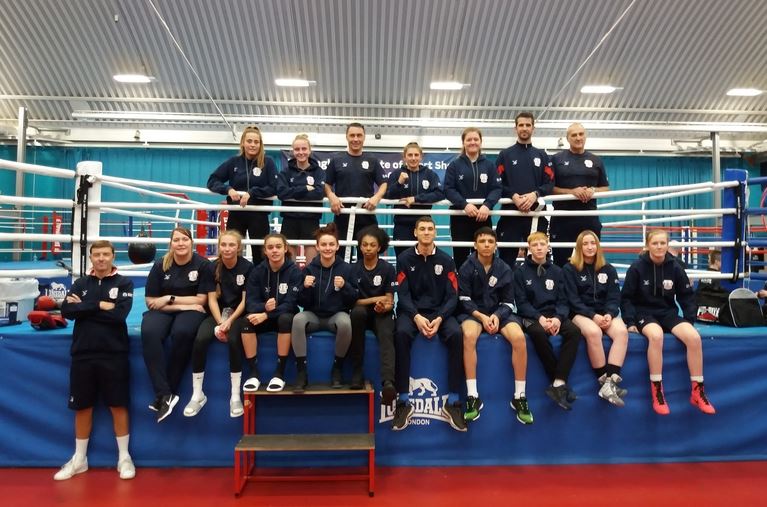 EUBC Junior European Boxing Championships 2018 – day 1 schedule
October 9, 2018 | by Matt Halfpenny
Our boxers have settled into their surroundings in Anapa and the draw concluded just an hour or so ago.
England has selected a strong team of 19 for this event, comprising of nine females and 10 males. Russia is always a challenging place for a young boxer to compete in, but it is a valuable experience as part of their journey and Mick Driscoll has ensured the team are well prepared for the challenges ahead.
The team is listed below:
Females
46kg Alex Brown, Newbiggin BC (Tyne & Wear)
48kg Megan Bainbridge, Brandon Boxing club  (Tyne & Wear)
50kg Holly Heffron, Heart of Portsmouth (Southern Counties)
52kg Courtney Scott, Hartlepool Headland (Tyne & Wear)
54kg Sameenah Toussaint, Northolt (London)
57kg Sacha Hickey, Fisher Downside (London)
60kg Danielle Marshall, Hartlepool Catholic (Tyne & Wear)
63kg Ciara Hodnett, Wildcard (Merseyside & Cheshire)
80kg Emily Asquith, Bridlington BC (Yorkshire)
Males
46kg Jack Dryden, Birtley (Tyne & Wear)
48kg Joe McGrail, Everton Red Triangle (Merseyside & Cheshire)
50kg Charlie Hickford, Bodyshots (London)
52kg Billy Adams, Dagenham (London)
54kg Ellis Price, Hunslet (Yorkshire)
57kg Junaid Bostan, Steel City (Yorkshire)
60kg Adam Azim, Pinewood Starr (Home Counties)
63kg George Bance, Atherstone (Midlands)
75kg Tommy Dixon, Attleborough (Eastern Counties)
80+kg William Howe, Phil Thomas SOB (Tyne & Wear)
Mick is leading the team of coaches of Ivan Cobb, Vicky Connor, Adam Haniver and Mark Collings with Martin Webb as Team Manager. Tony Kennelly and Giorgio Brugnoli will be representing England amongst the team of officials in their respective roles.
The draw for our boxers see their first bouts in today's preliminaries as follows:
Today – all 6pm session (4pm UK time)
52kg Courtney Scott v Antonia Giannakopoulou (Greece) – Ring B, bout 2
52kg Billy Adams v Giorgi Sajaia (Georgia) – Ring B, bout 7
57kg Sacha Hickey v Zeynab Rahimova (Azerbaijan) – Ring A, bout 8
Details of the stream have not yet been released formally but it looks like the bouts will be streamed here (https://www.youtube.com/watch?v=Mh8iIE-VpfU)