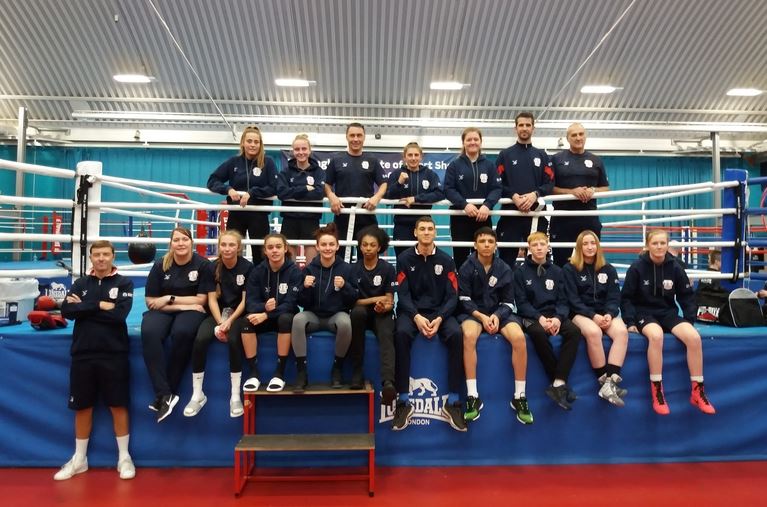 EUBC Junior European Boxing Championships 2018 – day 2 results and day 3 schedule
October 11, 2018 | by Matt Halfpenny
All six boxers won their bouts yesterday with some great individual performances put in. Today is a very busy day for the team, with nine in action.
46kg Jack Dryden v Victor Serbov (Moldova) – won 5:0
A relentless stream of shots forced a standing eight count at the end of the first round that proved a real statement of intent by the determined English boxer.  Jack continued his impressive momentum in the following two sessions to move into the next round.
48kg Joe McGrail v Simonas Liesinas  (Lithuanian) – won 5:0
A classy performance from Joe who showed to suggest he can go all the way in these championships. Neat overhand rights caught the eye on more the one occasion as Joe eased into the quarterfinals.
54kg Ellis Price v Vitalle Prisacaru (Moldova) – won 5:0
Ellis oozed confidence as his outstanding hand speed and pin point shot accuracy ensured he won the day.
63kg George Bance v Alexandru Viorel Bader  (Romania) – won 4:1
George's hooking style paid dividends against a tall Romanian.  George closed the rounds the stronger to book his place in the next round.
50kg Charlie Hickford v Allaksandr Kareuski  (Belarus) – won 5:0
Charlie showed plenty of maturity and intelligence as he refused to be drawn into a brawl.  The English boxers neater skills saw him home.
52kg Billy Adams v Davit Yegoryan (Armenia) – won 4:1
Billy engaged in his second contest in as many days and increased confidence was evident to all.  A sharp left hand cross forced a standing eight count in the second paving the way to his second victory of the championships.
Today's programme is as follows:
2pm session (12pm UK time)
48kg Megan Bainbridge v Iryna Vinahradava – Ring B, bout 1
50kg Holly Heffron v Viktorija Silke (Latvia) – Ring A, bout 3
80kg Emily Asquith v Sena Kosaoglis (Turkey) – Ring B, bout 7
57kg Junaid Bostan v Bendeguz Szigetvari (Hungary) – Ring A, bout 10
54kg Ellis Price v Stefan Camovic (Serbia) – Ring B, bout 11
6pm session (4pm UK time)
52kg Courtney Scott v Niamh Fay (Ireland) – Ring B, bout 2
54kg Sameenah Toussaint v Maria Vanconetti  (Italy) – Ring A, bout 3
60kg Adam Azim v Paddy Murphy  (Wales) – Ring A, bout 6
63kg George Bance v Elmir Novruzov (Azerbaijan) – Ring B, bout 12
The links to the live stream will be on the EUBC website closer to the session start times http://www.eubcboxing.org/