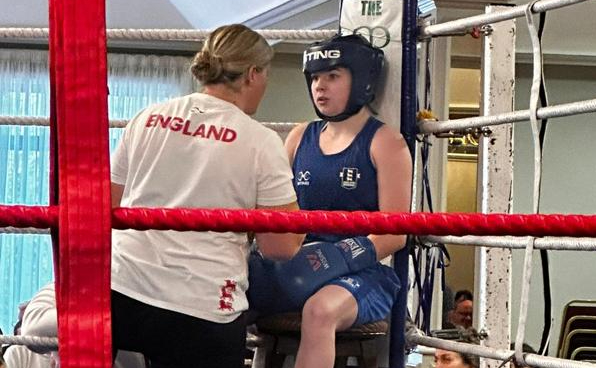 England Youth squad for BoxAm tournament confirmed
April 25, 2023 | by Matt Halfpenny
England Boxing can now confirm the team of Youth boxers who will travel to compete in the BoxAm Tournament in Spain from 15th to 21st May.
The squad will meet up on Saturday 13th May in Warrington for a two-day final prep camp.
They will then travel out to Alicante on Monday 15th May and the official draw will be made later that day.
Preliminary bouts will be staged on 16th and 17th May and the quarter-finals, semi-finals and finals on 18th, 19th and 20th May, before the team return home on 21st May.
The competition venue is Pabellon Muixara in La Nucia – the venue used for last year's Youth World Championships.
England squad
Female
48kg – Ebony Jones, Scunthorpe, East Midlands; 50kg – Alice Pumphrey, The Purge, Yorkshire (pictured above); 52kg – Lauren Mackie, Burton Park, East Midlands; 60kg – Monae Smith, Jennings, North West; 66kg – Amy Nolan, Right Stuff, Midlands; 70kg – Lilly Deacon, Platinum, Yorkshire; 81kg – Amber Moss-Birch, Golden Ring, Southern Counties.
Male
48kg – John Tom Varey, Box Smart Elite, Midlands; 51kg – Joe Turner, Jennings, North West; 54kg – Owen Ketley,  Lionheart, Yorkshire; 57kg – Denaeo George, City of Leicester Lightning, Midlands; 60kg – Hamilton Joyce, Camp Detox, Yorkshire; 67kg – Ellis Panter, Burton Park, East Midlands;  75kg – Emmanuel Buttigieg, Newham, London; 86kg – Conor McCormack, Panthers, Southern Counties; Over 92kg – Leon Hughes, Larches and Savick, North West.
Staff
Lead Coach – Amanda Coulson; coaches – Mick Maguire, Laura Sargeant, Phil Knight, Dave Johnston.