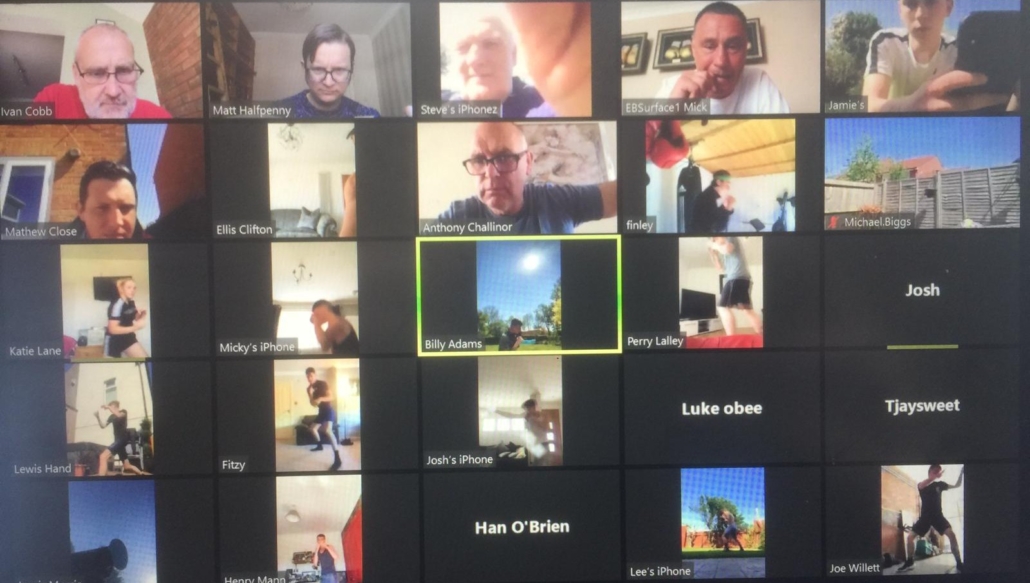 DiSE Zoom training session goes nationwide
April 22, 2020 | by Matt Halfpenny
The DISE weekly online training session has been expanded to incorporate students from all six centres across the country.
Accessed via the Zoom conferencing app every Wednesday, the pilot sessions in the opening weeks had only been used by those based at the University College, Birmingham and Greater Brighton Metropolitan College hubs.
Now that invitation has been broadened out to also include Gateshead College, the Joe Gallagher Academy (Manchester), Spotlight (London) and SGS College (Bristol).
The sessions are led by England Performance Coach Mick Driscoll and England Assistant Coach Ivan Cobb, but the five Head Coaches who were available from those six centres were on the Zoom call this week to help out by giving advice and feedback.
Each session is split into three parts – shadow boxing drills, conditioning and a themed talk.
A different Head Coach from each centre will lead on each of these parts in the coming weeks on a rotational basis.
Driscoll was pleased with how the first, newly-expanded session was received and hopes they will become even more useful to boxers in the coming weeks.
"It's fantastic to see so many DiSE boxers keen to continue their learning, despite the lockdown, by joining in with these sessions," he said.
"Everyone would love to be in their respective gyms, but this is the next best thing and helps to keep the boxers sharp, as well as enables them to get some valuable feedback from the coaches."
The two-year DiSE programme is aimed at teenage boxers who have the realistic potential to achieve excellence in boxing, but who are keen to continue their education at the same time.
It aspiring elite boxers aged 16 to 19 to train full-time in boxing while gaining qualifications that can benefit them outside of the ring.
If you require further details as a potential student or parent, contact, in the first instance, adam.haniver@gbmc.ac.uk. You can also find out more here.