Boxer profile on Tom Welland: responding to setbacks to an international call and line up NACs shot
February 25, 2003 | by Matt Halfpenny
Promising Hoddesdon boxer Tom Welland gives an overview of his last year of training and how his career has progressed to date.
He explains how he has responded to setbacks to win a first Three Lions call and put himself in a great frame of mind for the upcoming England Boxing National Amateur Championships.
Following on from this piece being put together, the teenager has announced he will be bidding to qualify for the Paris 2024 Olympics by joining the Philippines national squad.
xxxxx
"After not getting selected for the World Championships (which took place in Spain in November last year) my coach Sab (Leo) and I decided that we would go and get top international experience.
"First I boxed Harris Zaman on 8th October in the UK, then we went to Denmark where, as well as others I beat the Danish number one Elias Faour unanimously.
"Ultimately, I ended up winning the HSK Cup Box Cup (a long-standing and well-established tournament in Denmark). We then went to Sweden where I won the King of the Ring tournament in the Youth category, being given the Prince of the Ring trophy.
"Following that, I returned to the UK and competed in the NAGBCs tournament and managed to win that as well.
"Next, I went off to Ireland and I beat a four-time Irish champion in the lead up to Christmas, meaning I had boxed in nine bouts in 10 weeks in four countries.
"Earlier this month I then went back to Sweden for a round-robin to get senior experience, having moved up from Youth level (from headguards to no headguards).
"In my first senior bout I knocked out Alvin Warukaga who was 24 and had 47 fights, which was a real confidence booster.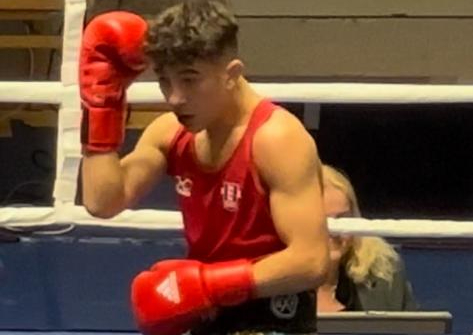 "I had three bouts that weekend, the last of which was Nabril Ibrhim, who had stopped GB boxer Niall Farrell in the second round of the Europeans last May.
"I gave him a count in the first round and comfortably beat him unanimously. He is 22 and that was his 107th bout, so another big win for me.
"Last weekend, was another success to add to those I have had in the last few months.
"Owain Harris, who is well known for winning a Commonwealth Games bronze medal in Birmingham last summer was my opponent on his home turf in Cardiff.
"I boxed really well to secure a unanimous points victory and help Team England to an overall 7-5 win in an international duel. Making my England debut was a great feeling – to fly the flag was a bit surreal. People had told me all about it, but it was still a special feeling.
"That win means I have now had an unbeaten run of 15 bouts against top-class opposition, with nine of those being against international boxers.
"Sab has been a massive help and I don't think I would be at the point in my career where I am now without him. He has arranged everything for me to go away and get this experience and it is on the back of that that I have got an England call.
"I was at West Ham and came to Hoddesdon when I was at the same weight as Frankie Wood going into the Youths last year and we were both national champions at Youth Cadet.
"They decided to put him in instead of me, which was fair enough, but that's what prompted the move to Hoddesdon and I have never looked back.
"I have definitely found another level over the past few months and that is because I have been working hard – and, importantly, doing the right work. You have to be prepared to pick holes in your own game.
"I have been on weight pretty much this whole team and hardly had any time off. I've been training two sometimes three times a day and that has paid off.
"Now I'm looking forward to entering this year's England Boxing National Amateur Championships, with the regional stages in March and then, hopefully, the national stages in April.
It's been a great few months for me, but it is just the start. I'm quietly confident going into the nationals at Senior level, but there will be others who have won national championships, so I know it won't be easy.
"I'll just have to give it a good go and see how I come out."