Coulson: record 45 medals in a year is 'incredible'
November 28, 2022 | by Matt Halfpenny
A Team England record haul of 45 medals in a calendar year from major international championships is an 'incredible' achievement, says Lead National Coach Amanda Coulson.
The Three Lions collected seven medals at the IBA Youth World Championships in La Nucia, Spain, which finished on Saturday.
It follows hugely successful European Championship campaigns at the Youths (seven medals), Schools (18 medals) and Juniors (11 medals).
The England Performance Pathway also oversaw two bronze medals in England colours at the European Under 22 Championships for Sameenah Toussaint and Olivia Holmes.
"Winning a record seven medals at the Youth Worlds was a brilliant way to end what has been a superb year all-round for us… it's been an incredible achievement," said Coulson.
'Dream stats'
"They are dream stats to be honest. You don't think when you set out at the start of the year that you are going to be able to achieve anything like that.
"When we won our previous best of 34 medals (38 if you count the Youth Olympics in the total too, although those boxers were actually boxing for GB), we were absolutely elated and wondered how we were ever going to beat it.
"To go and smash it, not just beat it, is very satisfying for everyone concerned. It seems impossible that we will ever beat this mark, but we will certainly give it a go and continue to improve our processes and strive for ways to improve.
"What is all the more remarkable is that it has been achieved against the backdrop of a first year back after Covid and the lack of actual competition that was a result.
"Clubs still opened when they could, held outdoor sessions at times and also ran online sessions for their membership, while some boxers took it upon themselves to do their own fitness work and join in the Strava competition England Boxing ran.
"But the fact was that competitive bouts and competitions were suspended for a significant period of time that didn't happen in some other countries, so to come back after that lack of competitive activity is a huge credit to the boxers who have been selected, and everyone involved."
'Fantastic club structure'
As ever, Coulson was quick to pay tribute to the input of clubs and coaches at grass roots level, as they continue to produce the conveyor belt of raw talent from which Team England squads are then selected.
She added: "I think what we have achieved is, ultimately, a testament to the fantastic structure we have in place at club level.
"There are almost 1,000 clubs across the country in all regions who are doing an amazing job at getting young kids off the streets, teaching them discipline and skills and developing the talent that young people have.
"It's the club coaches that volunteer their time and open their gyms night after night who put in all the hard work so that there are some very good boxers that come through on the Talent Pathway that we can then help prepare ready for international level.
"It's also the clubs who are always willing to provide the boxers for sparring bouts that help give those selected for England that extra edge ahead of competitions. I'd also like to thank Wales for their assistance by bringing across boxers to spar as well.
"Also very important are the Team England staff who go out to tournaments, and those who went to the Youth Worlds are no different. If there are the right people in the right roles, then it helps things run smoothly and gives the boxers the best possible preparation for when they step into the ring."
'Everyone should take pleasure'
Head of Performance, Chris Connelly, added: "I was fortunate enough to travel out to Spain for the competition and witness first-hand the extraordinary achievements of the team seven medals at world level truly is incredible, and will take some beating.
"All the boxers out there performed excellently and can be proud of the success. Everyone involved in the boxers' journeys should also take pleasure – from the club coaches and parents to the Team England coaches and staff who worked tirelessly out in Spain.
This caps a fantastic year in terms of major competition success and further reiterates England Boxing's standing on the world stage. It really is an exciting time for England Boxing."
Youth World Championships in review
Coulson has been 'very impressed' with all 12 boxers who flew out to Spain to compete on the biggest stage in Youth boxing.
The cohort achieved her pre-tournament hope of half the squad medalling, with seven of those selected coming home with a medal.
Amber Moss-Birch
"It's a great achievement for her to win a World title, having won a European bronze medal at a lower weight in April, which wasn't necessarily right for her.
"I knew she always had the technical and tactical ability to do well, but moving up a weight allowed her not to worry about that side of things and just focus on her boxing.
"We've also worked with her on having confidence and believing in herself, which she got right – and it showed in the ring. She boxed very well throughout the tournament and was a worthy winner of a gold medal.
"It really helped her have Emily Asquith (European Youth Champion in 2019) to spar regularly, so we'd like to thank Emily for her help.
"Amber's got another year to go at this and it will be interesting to see where she can go from here, but I have already warned her that she will now be a target for others, so she will have to continue to show the kind of application that has got her here in the first place."
Enriko Itauma
"Enriko was the favourite going to the tournament in everyone's eyes, which can help, but it can also hinder as well because of the pressure to deliver and the weight of expectation.
"But he has handled it admirably and was able to raise his game when was needed, just as the challenge got tougher from what we saw at the Europeans in April.
"His opponents certainly boxed like they didn't have the same level of fear and they had done their homework on how they thought they might be able to beat him.
""The German he boxed, for instance, was very awkward and tried to make it difficult for Enriko and certainly pushed him a lot more.
"But in that bout, just like in the others, his speed and power showed and he pulled out the performances to show he was a worthy World champion.
"Again, it has been difficult for him in that he has struggled to get sparring partners and I don't think he has had any competition domestically since winning the Juniors.
"But he wanted the World title to go with the Europeans, so he has done very well to maintain his motivation and focus to do that.
"I think he is the first boxer I can recall from England who has won the Schools, Juniors and Youth Europeans and then then the Youth Worlds, so it's a fantastic achievement from him."
Damar Thomas
"It was a great final between two very good boxers and it was a superb effort from Damar, who should be very proud of himself and how he boxed.
"He probably didn't feel that way straight after the bout and might still not do now, but the more he talks to people in the coming days, the more he will realise just how well he has done.
"He only started boxing three-and-a-half years ago, so the level of progression we have seen during that time is enormous.
"He won the first round unanimously and lost the second round by the same margin, so it was all down to the final round and I thought he may have done enough, but he was boxing a top-class opponent, who is from one of the most renowned boxing nations in the world, so we knew it was going to be tough.
"At some point, Damar was always going to get an opponent who was going to get some time at mid and short range, but he coped with it well and still got in his scoring shots and took it back to longer range, but it just wasn't enough.
"It's exciting to see what the future is going to hold for him."
Lauren Mackie
"I think Lauren had to box five bouts during the tournament and she was amazing throughout.
"We had no complaints about the result in the final where she came up a bit short, but the exciting thing is that she is one of the youngest boxers in it, still only 16, and is learning all the time.
"She won the European silver in April and has followed it up with a silver in the worlds, yet there is still so much that we can work on with her.
"She is not the finished article by any means and I am sure she will have the goal of coming back next year to win a European gold.
"When age and experience were against her, she boxed so well and I am super-proud of her. She always adding to her game and she just needs to keep that mindset of improvement."
Nelson Birchall
"I'm really proud of Nelson because he came good and peaked at the right time.
"He had arguably the toughest task at the selection camp because there were six other boxers in there with him competing for the spot, but he has justified his selection and showed we went for the right person.
"What he did so well was be able to adapt to the different style of boxers he faced and he produced his best when he needed it.
"It was fantastic to be in his corner and see him use his skills to nullify the threat of his opponents.
"He had to be really disciplined in the build-up and eat the right things, but he did what he needed to do to make sure he was ready.
"He probably gave the Armenian who beat him in the semi-final and went on to win the world title the hardest bout he faced in the tournament."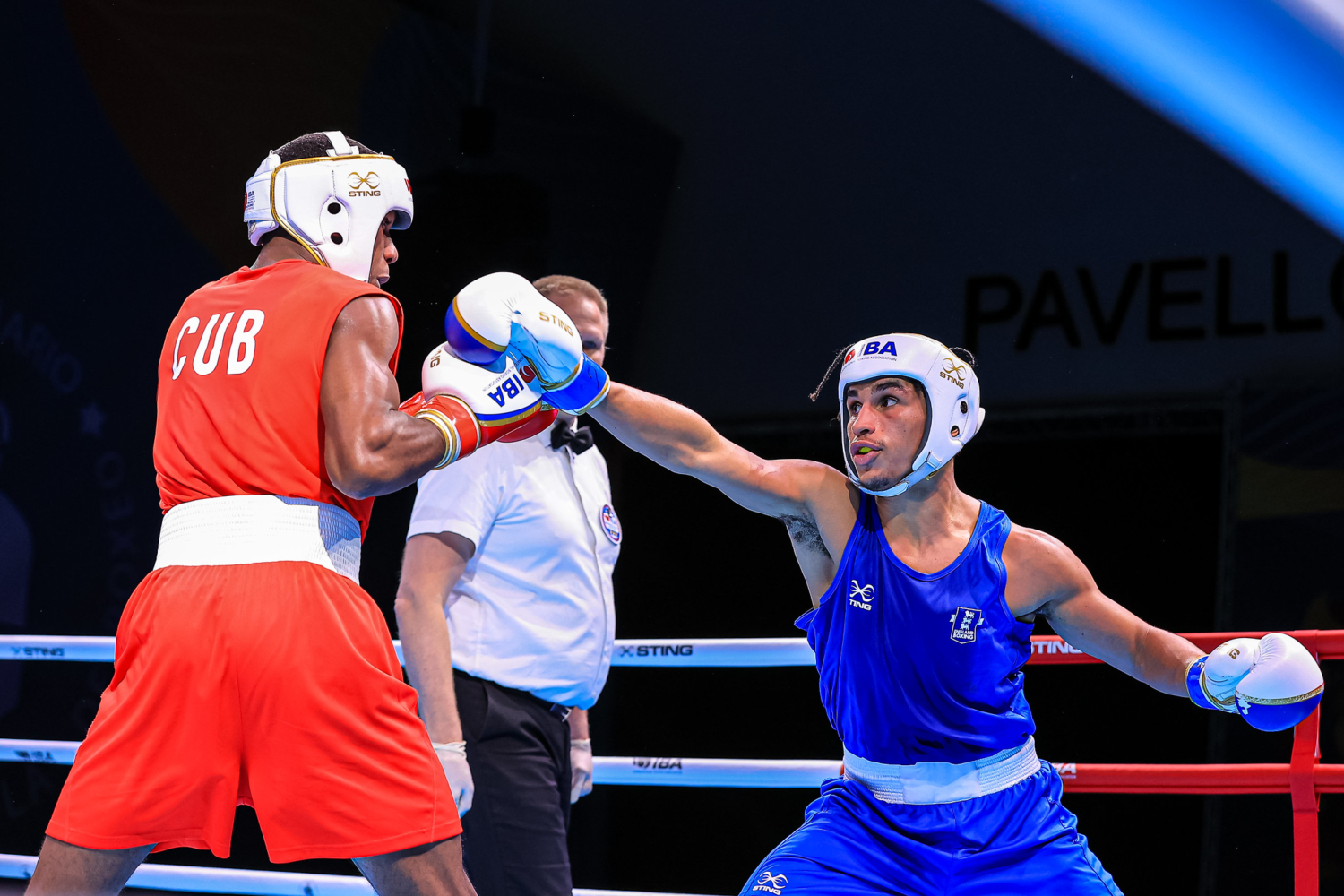 Levi Barnes
"The other part of the Jennings Gym 'double bubble', you have to remember that it was Levi's first ever major tournament.
"But, boy, he didn't hold anything back and he confused the life out of his opposition with his unorthodox style.
"That may not be for everyone, but we didn't want to change it because that was what made it so difficult for his opponents, who couldn't read him.
"His best performance was in 'out-Cubaning' the Cuban boxer. He came up just short against the Uzbek boxer, but it was very close and if he had done a little bit more he could maybe have won it.
"He was thoroughly deserving of a medal and did his country proud, especially had a tough lead-in with a cut on his eye and then his lip which prevented him sparring for much of the lead-up.
"To then be able to turn it on when he needed to in the competition shows what a talent he is."
Emily Whitworth
"Of course we are disappointed that Emily couldn't box in her semi-final, but to win a bronze medal is a terrific achievement in its own right.
"It was touch and go whether she would box in the semi, but our overriding concern was her health, that always comes first,  and matters more than boxing.
"Up until that point Emily had boxed really well and showed she could compete at that level despite moving up from Under 54kg to Under 57kg, having won the Europeans at the lower weight in April.
"She has another year at this level, so she will have the chance to try and win the Europeans at the higher weight."
Jayne Bardauskas
"Jayne had the tournament of her life, boxed really well and could consider herself very lucky not to win her quarter-final and come away with a bronze medal.
"It was one of those unfortunate circumstances where she actually won two of the three rounds, but lost the bout overall on the judge scorecards.
"She did very well in stopping the Irish girl in her previous bout and really bought into what we were trying to do with her."
Ebony Jones
"It was brilliant to see Ebony come through her opening bout, finding a way to beat the German girl who had twice beaten her before.
"But she was undone by the reigning European champion who went on to become world champion, so there was no disgrace in that.
"Ebony pushed her all the way and she was still coming forward trying to land her scoring shots right up until the final bell.
"She is another one who is a year young and will be trying to get a medal next time, but for now she can be happy to know that she is effectively fifth in the world."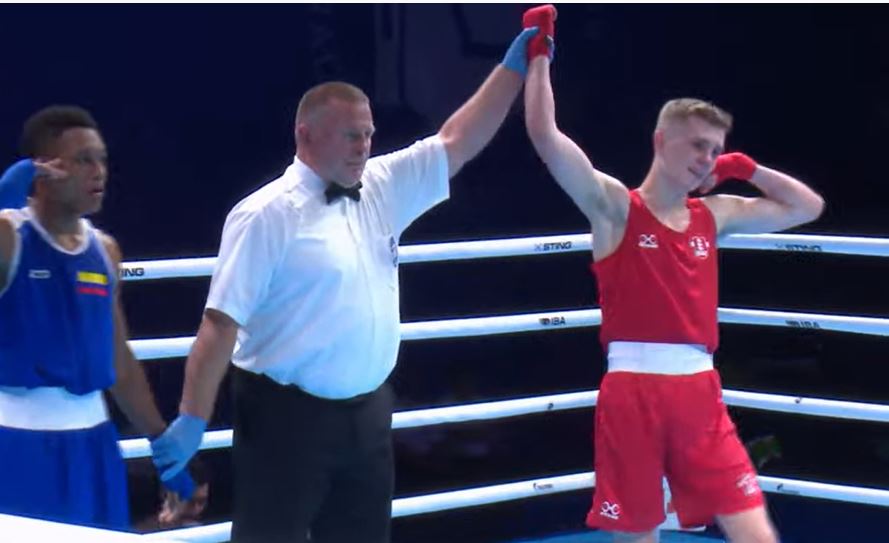 Owen Ketley
"It was disappointing from Owen, who went as European champion and one of our leading medal hopes, but I know he will come back from this stronger.
"He came through his first bout well, but he just didn't perform as well as he can do against a boxer he has twice beaten before.
"Both those bouts, though, were not easy ones, so it was always going to be tough and unfortunately he wasn't quite on his A game.
"The thing Owen has going for him is that he is technically a very good boxer and he still has another year at this level.
"He will benefit from a bit of a rest and then I am sure he will be back next year, and back to his best, having had a great year by winning the Europeans."
Osama Mohamed
"There were more competitors (44) in Osama's weight category than any other, so it was a very difficult category from the start.
"He boxed very well in the four bouts he had and looked very much at home in that high-level tournament environment.
"His quarter-final was against a very good Georgian who knocked him out of the semi-final of the Europeans.
"We knew he had fast hands and was awkward to box as a southpaw and had worked on that, but it was not quite to be.
"Osama is very professional and does everything well. He's very strong and going to be a good boxer at Elite level."
Frank Wood
"Frank only got one bout at these worlds, which is a big shame because the amount he has improved since he boxed at the Europeans in huge.
"He has gone away and looked at the things he needed to work on and done it. He has really developed.
"The bout he lost was unfortunate in that it could have gone either way and it went the other way on review.
"He's got a lot of potential and promise after knuckling down and putting in the work and then putting it into practice.
"He fell just short, but he can be very proud of the way he prepared and competed."