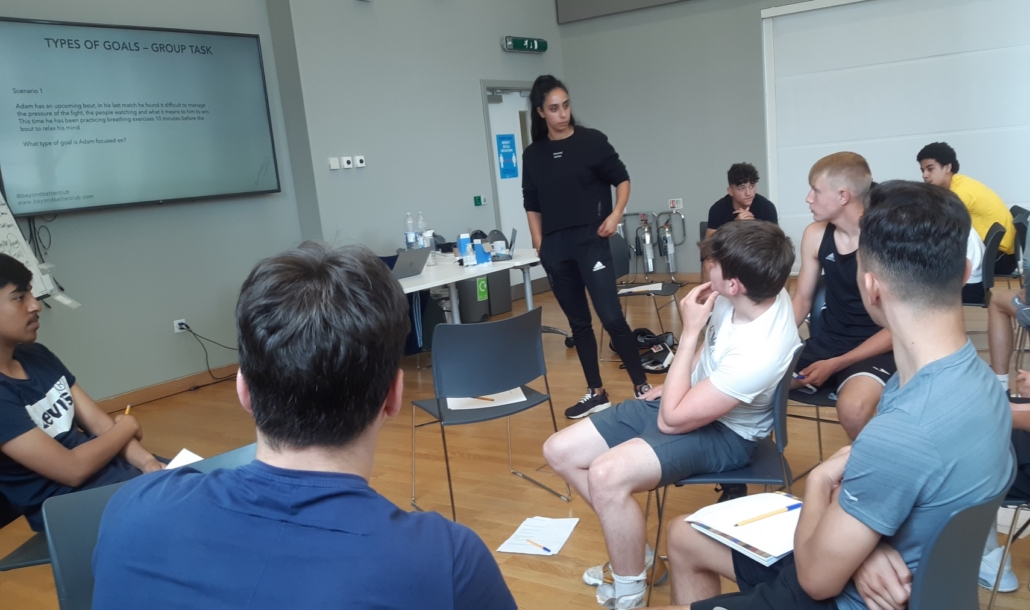 Spotlight London DISE ends school year on a high
July 16, 2021 | by Matt Halfpenny
A pair of special guests ensured the 2020-21 school year ended on a high for Spotlight London's DiSE boxers.
After a challenging year, those who have persevered through the Coronavirus Pandemic were rewarded with a day of expert tuition from sports psychologist Natasha Bains and England Development Coach Q Shillingford.
It was a great way to end the school year," said DiSE London lead coach, Mark Collings. "The gym was packed with young boxers who were totally engaged and 100% switched on for a fantastic learning session led by Natasha and Q."
" Q was brilliant, as always, bringing some great energy to the session and Natasha had the group totally absorbed during the hour she ran her session on the realities and importance of goal setting in sport and in life."
"At Spotlight, we are very lucky to have access to some top class expertise, which is a massive asset and hugely beneficial to the student boxers on the course.
"Natasha and various experts in their field come in three or four times a year to give expert tuition on all aspects of preparing to excel at an elite level. It helps those boxers who have aspirations to gain a GB spot, but it also gives those who have more modest ambitions some amazing information that can be used in all aspects of their young lives.
"That comes by having the ability to organise yourself properly, set realistic goals, put in place the building blocks to succeed…all great life lessons."
The Level 3 Diploma in Sporting Excellence (DiSE) qualification supports talented and committed young athletes who have realistic potential to be high achievers in their sport.
It is the officially-endorsed boxing education programme supported and recognised by England Boxing, with six hubs around the country.
With a value of 64 UCAS points, it combines boxing and full-time education so participants have the skills, knowledge and competence to pursue sporting excellence alongside education and a future career.
"It was a very good way to end the term," said DiSE student Tom Welland of West Ham Boys Club. "For a young boxer like myself who is looking to get onto GB in the coming years, it's really important to have access to England coaches with international knowledge and expertise from all areas of our sport.
"Natasha's session was particularly good and I'm looking forward to her running more sessions on DISE leading into the new season."
Find out more about the DiSE Programme by clicking here.