England roars in Cannock double-header
November 29, 2019 | by Matt Halfpenny
England's duel double-header at Cannock against Ireland and Scotland proved to be a roaring success – with some hugely skilled and entertaining boxing also bringing two home victories.
Last night (Thursday), England took on the Scots in a team coaches by Mick Maguire, Dave Johnson, Ian Tennant and Phil Wilson.
West Ham's Frank Middleton kicked off proceedings for The Three Lions against Patrick Paton.
A very good first round saw the England boxer grasp a lead but Paton came out strong in the second and third rounds to just edge out the home boxer by a 4-1 split decision.
The second bout of the evening pitted Repton's Freddie Pullen making his debut against Scotland's Colin Cairney. The bout was extremely close and was awarded to the England debutant on the closest of 3-2 split decisions.
At one each, it was then Georgie Ellis up next for the hosts with Ryan Carlin in the opposing corner. A competitive bout saw the Hoddesdon boxer just edge each round to come away with a 3-2 win and put England into the lead.
Next up was the highly-decorated pair of Pinewood's Adam Azim of England and Scotland's Reece Lynch.  A tactical affair was concluded with Azim being declared the victor 4-1, putting the hosts 3-1 in front overall.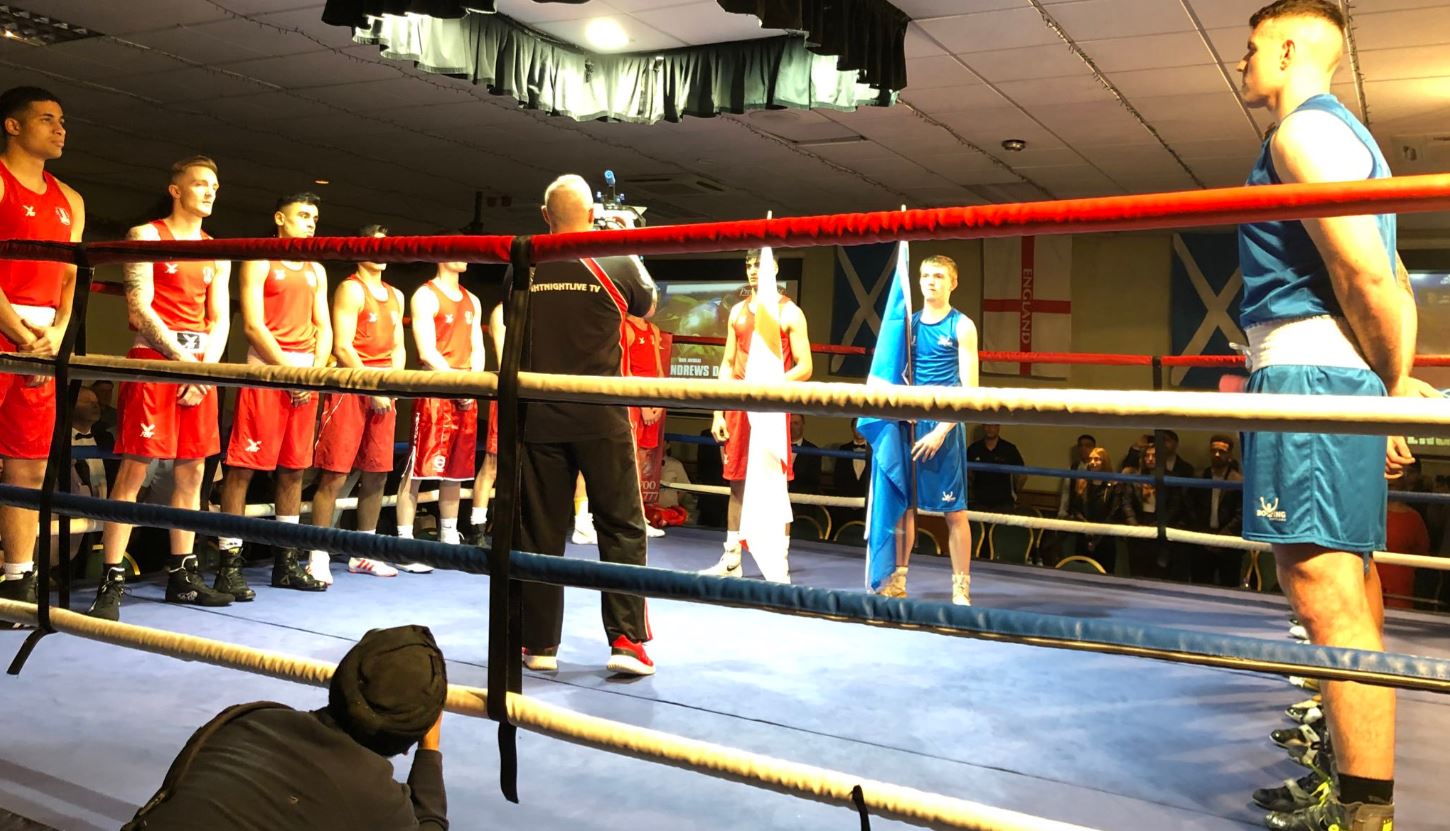 Bout number seven featured Warrior Breed's Ammar Akbar for England in with Robbie McKechnie from north of the border.
A keenly-contested first minute-and-a-half was halted by an accidental clash of heads which called the contest to a halt. The judges were asked to nominate a winner and Scotland picked up a 3-2 win, leaving England 3-2 victors in the duel.
Four support bouts were contested, the first of which saw Triumph's Jamie Edwards taking on Scotland's Sean Spence at light welterweight.
Spence had a tremendous first round and the Coventry-based Edwards was shipping some big shots. However, the second saw the tide turn dramatically when Edwards landed two crushing right hands to force two counts and the referee to halt the bout there and then.
After the break, Sheffield City's Vlad Matei faced off with John Casey in the blue corner and a superb performance saw the Yorkshire boxer earn a 5-0 decision against the ever-game Scot.
The final two support bouts saw Lewis Denith of Team Wiseman lose out 5-0 to Scotland's Sam Hickey before in the final contest of the evening, Jewellery Quarter's Delicious Orie defeated Scotland's Nick Campbell 5-0.
On Saturday night, England took on their Irish counterparts, this time over seven bouts.
Brandon's Megan Bainbridge lost out unanimously against Chloe Gabriel to kick off proceedings.
Priory Park's Kelsey Oakley claimed a split decision win against Breda Marie Quilligan, while Wearmouth's Shane Patterson won unanimously against Mustafa Edris.
Pinewood's Royston Barney-Smith triumphed on a split against Martin McCullough and Savannah Stubley was England's final victor against Nicole Clyde.
Giving it everything for the Three Lions but ultimately losing out were Northolt's Sameenah Toussaint against Niam Fay and Lionheart Boxing Academy's Chloe McDermott against Evelyn Igharo.
The England coaching staff was made up of John Stubbs, Ivan Cobb, Shiney Singh and Laura Sargeant.
England Boxing would like to thank the owner of the Premier Suite, Scott Murray, and organiser Shiney Singh, of Pleck ABC, who have been fantastic in hosting internationals shows in Cannock during 2019, enabling budding boxers to gain valuable experience representing England.