Women's Winter Box Cup is back!
June 28, 2019 | by Matt Halfpenny
Entries are now open for the eagerly-anticipated England Boxing Women's Winter Box Cup 2019, being held at Guildford Spectrum on Saturday 7th and Sunday 8th December.
The women and girls-only event – the first of its type in the UK – made its debut in the amateur boxing calendar last year and proved to be a smash hit, attracting almost 190 Junior, Youth and Senior boxers from nine different countries.
World and European Youth Champion Gemma Richardson, of Scunthorpe ABC, and the Netherlands' European Youth Champion Chelsey Heijnen were among the top-class competitors to box at the George H Carnall Leisure Centre, Urmston in weights ranging from Under 48kg to Over 81kg.
Interest in this year's second edition of the tournament – taken to the south of the country for the first time – is expected to be even bigger, with entries welcome from overseas and the home nations, as well as those who are England Boxing-affiliated.
Junior boxers can enter in Class B (0-6 bouts) and Class A (7+ bouts) at weights from Under 40kg to Over 75kg, Youths can enter at Class C (0-5 bouts), Class B (6-14 bouts) and Class A (15+ bouts) at weights from Under 48kg to Over 81kg and Senior boxers can enter at Class C (0-5 bouts), Class B (6-14 bouts) and Class A (15+ bouts) at weights from Under 48kg to Over 81kg.
"It was great to see just how far female boxing has progressed in recent times at last year's inaugural England Boxing Women's Winter Box Cup with a fantastic turnout and standard of boxing across the two days," said Lynsey Lockey, England Boxing's Competitions and Events Manager.
"The appetite among women and girls to compete is growing all the time and this tournament gives them an additional opportunity to get matched for bouts – and showcase their skills as the centre of the attention.
"There will be plenty of women and girls who are going to compete in the Monkstown Box Cup this weekend, and we'd love to see those boxers competing at Guildford in the run-up to Christmas.
"In 2018, it was really good to see so many travelling from outside England to compete, including those from Spain, Lithuania, Latvia, Portugal and Ireland, and the hope is there will be an even bigger international contingent this time."
The cost of entry is £20 per boxer, with no charge for coaches.
You can click to download the rules and guidance governing the Box Cup and also access an entry form. More details can be found at www.englandboxing.org/competitions
The closing date for entries is Saturday 30th November, but places are limited, so boxers wanting to participate are advised to submit their entries as soon as possible.
Any questions or queries should be directed to enquiries@englandboxing.org
If you want to download the poster below to display in your club, please click here.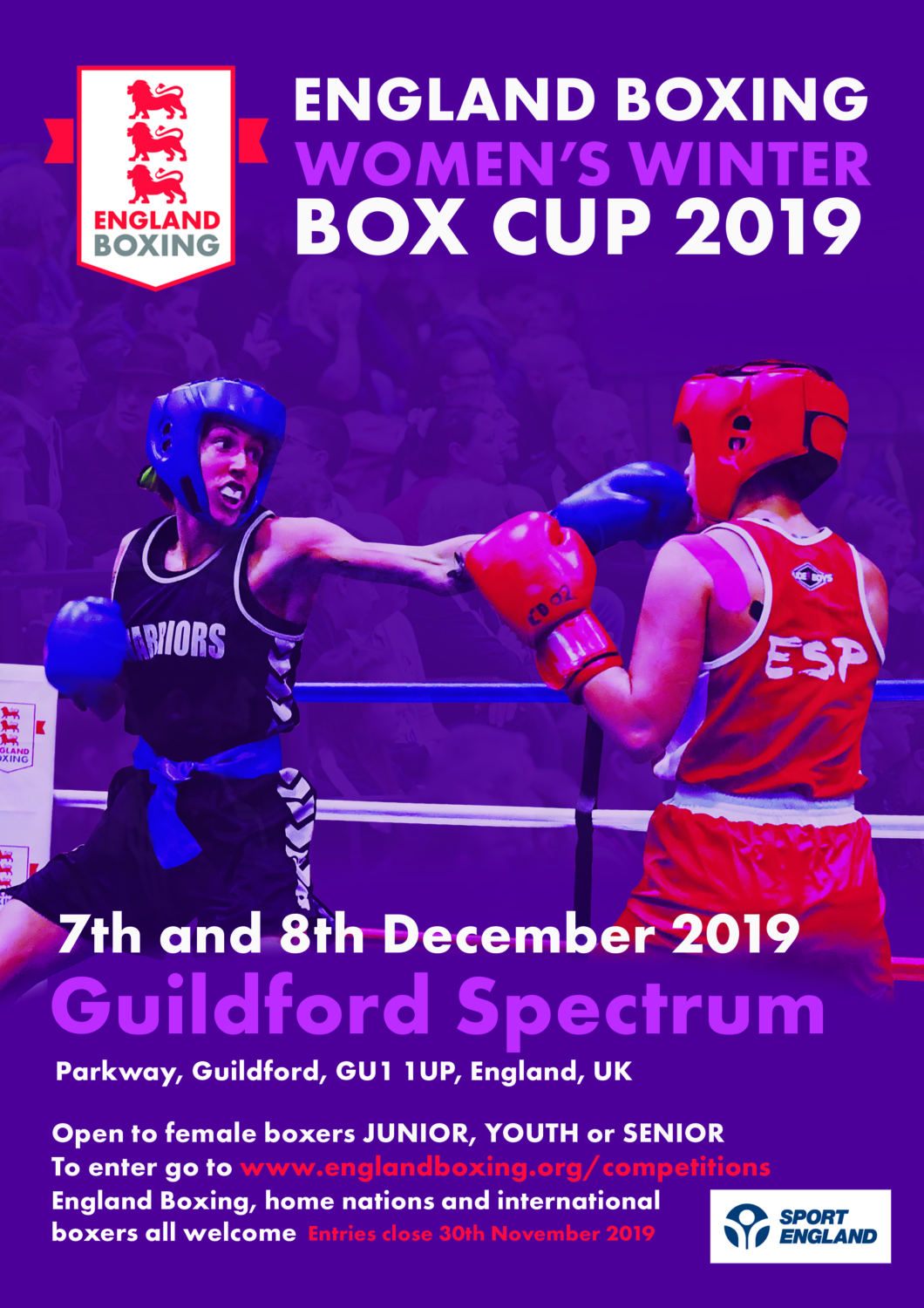 .