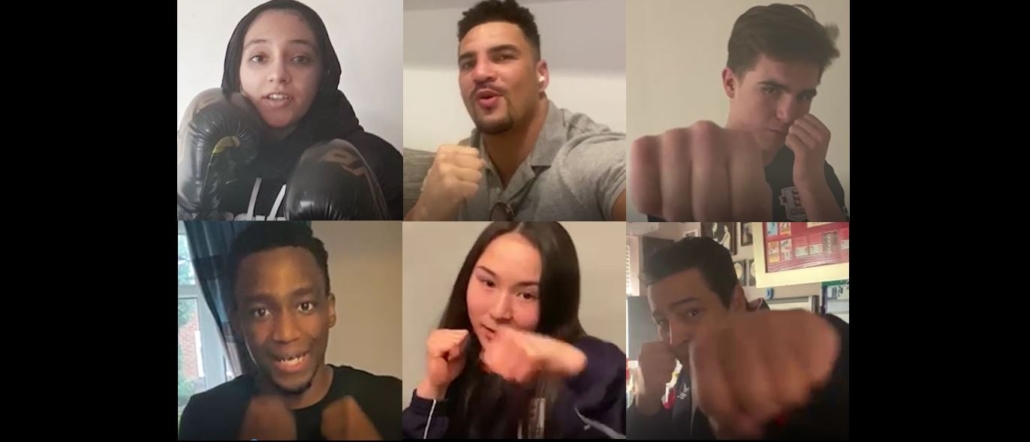 England Boxing launches #WinWithThe Jab Covid-19 vaccine campaign
March 20, 2021 | by Matt Halfpenny
England Boxing is helping the fight against Coronavirus by encouraging everyone to get a vaccine when they are invited to do so.
London 2012 Olympic medalist Anthony Ogogo and professional prospect Joe Maphosa are among those adding their support to the #WinWithTheJab campaign, which plays on boxing's most important punch.
With almost 1,000 clubs and 20,000 members around the country, at the onset of the Pandemic, England Boxing is uniquely placed to help the NHS reach into local communities and continue the momentum that has seen 22 million people receive their first vaccine dose.
Over the course of April, NHS staff will continue to focus on vaccinating those in priority groups 1 to 9 alongside offering second doses, in line with available supply.
#WinWithTheJab hopes to help address the lingering doubts of people who are yet to take up the offer of a jab, or are worried about doing so when their times comes, and in particular those connected to boxing.
The campaign kicks off with a video (below) featuring boxers, including Ogogo, Maphosa and other local heroes, as well as coaches and volunteers, all delivering the following message in multiple languages: "In Covid-19 we know we have a tough opponent, but we can win this fight with the jab."
A series of follow-up blogs will see coaches and boxers explain their reasons for backing the vaccine drive – and bid to allay worries in their respective communities.
An NHS expert, meanwhile, will be available for a Q&A session on the England Boxing Facebook page at 7pm on 1st April, where people's vaccine concerns will be addressed.
"Overall, the vaccine roll-out has been going extremely well, but there is still a worry that sections of some communities, my own Afro-Caribbean community among them, are more hesitant to take a vaccine than others," said Heart of Portsmouth Head Coach and England Boxing Talent Pathway Coach Q Shillingford, who has helped set up the campaign.
"There are many reasons for this, and vary from community to community, but we are hoping through this campaign to address some of those issues and convince people that having the Covid-19 jab when they are offered it is the right thing to do.
"Sadly, we have already lost a number of people in the boxing community to this disease and we don't want to lose any more. I will be getting the vaccine as soon as my turn comes because I know it helps protects our society and tips the balance in our favour."
"Those involved in amateur boxing are really missing gyms and our way of life in general, but this vaccine offers us a way out."
Vaccines are currently available for all those over the age of 50, health and care workers, and people with underlying health conditions.
NHS England's lead for Workforce Race Equality and leading neuro-gastroenterologist, Professor Anton Emmanuel, who will be answering questions at the Q&A, said: "The NHS has made fantastic progress in vaccinating the most vulnerable people in society and it is vital that we continue this momentum as supplies allow.
"We'll be working with England Boxing to answer the questions and concerns of people from a range of communities, and to make sure that everyone knows that this vaccine is safe and effective for all, regardless of race, ethnicity, gender or class."
Imran Naeem, who is head coach at the Natural Progression Boxing Academy in Stockton-on-Tees near Middlesbrough, is one of those supporting the #WinWithTheJab campaign, having seen first-hand the effect Covid-19 can have.
"I am fortunate to have had the vaccine and I would encourage everyone to do the same as one of the best ways you can help in the fight against Covid-19," he said.
"A lot of my work in public health is helping vulnerable people and we really need to get help out there and offer vaccine protection to these people, as well as everyone else. We need to reach the whole of our society with this."
For more NHS information on the Coronavirus vaccine, or to book a jab when eligible, click here.
Use the #WinWithTheJab hashtag to follow the campaign across England Boxing's social media on Instagram, Twitter and Facebook.