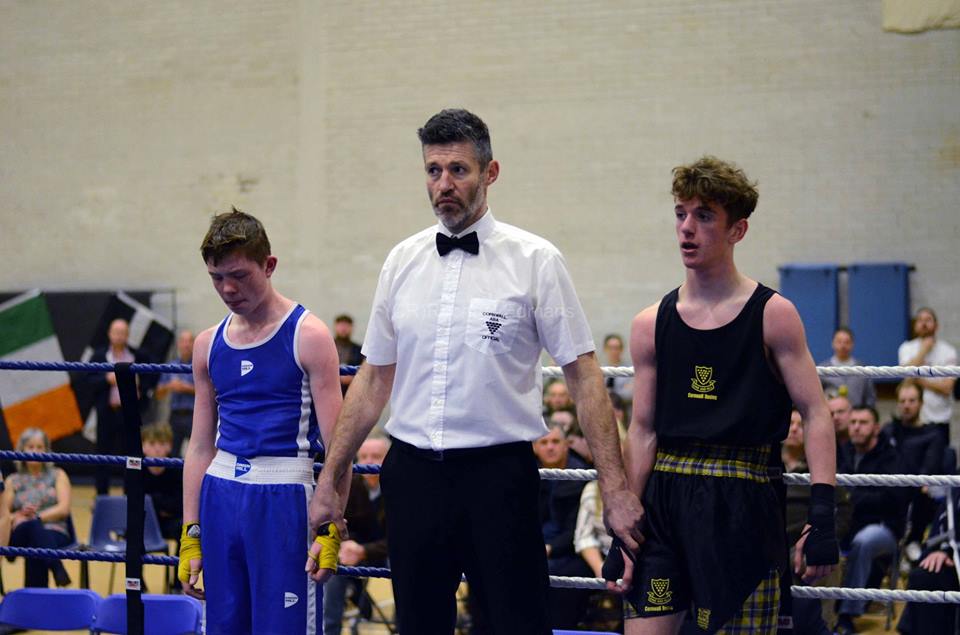 Cornwall edge victory in Clash of the Celts
March 27, 2019 | by Matt Halfpenny
Around 600 spectators witnessed the Cornwall County Boxing team host their first ever international fixture against a select team from Ireland and Esker Boxing Club on Saturday 2nd March.
Held at the Carn Brea Leisure Centre in Redruth, the large numbers on attendance created an atmosphere that was not to be missed.
Once the boxing got underway, Cornwall quickly went 6-1 up with a very good display of boxing.
However, after the interval, the Irish team fought back strongly, winning five of the last six bouts, meaning the hosts won 7-6 overall.
"This has been our first ever international competition on home soil, and I'm looking forward to many more county competitions in the future," said Cornwall County Chairman Wayne Salmon.
"I would like to personally thank everyone who had been involved in setting up this competition and supporting the build up to this amazing opportunity for our county.
The boxing team has done an amazing job in representing our county and bringing home the win for Cornwall. I'm looking forward to the next Clash of Celts In Ireland."
Cornwall County Coach Tony Houghton added: "I'm extremely proud of our selected county boxing team. They boxed against tough opposition from Ireland.
"I'm very happy with the result on the night and I'm looking forward to the return journey to Ireland where our county boxers will get another chance to represent Cornwall Boxing.
"A huge thanks must go to all of the Cornish officials especially Claire Dorson, Carl Thomas, Richard Bates and all for the outstanding officiating."
Esker Boxing Club were keen to thank everyone at Cornwall Boxing for hosting them over the weekend and treating them so well and are looking forward to the return in Dublin.