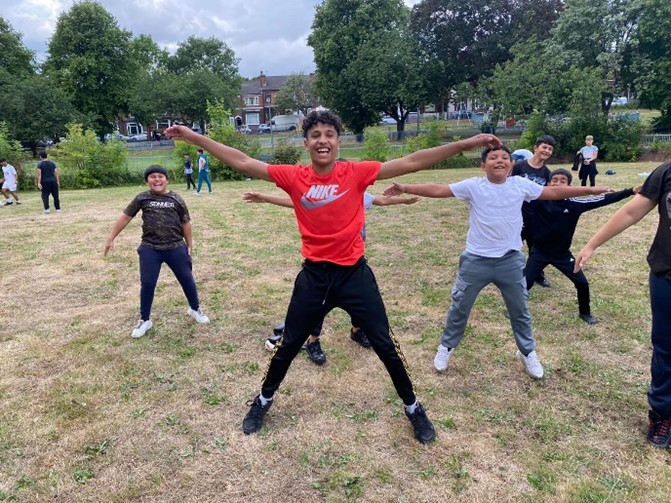 Club Case Study: Saif's Boxing Club is building bridges in a broken-down community
October 4, 2022 | by Chris Boyd
In the first year since it opened, Saif's Boxing & Fitness Club has become a vital part of the community, running a variety of classes to meet the needs of everyone. In such a short period of time, the club has gained a high level of respect from all members of the community.
Following a high rise in criminal activity, Saif teamed up with the South Yorkshire Police Violence Reduction Unit and now delivers twice-weekly boxing and fitness sessions in Ferham Park, Rotherham. The aim of the sessions is to reduce crime and anti-social behaviour while bringing different communities, ethnicities & religions together.
Saif explains he can see the unity his classes provide, "These sessions have been amazing, we have seen a difference in so many young people's behaviour since joining us in the park. There have been many people who have turned up not liking another individual in the group. Now they are working together and getting on well, this is what it is all about, bringing the community together. Anybody can join in the sessions, they just turn up at the park and get involved".
Saif works particularly hard during the school holidays, delivering sessions every day in the park to ensure that children and teenagers have something to do instead of getting in trouble.
Along with the availability of the sessions, it's the inclusivity of them that makes the club stand out. Eight months ago, the club became an England Boxing Inclusive HUB, providing boxing activities for people with various disabilities and their carers. Notably, the club have also partnered with Sense Sport, a national disability charity that believes that everybody should take part in life no matter what disability they have.
Head Coach, Saif, said, "The disability sessions have been massive for the club, it is so rewarding coaching these members and they get so much enjoyment out of every session. They have also improved my coaching and I've learnt how to better communicate with people with different needs. I have also got one of my boxers involved and it has taught him so much as well".
Saif has also started delivering men's mental health sessions twice a week to provide a safe space for men to talk, make friends and keep fit and healthy.
The club are also getting girls involved with boxing, through girls-only boxing sessions on Saturday and Sunday mornings. Saif delivers those sessions with the support of his wife. He stated, "Most of the girls come along to hang with their friends and to have a laugh, they love these sessions and some of them are coming on so much in terms of their boxing and it is great to see".
The club are also spending a lot of time taking their talented young boxers to club shows, regional competitions and national championships.
Saif's Boxing and Fitness Club has shown in its brief existence that it can develop its young boxers, whilst improving the community it belongs to.
To keep up to date with Saif's Boxing & Fitness Club follow them on social media by clicking here.