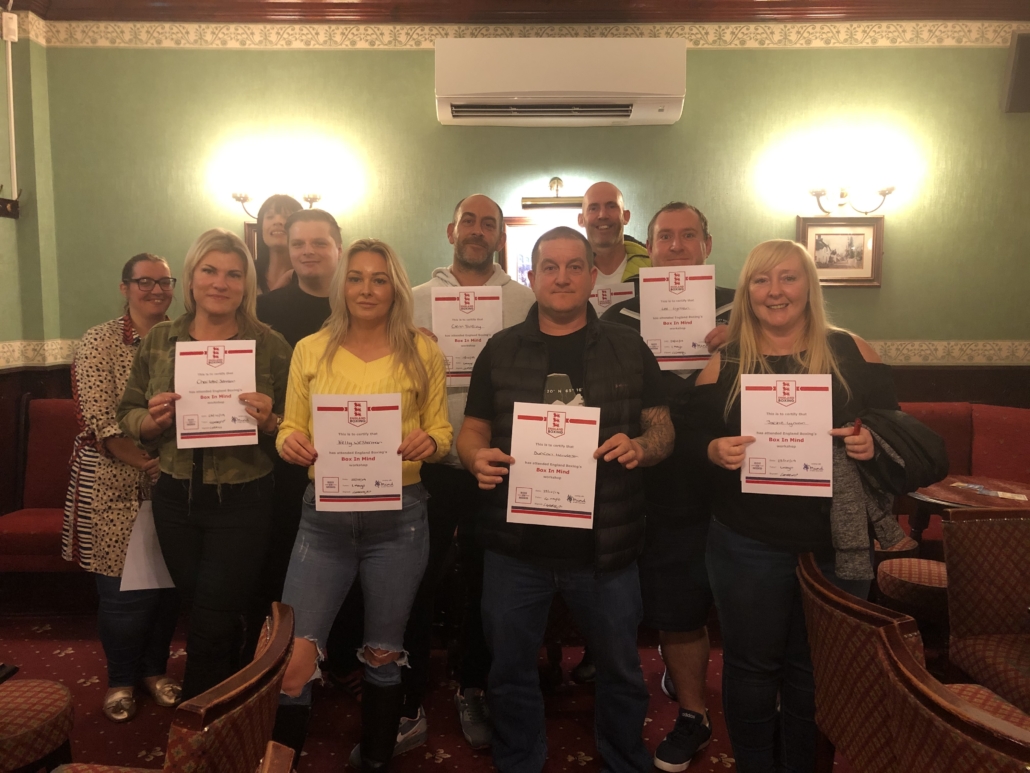 BODY Carnegie host second Box In Mind course
October 29, 2019 | by Matt Halfpenny
Bolton on Dearne Youth (BODY) Carnegie hosted their second Box In Mind course at their club on Friday 25th October.
Head coach Ricky Stables feels the course is a must for all coaches and volunteers, making participants more aware of mental health and how to spot the signs of those having difficulties and how to support people in the community.
To arrange a Box In Mind course in your area, please email tom.paget@englandboxing.org.
BODY Carnegie were also presented with a copy of their England Boxing affiliation certificates for the 2019-20 season.
All active clubs will soon receive a copy of their affiliation certificate to display in the club, showing they are a member club of the National Governing Body.
Member clubs covered by England Boxing's insurance programme, which covers all activities controlled, sanctioned, recognised or authorised by England Boxing.
They also have the opportunity to take part in England Boxing Local, Regional and National Championships while boxers may also be considered for the England Talent Pathway.
This has been put in place to help boxers and coaches fulfil their potential at international level; from schoolboys and girls all the way through to the Olympics with GB Boxing.
Another key benefit to Membership with England Boxing is access to The Vault, where you can find a wide range of membership benefits.
Current offers include hotel discounts through UK Sport's IHG Rewards Club, clothing and accessories sales, free image downloads from National Championships and the Women's Winter Box Cup and the Coach Education Corner, where a wide range of educational material is available.
Member Clubs are also provided with access to a regional Club Support Officer, who can help a  club develop through advice and guidance on the funding streams available.
The new England Boxing website, relaunched this summer, is a source of useful information, forms and free promotional material which can be used to promote a club.
xxxxx
England Boxing would like to hear from our membership. If you have any upcoming events and want them added to our Events Diary, please let enquiries@englandboxing.org know.
To show you are affiliated to the National Governing Body for Amateur Boxing, we suggest you display the certificate in your club and on your website, should you have one.
You can also tag us at @englandboxingofficial or use the hashtag #EB1920 so that we can share your photographs and news stories with our followers.
 Thank you for your ongoing support and we look forward to seeing you soon.