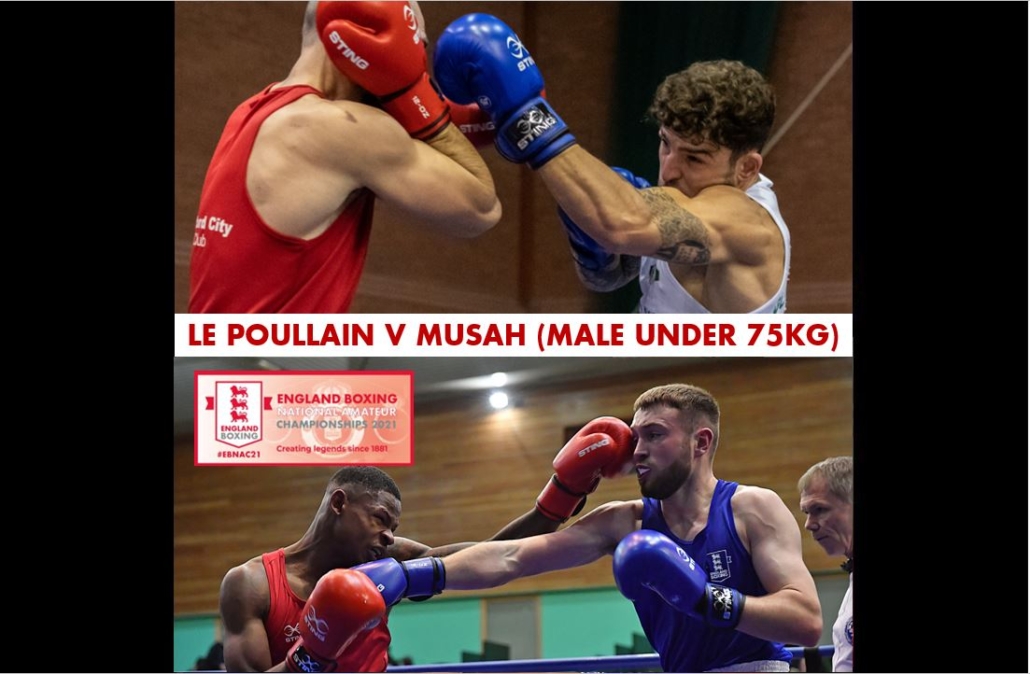 NACs Final Day Male Under 75kg preview: Billy Le Poullain v Ramtin Musah
December 10, 2021 | by Matt Halfpenny
It was a ticking off that changed Billy Le Poullain's life for good.
Despondent and struggling to cope at a lack of boxing during the Covid-19 outbreak, the 26-year-old from Guernsey was in a bad place mentally and hit the bottle.
"I was finding it hard and turned to drink. I was partying hard when there was no reason to, and it was getting on top of me," said the 26-year-old.
"I was earning a reasonably comfortable living and wasn't having to train hard like I always had been and I thought 'do I really need this?'.
"But I'm lucky that I have good people round me and one of those, Marcus from our club, gave me a little bit of a telling off on a night out, which is what I needed.
"He said I was a better boxer than everyone else at the club, so why was I prepared to waste my talent?
"When you look back at it – and a conversation I had with my coach Ben, who asked 'did I want to be sat in the pub in 10 years' time wishing I'd have done things differently?' – it was a turning point and saved my boxing career.
"After that I got some professional help to get myself in a good head space again and my friends and family have been phenomenal in helping me as well.
"Now I'm in a good place physically and mentally and I think that has shown through in my boxing."
From those difficult times, Le Poullain has reinvented himself in some style by claiming a place in an England Boxing National Amateur Championships final for the first time, having previously missed out at a lower weight in defeats to Carl Fail and Harris Akbar.
Going into the quarter-finals and semi-final at Cannock, Le Poullain knew he was boxing in a very competitive middleweight (Under 75kg) division with a number of Youth champions and prospects moving up to compete at a senior level.
But he produced two accomplished performances to first stop the highly-rated Jimmy Sains and then outpoint Guildford's Joel Bartell to book a date at London's SportsDock tomorrow (11th December).
"It was always a struggle for me to make the weight at Under 69kg, and I feel it has really helped me to move to Under 75kg, where I don't have to watch what I eat quite as much and I'm much more comfortable.
"I feel I'm getting better all the time as a boxer, but there is still more to come. I feel there are things I can work on from my bouts at the weekend.
"But I have always believed in myself and that eventually things would click into place and now they have started to do that."
Boxing out of the island's Amalgamated club, which also boasts a Senior Development finalist in Tom Teers, Le Poullain was actually born on the smaller Channel Island of Alderney before moving over as a teenager.
But he says he was immediately made welcome as 'one of their own' and represented Guernsey in the 2018 Commonwealth Games in Gold Coast, Australia.
He said: "The amount of support I get from people here is overwhelming and I've proud to be representing the island as well as my club.
"I'm used to having to travel for events, which normally means flying over the day before and staying in a hotel.
"This time I'm hoping to have a little more support. A couple of my mates are coming over for the final, as are some of my family, so it will be great to have them there."
A carpenter by trade, Le Poullain has continued to fit in his training schedule around his job full-time job, but says his employers have been 'brilliant' in helping him out.
The 26-year-old says he also owed a huge debt of gratitude to his coach, Ben Duff.
"They (work) have been really good to me and said if there is anything we can do to help, just say.
"They let me get a good amount of rest when I need to, and knock off a little bit early if I need to train, and have just really looked after me.
"Ben does his due diligence and he is very good to have in your corner because his knowledge is second to none and I hope I can do him proud in the final."
Le Poullain says he has dreamed of what it would be like to win the title and take home a coveted national belt and, while acknowledging opponent and number one see Ramtin Musah is the favourite, believes he can cause an upset.
Already guaranteed a GB assessment off the back of reaching the final two, he now hopes to strengthen his case still further.
"I've been up to the English Institute of Sport (where GB Boxing is based) before to help some of their athletes prepare for tournaments.
"I think it is a better set-up than being in the pros, certainly in the initial stages, because you don't have to do things on your own, it is all there and laid out for you. All you have to do is be committed to the training and give it your all.
"I don't feel there is any pressure on me, that's more on Ramtin because he is on GB and expected to show why. I'm just really excited for it and feel if I can take what I do in the gym into the arena, then I have a decent chance.
"I boxed Ramtin in my first competition at Under 75kg in 2019 at the East Midlands Box Cup where I lost, but I feel I am a much better boxer now and can give him a harder test."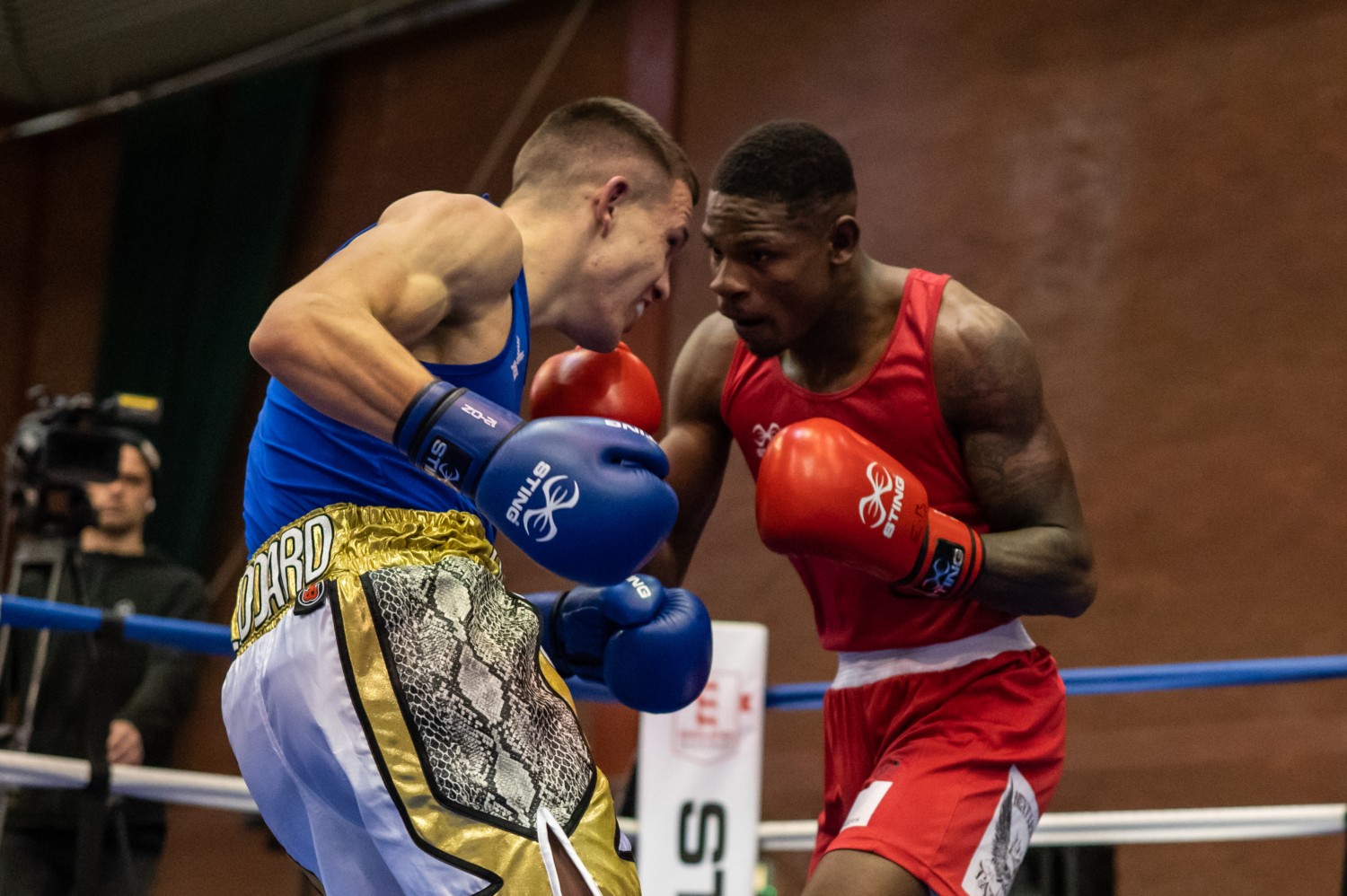 Opponent Musah has faced different challenges getting to this point after only recently coming back from a hand injury that saw him forced to have an operation in August.
The Beartown boxer tore tendons in his left knuckle, finding out just after he had boxed in the European Under-22 Championships in May.
Thankfully, the surgery went well, but it still only left him with a couple of weeks of sparring before coming into this National Championships.
Given that, he is happy with his displays so far, where he has beaten two former England Youth internationals in the shape of Dan Toward (Birtley) and then George Liddard (Billericay and Wickford).
"There were a lot of ifs and buts coming into this after the injury, but the coaches at Beartown have been superb in getting me ready for this," said Musah.
"You can get the sign-off from the doctors to say things are OK, but then you still have to get back in training see how it goes and I have a lot of help to do that in the relatively short time that has been available.
"When we looked at the way the draw came out, we said it could not have been much tougher in what is already s tough weight division, with the two opponents who I had. They are two boxers who have very bright futures in front of them and came in with excellent records.
"With Dan, I knew he was going to be quite a tricky opponent, quite awkward, and that I couldn't afford to sit back because he is quick on his feet and might pick me off if I did that.
"I knew I need to knock him out of his rhythm early on to help me get on top, which I felt I did in the second and third rounds, even if it was close in the first.
"Against George, we went in with the game plan of looking to outbox him, but in the first round it was obvious that I had to change that a bit, which is what the best boxers have to be prepared to do.
"I pushed forward and that allowed me to go through the gears in the second half of the bout, but fair play to George because he kept coming right up until the last bell."
Although there is a weight of expectation on his shoulders to secure victory this weekend, Musah is adamant he will be staying cool, calm and collected.
He is not looking at past history, either, having lost out in the 2019 final – there was not 2020 Championship because of Covid – to Birtley's Mark Dickenson.
"It was a close bout against Mark, which I lost on a 3-2 split, and I've also lost in this competition 3-2 to Jordan Reynolds as well, so it's my third time going for it," he said, "but I'm not looking at that, or worrying about it."
"They were good bouts, but what's happened has happened and you have to move on and look ahead, not what might have been.
"The same thing goes in terms of being the favourite and being in a big final such as this. There is no point worrying about it two days or a day before because it doesn't change anything and you still have to go there and do it on the day.
"If you let yourself feel the pressure that it can make you sluggish in the ring and not perform, so I don't think about it too much until I'm ready to box."
One way Musah does like to unwind after training is a walk with his dogs, aided by the Peak District being not too far away from his Congleton home.
It's the perfect way for him to take stock and clear his head for the challenges to come.
He said: "Getting outdoors for a walk is a good way to de-stress, relax and rest my mind – and I often do it before I have bouts the next day.
"It's handy having some good walk so close by and it puts me in a really good place."
Musah has nothing but respect for final opponent Le Poullain, having followed his progress with interest over the past few years.
However, he believes he has what it takes to get the job done and complete a hat-trick of Championship wins in this calendar year for the Cheshire club.
A successful victory at senior level would follow wins at Junior level (Tom Crust) and Schools level Libby Frost for other Beartown boxers… no mean achievement for a comparatively small gym.
He said: "It isn't a surprised to me to see Billy get through because he has a good pedigree and has that man's strength that you don't always have when you're that bit younger, plus he's put in some good performances.
"I've boxed him before, but that obviously has no bearing on this and I know I will have to be on my game.
"But I'm ready for this and I feel that this is my time. I don't take any bout lightly and I will give it my all.
"If I have left no stone unturned and I am still beaten, then I will have been beaten by the better man and have to hold my hands up, but I will be giving it everything, that's for sure."
*****
Boxing at the England Boxing National Amateur Championships 2021 Finals Day starts at 1.30pm on Saturday (11th December) and follows the England Boxing National Senior Development Championships 2021 Finals Day, which starts at 11am.
Click here to view streaming details and click here to see the Key Info Circular. To keep up to date, go to the National Amateur Championships home page here and follow the action on social media using the hashtag #EBNAC21.