New London-based mental health helpline launched in memory of Bezzina
October 4, 2021 | by Matt Halfpenny
A new mental health helpline for young people in London has been launched in memory of former boxer and coach Sam Bezzina, who tragically died last year, aged just 26.
Sam's Listening will support those requiring specialist assistance and provide a sympathetic ear to help them through challenging phases of their life.
The new initiative is a partnership between London Boxing and recycling and waste management company Powerday, working alongside with psychotherapy and counselling charity, icap (Immigrant Counselling & Psychotherapy).
The free-to-use service will link those requiring help and support to other agencies and specialists to help the individuals concerned find ways to cope and get beyond low points in life, as well as celebrate moments of connection between people that can save lives.
England and Wales alone saw over 1,600 suicides between April and July last year, with three-quarters of these deaths among males.
There is also concern about the impact of the Coronavirus Pandemic on mental health and the Office For National Statistics announced in May that rates of depression across the UK had doubled since it started.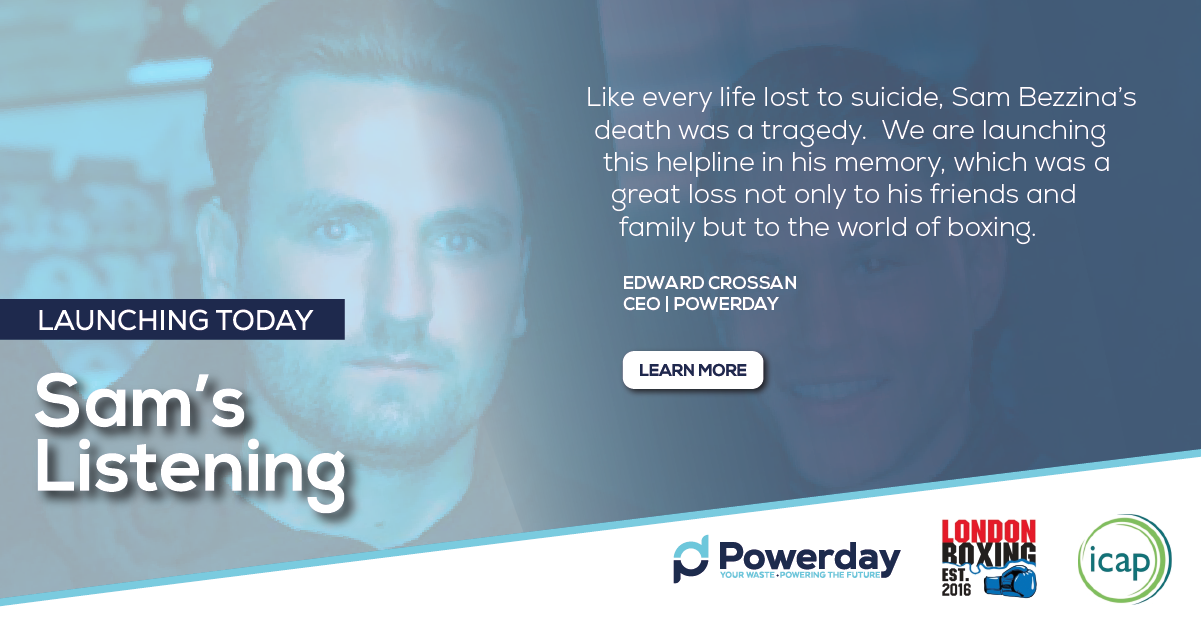 "Everybody needs somebody to talk to during difficult times and this initiative, through London Boxing, is a positive and contemporary offer to those who need support when things get tough," said former Dale Youth National Amateur Champion, George Groves, who went on to be a World Middleweight Champion.
"It is a unique offer through a sport and will ensure people are given positive direction and options towards help when needed."
Lenny Hagland, London Boxing Chairman, added: "Everybody at some stage of their lives needs a sympathetic and specialist ear to be available and offer support plus help to steer through challenging times and circumstances.
"This free helpline is a key and significant offer of assistance, available at any time.  We encourage anyone who needs it to please use it."
Powerday Chief Executive Officer, Edward Crossan, said: "Like every life lost to suicide, Sam's death was a tragedy.
"We are launching this helpline in his memory, which was a great loss not only to his friends and family but to the world of boxing.
"We are pleased to support this unique initiative in sport through London Boxing and icap and provide assistance and care to those within the boxing family that might be going through what Sam went through."
Sam's Listening launched at the back end of last month at West Ham Boxing Club (pictured below).
Anyone who is struggling to cope and needs someone to listen without judgement or pressure should call 0207 2727906.
The free helpline is sponsored through Powerday's charitable arm, the Powerday Foundation,  and is part of the company's work to improve health and wellbeing amongst disadvantaged young Londoners.