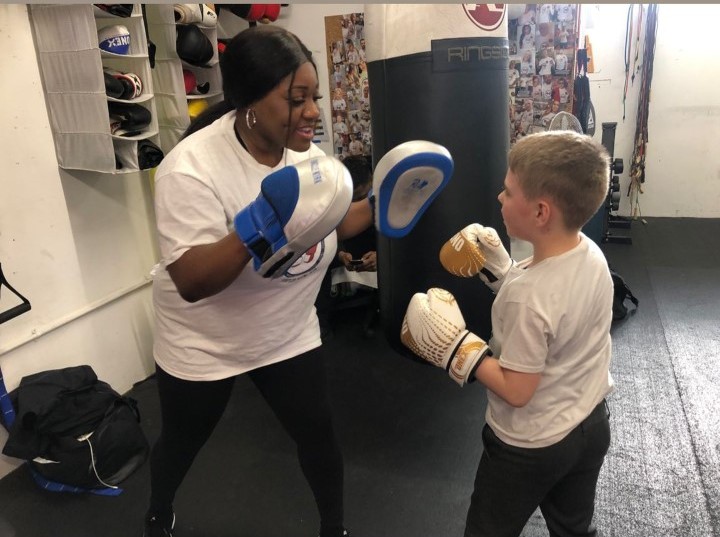 Idris Elba's Fight School star joins Aberfeldy Boxing Club
May 4, 2022 | by Harry Judd
Chanika Gayle-Dore, 29, whom took part in the new hit BBC 2 show has now started coaching with The London region England Boxing-affiliated club in order to
continue towards becoming a qualified coach. 
During the filming of the programme, Chanika attended the England Boxing's Women in Boxing Conference in Loughborough back in December 2021, which motivated her to start working towards a level one coaching accreditation. 
Following the release of the show, she has teamed up with Aberfeldy Boxing Club coach, Valerian Spicer, and been running boxing sessions as well as mental health workshops for young adults. 
Chanika said: "It's so funny when they recognise me, and I have had so much support following the series and everyone has been really lovely."
She added: "One thing I have been shocked at is how capable the kids are, and it's been such a struggle to keep them occupied because they are just so fit.
"But, they learn so much it gives people purpose, direction and it's like another family."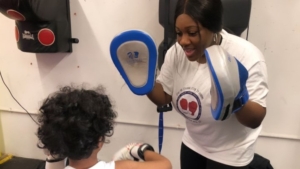 Chanika originally applied for BBC 2's Idris Elba's Fight School following outbreak of depression after the loss of her baby, and made the decision to try to 'regain her confidence, whilst simultaneously losing weight.'
The series followed her and seven others all of whom have struggled variously with poverty, crime, mental health problems and a lack of focus.
Idris and Rathbone Coach, Rachel Bower, put the recruits through a rigorous five-month training programme in order for them to step into the ring in which Chanika came away with a victory.
Chanika said: "Through boxing I just learnt to push myself, and all of the confidence as well as strength I thought was gone, was actually still within me.
So, more than anything just having that self-belief, and knowing that anything is possible if you put your mind to it."
She added: "I just want show all young women out there it doesn't matter what you look like or what mistakes you have made ijn your past – just go for it."
Idris Elba's Fight Club, Sundays at 9pm on BBC Two with the full series now available on iPlayer.