Club case study: Aspire's bid to blunt knife crime
July 22, 2022 | by Matt Halfpenny
Ronny Tucker, Head Coach at Aspire Boxing Club, is using the club to change the lives of people all around Sheffield.
Based in the Arbourthorne area of the city, an area of high poverty with high drug, gang and knife crime rates, the club has been running for 32 years and helped shaped many young lives for the better.
Over the last three years, the club have charged no fees for anybody attending their sessions, particularly important given individuals living in the local community and the people the club target for their programmes often have to choose between paying for the club's classes or putting food on the table.
As Tucker explained: "As a club we are fully focused on the needs of our community, and we use our boxing club as a base to reach out to people in need, from delivering knife crime projects, to supporting care leavers, to helping people with their mental health.
"We provide a relaxed environment to support everybody free of charge, so there are no barriers. Our funding all comes from our club shows and funding providers and, as long as we can carry on providing free sessions, we will do."
Due to the high knife crime in the local community, the Knife Crime Programme Tucker has created, which is funded through the Police and Crime Commissioners' Fund, is designed to educate those who pass through it of the very real dangers.
He added: "We work with the Criminal Exploitation Service, South Yorkshire Police, South Yorkshire Fire Service, Care Leavers' Service, Youth Justice Service and Pupil Referral Units to take referrals of young people to join the programme.
"We have a number of speakers including a nurse who talks about the damage knife crime can cause not only to the people involved but also the people who witness it.
"We also have a lady speak about the impact knife crime can have on a whole family after her son was killed through a knife attack."
One participant on the programme said: "If it wasn't for Ronny, Tracey and this programme I would be back in prison."
Aspire also deliver a programme called the Second Chance Programme funded by Sport England, which sees them work with disaffected young people that have recently left or are due to leave the care system and young people who are caught up in the Criminal Justice system.
They are re-launching the programme this summer and Tucker said: "We use boxing, fitness, and music to support care leavers and young people who have got caught up in crime to share their thoughts and feelings through music and physical activity.
"We also link the Second Chance Programme to our Knife Crime Programme to teach them about the dangers of knife crime and the negative impacts of gangs.
"Concerns have been raised that there may be a rise in knife crime over the summer period due to the school holidays and young people having nothing to do, so this is why we are running the programme through the holidays."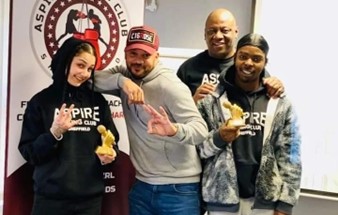 The club have just delivered a conference called 'Turning Adversity in to an Advantage', which had several guest speakers who spoke about knife crime and young people leaving the care system.
The conference was another project funded through the Police and Crime Commissioners' Fund.
"This event was free of charge, and we had 120 people attend the event, which was amazing to see, and due to its success, the Crime Commissioners want to fund it again next year," said Tucker.
An attendee added: "This event had some of the most inspirational individuals in this area. I am a social worker and I have heard and dealt with some pretty hard-hitting stuff, but I was not prepared for the tears of this event, If you ever get a chance to go to this, please go."
Another recent success story is a project to help women who are struggling with their mental health called 'Women Aspire Together.
"We have 10 women currently engaged in the programme and they come to the gym every week for fitness and boxing sessions and sometimes they meet and go on a walk," said Tucker.
One participant said: "I really struggled with my mental health but I can now get through week to week because of the boxing." Another added: "I don't usually like going to gyms because people look at me, but Aspire provides comfortable relaxed environment where nobody judges you."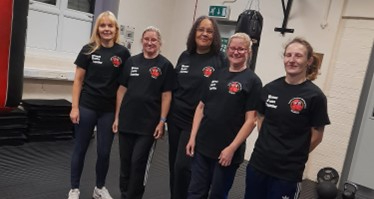 To find out more about the work of Aspire Boxing Club, follow them on Facebook by clicking here.