Women's Winter Box Cup 2019 – Junior preview
December 5, 2019 | by Matt Halfpenny
It's been a busy year for England's Junior girls, but that doesn't mean they're now taking it easy and coasting through until the end of the year. Instead, they have the England Boxing Women's Winter Box Cup 2019 firmly in their sights.
This second instalment of the competition that launched last year to much acclaim will bring together women and girls from across the country and overseas at Elite, Youth and Junior level, with the maximum number of 250 having registered an entry.
And there will be no shortage of talent on show at the Guildford Spectrum in the youngest age category of those three, with some familiar faces that have every chance in the future of lighting up the sport in the same way that double Olympic champion Nicola Adams did.
One such exciting talent is Southern Counties' Shelby-Marie Lee of the Minster Golden Gloves Club in Kent.
A relative unknown at the start of the year, she has burst onto the scene first by winning the England Boxing National Junior Championships 2019 in Rotherham in March at Under 46kg and then claiming a silver medal for England at the EUBC Junior Championships 2019 in Gelati, Romania in May.
Her rapid progress may have surprised a few – she beat reigning European gold medallist Alex Brown on her way to victory at the Nationals – but it has come as no surprise to her mum Michelle Keen, who said she had been 'knocking on the door' for some time.
"Shelby has always had the talent, but things didn't always go her way in the past. This year things have come together at the right time," she said.
"Her first year in the Nationals there were no opponents for her and then her second at Schools level she lost a tight bout to Alex. She also lost a close one in her first year as a Junior to a girl who had 20-odd bouts behind her.
"But once she got on the England Talent Pathway after her first year as a Junior she has never looked back. She said 'I don't want to get beaten again', and changed her approach.
"She has always set herself high goals, but she's always determined to reach them and this year has been a real breakthrough for her.
"She relished making her England debut, where she beat a five-time Irish champion, and then had a brilliant time at the Europeans where she only lost on a 3-2 split in the final to a Russian boxer.
"To win the Women's Winter Box Cup would cap the year off brilliantly for her. I know it's one she really wants to win because she is a big believer in pushing women's boxing forward and is someone a lot of the younger girls at her club, and those she knows on Instagram, look up to."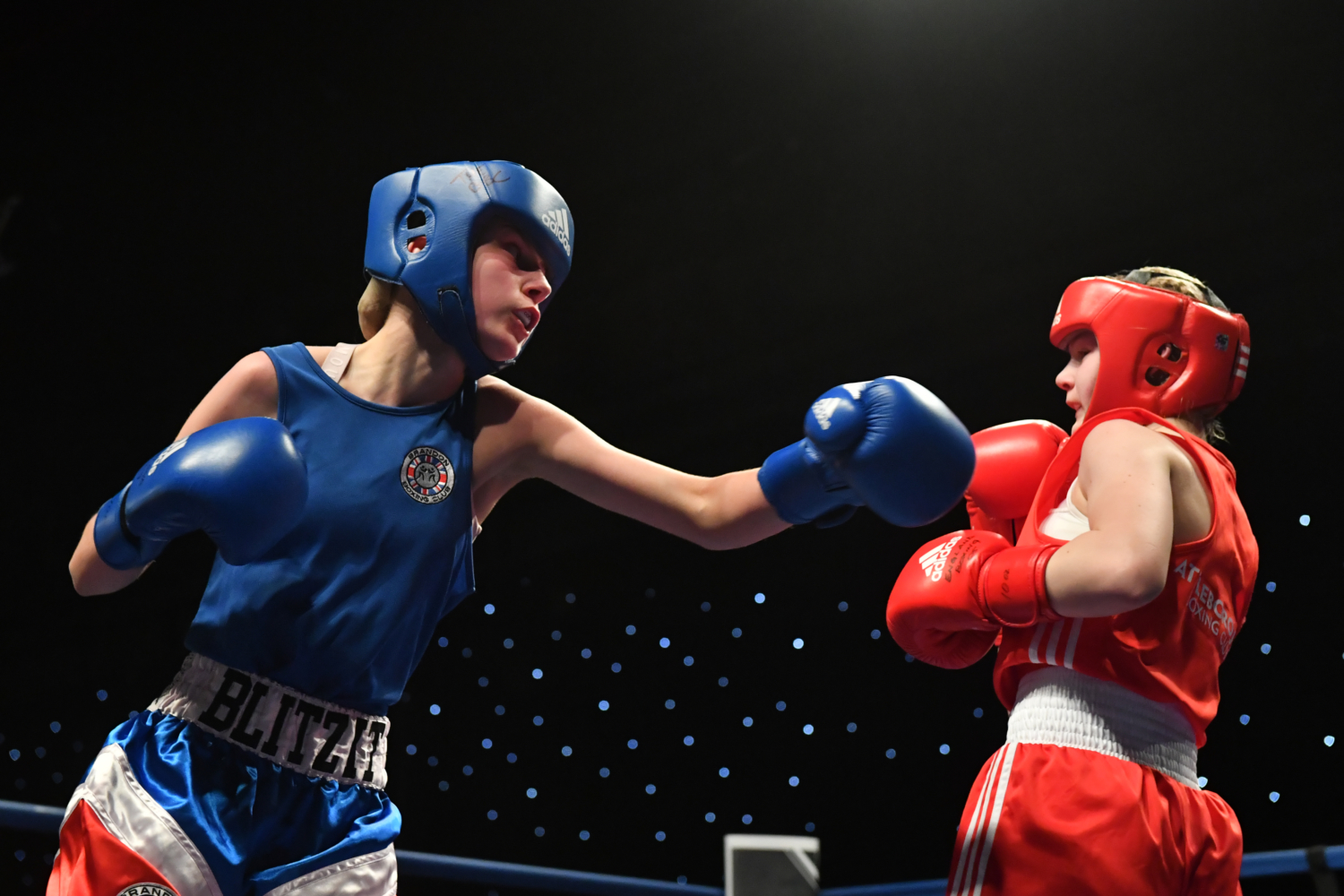 Another to have tasted success at European level with England ready to box in Surrey this weekend is Megan Bainbridge, who claimed a silver medal in 2018.
The Brandon boxer (Tyne, Tees and Wear) was disappointed not to progress beyond the quarter-finals at this year's Junior Europeans, where she lost to the eventual winner at the quarter-final stages.
But she has nevertheless enjoyed an excellent year, retaining her England Boxing National Junior Championships title at Under 48kg by beating Chanell Kendall of Attleborough in her final.
And Bainbridge has also enjoyed success in the Swedish Golden Girls and Irish Monkstown Box Cups, the former seeing her produced on of her best-ever displays, according to her coaches.
Brnadon Head Coach Alex Oliver, who works alongside Simon Patterson in training the teenager, says she cannot wait to get back in the ring for this female-only event.
He said: "As someone who has done so much for girls' boxing in her area – she's always bringing in her medals and talking to the younger ones – Megan is a fantastic role model to young people.
"She has not achieved everything she wanted to this year, but that's because she's always aiming so high, and she's still produced some really good boxing.
"It shows how far women's boxing has come that when I retired from competing myself in 2009, you were lucky to see one woman or girl boxer on a show all year.
"When I came back to form the club in 2013, just after the Olympics, it was really starting to grow, no doubt with girls inspired by Nicola Adams.
"Now there is a massive difference again from then. Now when you go to shows, three or four of the bouts are female.
"In five years or 10 years' time, that could be a 50-50 split and maybe even more female bouts than male. Wouldn't that be great to see? That's where boxers like Megan and tournaments like this are really helping to spread the word."
For Kelsey Oakley, an Under 48kg boxer with Midlands Club Priory Park in Dudley, her elevation to status of international boxer was a long-time coming – but well worth the wait.
With previous combat experience from other sports under her belt, she was 'fast-tracked' by club coaches because of her undoubted potential.
That was rewarded with a National Junior title in 2018 and victory in the NABGCs this year, setting her up nicely for a shot at England Boxing Women's Winter Box Cup 2019 glory.
"Kelsey is a very talented girl who we've always thought at the club could go places," said Priory Park Head Coach Warren Davies.
"She has been champing at the bit to pull on an international vest, so she was delighted to finally get the call recently to box against an Irish champion in Cannock, and the win there has given her a lot of confidence.
"She is always prepared to get in the ring with anybody, which was highlighted when she moved up to 50kg to get a bout at last year's Women's Winter Box Cup – and won."
"We have had girls boxing in our gym for the past 10 years and it's been noticeable in the past couple of years that the standard has really ramped up, as highlighted with boxers like Kelsey.
"All the younger girls who see Kelsey in this competition want to take part themselves one day and we took some of them along last year to see what they can aspire to."
Rumbles Boxing Academy (Southern Counties) boxer Libby Ellis is another prospect who has enjoyed a memorable 2019, arguably the most successful of her career to date.
Boxing out of the Rumbles Boxing Academy in Kent, she is part of the gym's increasingly strong female contingent that also includes fellow Women's Winter Box Cup competitor Anastacia Butler, Yazmin Surin and Ruby Griggs.
"Libby won the Junior Nationals in Rotherham (Cadet Under 46kg) this year and has just won the NABGCs, as well as had success at some of the Box Cups, so she's really flying," said coach Charlie Rumbol.
"She's someone who's a technically very good boxer and you could see that from the beginning. She has a good reach, which helps, a lovely jab and is very tidy. She has all the tools to have a very bright future.
"It's been difficult to find sparring for Libby in the past, but now she has other girls to train alongside and that should really benefit her.
"Boxing is going to be just as popular among the girls as the boys eventually and it's really pleasing to see. Wherever you go there is fantastic talent on show and we're winning lots of international medals, so it's just going to get better and better."
*****
Tickets are available to spectate at the England Boxing Women's Winter Box Cup 2019 and can be purchased at the Ticket Desk in Guildford Spectrum on the day of competition. Prices are £20 per adult, £10 per concession (over 65), £5 per child (five to 15-year-olds) and free for those four and under. Please note it is cash only and no £50 notes will be accepted.
If you can't make it to venue, you can watch selected bouts on the BBC iPlayer (www.bbc.co.uk/iplayer) and via the BBC Sport website and app.
Live streaming of bouts in all three rings will be available via the England Boxing YouTube Channel.
You can also follow the action across our social media via the hashtag #EBWWBC19