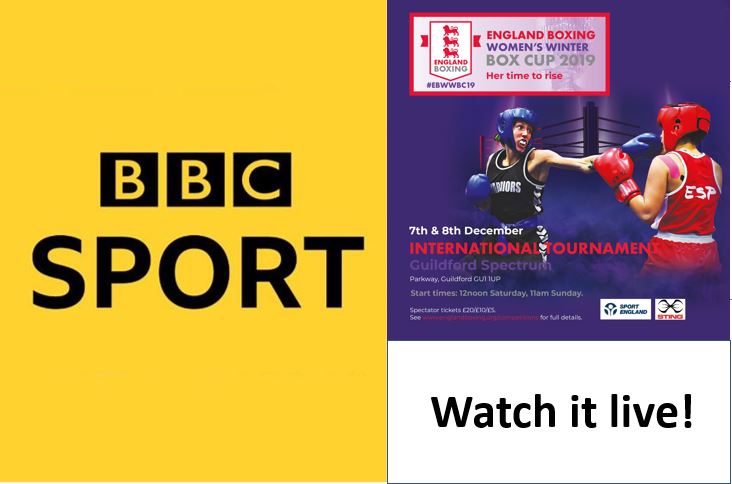 Women's Winter Box Cup 2019 live on BBC
November 26, 2019 | by Matt Halfpenny
Both days of the England Boxing Women's Winter Box Cup 2019 will feature live on the BBC, England Boxing is delighted to announce.
Bouts will be shown on the BBC iPlayer (www.bbc.co.uk/iplayer) and via the BBC Sport website and app from Saturday semi-finals and Saturday's Final action from the Guildford Spectrum on 7th and 8th December.
The stream will feature bouts from only one ring at any given time, with the choice of bouts made by the BBC. It will include commentary and alternative camera angles.
Bouts from all three rings will, however, be streamed live on the England Boxing YouTube Channel.
Saturday's action begins at 12noon and on Sunday from 11am.
"Women and girls' boxing is really on the up across England and overseas, so it's fantastic that we have the platform of the BBC to showcase to a new audience what it is all about," said England Boxing's Competition and Events Manager Lynsey Lockey.
"The BBC are leading the way in enhancing coverage of female sport, and in encouraging greater participation, so it's very exciting to be part of that, and I'm sure the boxers will relish the chance to perform on such a big stage."
"After launching last year, to have live streaming for the first time this year is a major step forward and we hope it will help inspire the next generation of women and girls to give boxing a go."
Find out more about the England Boxing Women's Winter Box Cup 2019 by clicking here.