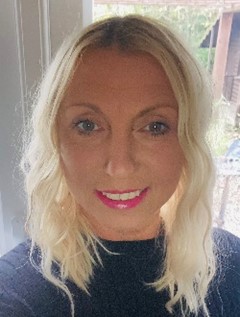 Women's Officials Development Programme spotlight: Suzanne Walters (Riddings ABC)
February 18, 2023 | by Chris Boyd
Suzanne Walters, a volunteer at Riddings ABC in the East Midlands, has found her place in the sport of boxing through her son and now has aspirations of becoming a Grade A England Boxing official.
xxxxx
How did you first get involved with boxing and become an official?
I first became involved in boxing through my son, Charlie, who started boxing training at the age of eight due to being bullied at school. He is now 16! I would be in the gym at each of his sessions and, gradually, I just started helping out where I could. I would help with fundraising, general paperwork and so forth, and then I went on to help at box cups and championships, doing different roles. I did some recording, helped at ringside and, on one occasion, I was required to help out at an England Boxing National Championships as there was no MC. I took on the task of being the MC for two rings, which was way out of my comfort zone but I did it. It made a memory that I look back on and smile.
I attended the Hull Box Cup in July 2022 and was encouraged by two officials, Paul Rosendale and Tony Derbyshire, to book onto the course for judging & timekeeping. They thought I could contribute to the sport, as I'd been around boxing for a good while, and that the sport needed more female officials.
In the past, when I had been approached or thought about it myself, it just never came to fruition. However, on this occasion I didn't think about it, I just booked my place and as they say, the rest is history. I passed and became a Grade C judge & timekeeper. The guidance and support from both Paul and Tony on that day pushed me to take that next step that I had wanted to take previously and for that, I thank them both.
What do you hope to get out of the WODP that can improve you as an official?
I hope to eventually, over time, become an England Boxing Grade A Judge and be the best I can be. I know from meeting all the other ladies and my mentor on the program recently at the Women's Winter Box Cup, that I will be given all the support I need to fulfil my future goal. The support for one other in the program is apparent. I think and hope I will grow in confidence too whilst on this journey.
What do you enjoy the most in your officiating role(s)?
I totally love being ringside watching the talent of these young boxers and seeing their dedication and heart shine through. I also love meeting new officials along the way at shows and events, as you form friendships with fellow officials which makes the role a pleasure.
Who is your biggest boxing inspiration?
That's easy to answer, it has to be my son, Charlie. Seeing his dedication and the sacrifices he has made and continues to make, just fills me with pride and more so each time he steps in the ring as he continues to be so humble in victory or defeat.
Seeing your own child win or learn fills you with emotions and I am so inspired by all the boxers that step in the ring. How can you not be inspired by a child or boxer stepping into the ring, doing what they do and feeling their passion in the ring for the sport? I know I could not physically or mentally step into the ring as they do, so they are all inspirations.
What is your aspiration in boxing?
I will continue to be as dedicated as I am now and I hope to move through the grades of judging to become a Grade A Judge. I would like to officiate farther afield in time, and at larger events, as I grow in experience and confidence in my officiating role within England Boxing.