England Boxing Annual Awards 2023 – Young Coach of the Year
July 9, 2023 | by Chris Boyd
In the lead-up to the inaugural England Boxing Annual Awards 2023, set to take place at the Royal Victoria Hotel in Sheffield on Thursday 13th July, we will be shining a spotlight on the nominees from each of the 10 categories.
This piece will highlight the excellent work done by the three nominees for the Young Coach of the Year (Under 30).
(Nominees will be addressed in forename alphabetical order).
Gary Johnston – Carlisle Villa
Gary Johnston is the first of three coaches under 30 years old who have had a significant impact on their local community and boxing gym.
Described as very committed and caring, when Gary is not working his full-time job he can be found at North West club Carlisle Villa coaching and supporting the young members.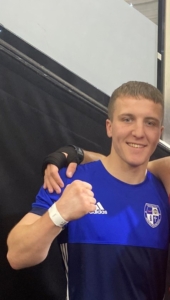 It's clear his youthfulness provides him with the platform to identify with the club's members, with one saying:
"He's always very encouraging to young and less experienced boxers who often feel disheartened.
"He'll work as hard as he can to help them gain confidence and experience and he'll push them to achieve their goals in life."
As a lot of people reading this will understand, coaching at a boxing gym can be time-consuming.
While many of his peers get influenced by bright lights, Gary can be found assisting with Mind Fit sessions, taking school holiday classes, and fundraising to help develop his boxing club.
His efforts don't go unnoticed, with a club member adding:
"He has always inspired me from when I first started at the gym.
"He's pushed me to be the boxer I am now today.
"It's not just me though, he encourages everyone who he trains to be the best that they can be. He's experienced what boxing is like and he uses his knowledge to develop everyone."
Harley Pullen – Future BA
Harley Pullen at Home Counties' boxing club Future Boxing Academy is another young coach to be commended for his commitment to boxing.
Harley opened his very own gym at the age of 20, giving up his free time to benefit the local community and change the lives of young members – something that is acknowledged in a lot of his nominations.
"He has helped a great number of children in the community with all different needs. He makes everyone feel extremely welcome and part of the family", said one member.
Another added: "Since my two young daughters joined the club, Harley has given them a lot of confidence and the effort he puts into the club and its members is amazing.
"Nothing is ever too much for him, he goes above and beyond, and he will always put his boxer's needs first, before himself."
Despite only being in the early stages of his career, Harley is having a transformative impact in a competitive sense too.
"Harley has worked so hard to build up my sisters' confidence and get them to where they are today.
"Not only that, but they also both recently brought home their first ever win" said one nomination, while another added, "On the 12th February 2023 Harley had his first ever National finalist in their first ever amateur season.
"Harley is incredible."
Sophie Samson – Tommy Coyle
Initiative is something Sophie Samson is not short on.
The young coach of Tommy Coyle's in Yorkshire has set up her own children's session, training youngsters between the age of six and 11 years old while completing her sports coaching degree at university.
It was a commitment, off her own back, that extended beyond teaching in the ring. Alongside passing her diploma in sport which allowed her to enrol into university, Sophie had to pass all the relevant training to set up and coach her own classes.
Her commitment to amateur boxing and Tommy Coyle is undoubted, with Sophie imposing herself as a role model to the young children in the club – both in and out of the gym. She also takes it upon herself to act as a welfare officer at the Yorkshire clubs home shows.
A club member summarises Sophie's involvement perfectly:
"I feel that Sophie deserves this nomination because she puts everything into making boxing an enjoyable sport for all.
"She puts her all into everything she does, always looking for ways to move forward and offer the best possible session to the kids she trains."