England Boxing Annual Awards 2023 – Male Official of the Year spotlight
June 25, 2023 | by Chris Boyd
In the lead-up to the inaugural England Boxing Annual Awards 2023, set to take place at the Royal Victoria Hotel in Sheffield on Thursday 13th July, we will be shining a spotlight on the nominees from each of the 10 categories.
This piece will highlight the excellent work done by the three nominees for the Male Official of the Year category.
(Nominees will be addressed in forename alphabetical order).
Keith Mills – Dagenham
A stalwart of amateur boxing, Keith Mills has contributed to the sport in a multitude of ways.
After over 30 years of volunteering as a coach, judge, referee, supervisor, trustee, assistant secretary, committee member and secretary of the London Boxing Referee and Judges Committee, Mills went on to earn his IBA 1-star in June of 2022, showing that his passion for the sport is still burning.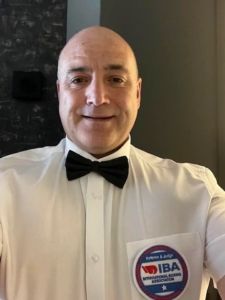 The Dagenham official's desire to contribute to every stage of an England Boxing National Championship has seen him referee and judge at regional box-offs through to the Championships finals day.
His contribution also extends to box cups and duals, both at home and internationally.
Yet, one member at Dagenham believes it's Mills' role outside of the ring that makes him so deserving of this award.
"His biggest and most thankless role is appointing ALL officials for virtually ALL of the London shows.
"There are sometimes four to five shows each week.
"It's a really demanding and time-consuming role which most people take for granted.
"London shows are always sufficiently covered by suitable officials thanks to Keith and this award would be a recognition he so richly deserves."
Paul Rosendale – Derby City
"I believe Paul deserves to win Male Official of the Year because he constantly and unselfishly develops others."
That comment, in a nomination by a Derby City club member, is certainly backed by evidence.
In the award's qualifying period, Paul Rosendale has trained in excess of 80 new and existing officials from the East Midlands, Yorkshire and
Royal Air Force associations.
In fact, his contribution has led to the RAF Boxing Association having more officials than ever before.
Paul has achieved these feats at the same time as developing his own skill set, becoming an IBA 3-star Referee and Judge in November 2022 – the highest certification possible.
His achievement makes him well-placed to mentor developing England Boxing officials, with 20 currently under his tutelage with their qualifications ranging from Grade C to IBA 1-star.
Paul seemingly leaves a lasting effect on anything he gets involved with.
"He has improved the East Midlands a great deal since joining and his one true aim is to ensure all officials become the best that they can.
"He is always developing everyone around him, pushing them as hard as possible all while making himself available for every possible club, championship and national and international level tournament."
Tony Tobin – Wednesbury ABC
Wednesbury ABC's Tony Tobin is the final nominee.
The West Midlands-based official received a number of nominations – not only for his service to amateur boxing but also for his attention to detail and insistence that the highest of standards are met.
One of Tony's mentees said: "He keeps in touch with medical officers and supervisors and he's always after the best practice and feedback to use at shows and events.
"Tony will then get in touch with clubs, and he checks in on their performances and activities constantly.
One of his standout assets is his ability to support clubs in the region."
As well as supporting England Boxing clubs, Tony takes up appointments as a supervisor in many of the National Championships and encourages younger officials to progress and develop.
Tony's instinct to help across the board has seen him become a well-known figure, according to his mentee.
"I think everyone in England Boxing knows Tony Tobin.
"There was even a show when a chant of "there's only one Tony Tobin" went around, which was a lot of fun but it's also a testament to the kind of person that he is.
"He is always on time, well-presented, prepared and has exceptional knowledge about the sport.
"He is a standout official and an asset to England Boxing."