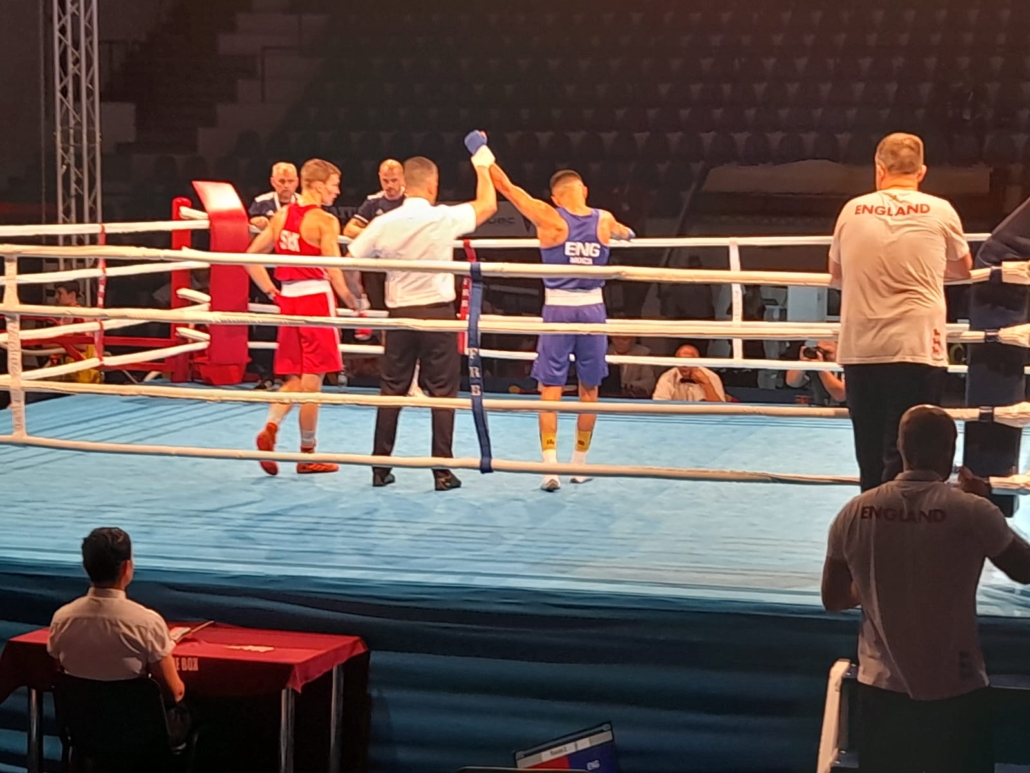 Junior Euros 2023: Four victories from five on Day One
July 21, 2023 | by Chris Boyd
Team England got off to an excellent start on day one of the EUBC Junior European Championships 2023, with four victories from five bouts at the Olimpia Venue in Ploiesti, Romania.
District Youth's Ruby Cuthbertson was the first of three Junior England boxers in action during Session One of day one.
The Under 46kg boxer faced tough opposition in the form of Sahande Zengin of Türkiye but got in a solid rhythm early, measuring her shots well against her southpaw opponent.
A fierce attack from Cuthbertson forced a standing eight count in the second round, putting the writing on the wall as Ruby eased to a unanimous point victory.
Next up was reigning Junior European Champion Ruby White (Sturminster Newton), who was in Under 48kg action against Greek opponent Maria Georgopoulou.
Ruby made a determined start to her campaign to retain her title, going toe-to-toe with her opponent as both traded big punches.
The Team England boxer edged the second and third rounds, making light work of her height disadvantage to secure a 4-1 split decision.
John Joe Carrigan (Border City) rounded off Team England's participation in session one with his Under 70kg bout against Muhammet Macit of Türkiye.
The switch hitter needed a round to find his range and rhythm, before showing a gulf in class between himself and his opponent.
Carrigan outclassed and outshot his Turkish opposition in the second and third rounds en route to a unanimous decision victory.
After a short break, Sporting Ring's Noah Barney-Smith was in action in the second session.
He found himself with a tough opening opponent in Armenian Aren Kharatyan as the pair contested an Under 52kg bout.
After dropping the first round, Barney-Smith responded well in the second to leave it all to play for in the final round against an advancing Armenian.
On another day, Noah's fast hands and feet would have taken the decision, however, a 4-1 split decision went in favour of the Armenian on this occasion.
Last up for Team England and last up in the final bout of Day One of the competition was Ropes and Glory's Adam Maca.
The reigning Junior European Champion made an emphatic state of intent with his performance against Slovakian southpaw Tobias Zelenak in their Under 57kg bout.
Adam's marauding style forced a standing eight count in the first round, followed by another in the second round which forced the referee to stop the contest.
Day Two bouts
Morning Session (11am UK time)
Bout 4: Female, Under 50kg – Xenia Scharapinski (IBAG) v Hollie Haskins.
Bout 13: Male, Under 50kg – Mohammad Safari v Luka Chkhikvadze (Georgia).
Afternoon Session (3.30pm UK time)
Bout 1: Male, Under 60kg – Angelos Kalamaris (Greece) v Paul Coyle.
Bout 12: Male, Under 80kg – Ramin Popal (IBAG) v Tobias Taylor.
Bout 16: Male, Over 80kg – Zurab Oboladze (Georgia) v Leo Atang.