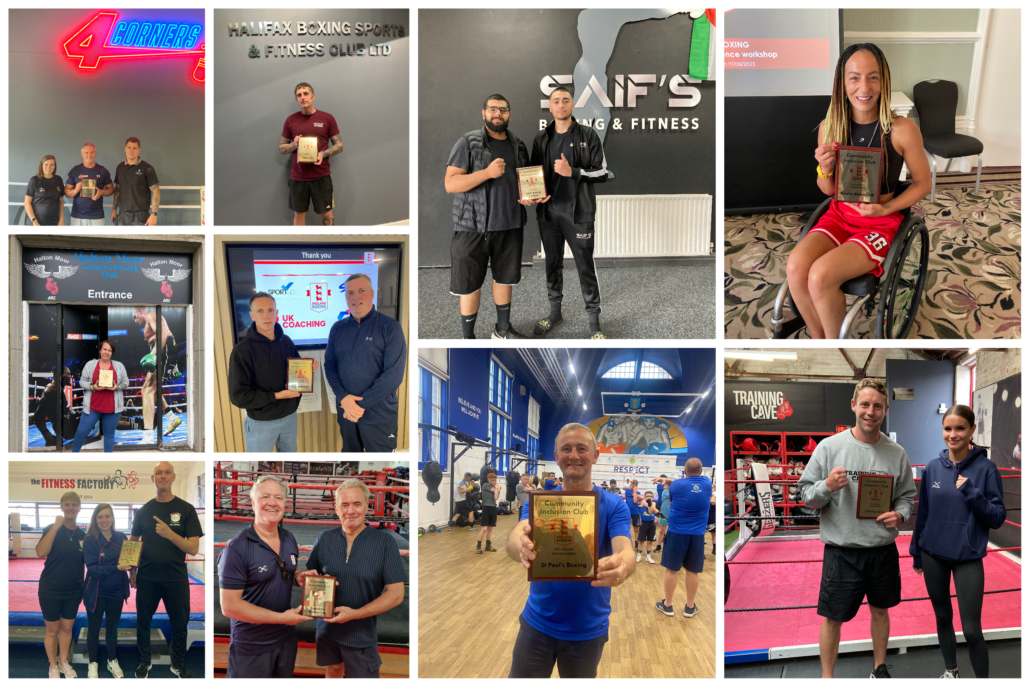 England Boxing Community Inclusion Clubs across the country receive plaques
July 22, 2023 | by Chris Boyd
England Boxing has delivered plaques to a host of Community Inclusion Clubs across the past month, in recognition of the hard work and dedication they have put into delivering boxing to people living with various disabilities and health conditions.
Currently, 40 affiliated clubs across England have become Community Inclusion Clubs, delivering boxing to people living with Parkinson's Disease, Neurodiversity, Special Educational Needs, Learning Disabilities, Physical Disabilities, Down's Syndrome, Visual Impairments and many more health conditions.
Amongst the collage below is Dagenham Boxing, Fitness Factory, Four Corner's Gym, Fusion Gym, Halifax Boxing, Halton Moor, Kronik Warrior's, Saif's Boxing and Fitness, St Paul's, Training Cave and Unity Boxing Centre, with many more clubs to be recognised with their plaques in the coming months.
If you are interested in learning more about coaching people with long-term health conditions and disabilities, join the below workshop. 
ACTIVITY ALLIANCE INCLUSIVE ACTIVITY PROGRAMME ONLINE WORKSHOP 
17th August 2023 6pm-8pm 
Help make your sessions more accessible for people with Long Term Health Conditions and Disabilities.  
The programme has been designed to support you to make physical activity more inclusive for disabled people. The learning package will help you: 
Understand how to apply a range of tools to make your activities more inclusive.

Increase your confidence and competence to include disabled people in your activities.

Reflect on your current delivery and identify how you can improve fairness for disabled people in sports and activity.

Access further support, training and opportunities for yourself and the disabled people you work with.
More info on the workshop can be found here by clicking here. 
To book the course, please email alicia.winbolt@englandboxing.org with the names and email address of the people who want to attend.