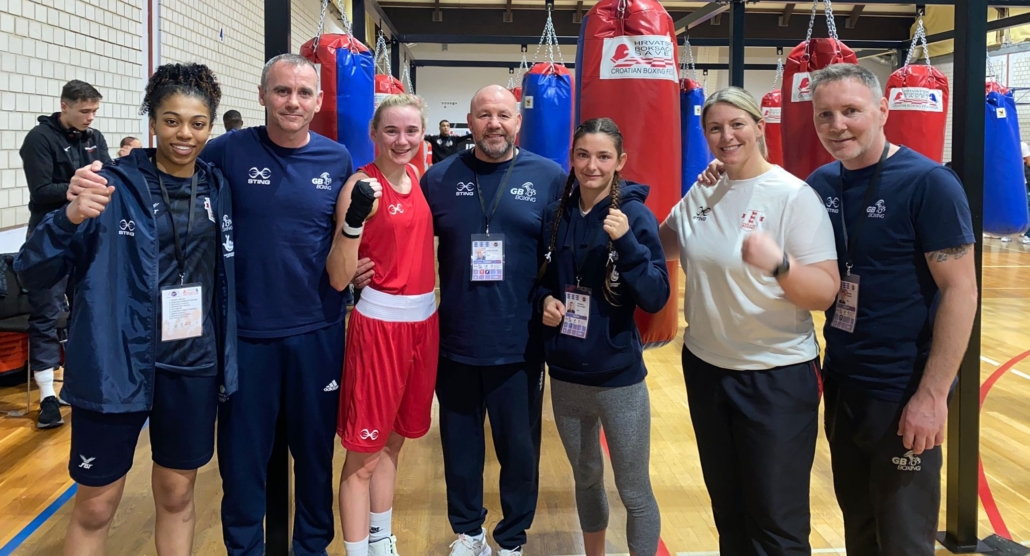 Euro Under-22 Champs 2022: Toussaint and Holmes guaranteed bronze medals
March 19, 2022 | by Matt Halfpenny
England's Sameenah Toussaint and Olivia Holmes guaranteed the Home Nations' first two medals of the EUBC European Under-22 Championships on day six in Porec, Croatia.
New Kings' Toussaint put in a dominant display to beat Georgia's Vanuhi Manasyan as the referee stopped the contest in the third round, enabling her to book a last four place.
The result of the bout was rarely in doubt as Toussaint with superior reach and with a strong jab exerted her authority from the start.
She won the first round unanimously, with one of the judges scoring it 10-8 to the Englishwoman and she was even more dominant in the second, forcing a standing eight count and securing 10-8s across the board.
With the Georgian having no answer and the New Kings boxer having forced two more counts, the referee stepped in to call an early finish to the contest.
Toussaint was joined in the semi-finals by teammate Holmes, of Liverpool's Rotunda, after she defeated France's Selma Friga in the evening session.
The Under 54kg boxer set up her victory by winning the first round unanimously after finding the cleaner and more eye-catching shots.
The second round saw Holmes continue to box on the front foot and it was rewarded by a 4-1 split in her favour, giving her some breathing space.
Friga came back strongly in the final round, but Holmes still did enough to clinch it 3-2, giving her a unanimous victory and the chance to punch the air when the victory was read out.
The third of the English trio to compete, Savannah Stubley, was first into action against Italy's Sorrentino Giorda at Under 50kg.
The member of the Empire School of Boxing club in the Tyne, Tees and Wear region took the first round of a cagey affair by a 4-1 against an experienced opponent who has boxed at the Olympics.
But even though the second and third rounds were keenly-contested, it was Giorda who ran out a unanimous victor in both to claim the contest overall.
It was nevertheless a valuable learning experience for Stubley, who acquitted herself with great credit.
England Development Coach Amanda Coulson said: "It's great to have two of the three English women who boxed today through to the semi-finals and be guaranteed a medal, but I am proud of how all three of them performed."
Today's day seven of the tournament sees Scotland's Sam Hickey back in action at Under 75kg, as he takes on Yusuf Ozdemir og Turkey (Ring A, bout 10, 3:15pm UK time, while Wales' Ioan Croft takes on Ireland's Barry O'Connor at Under 67kg (Ring A, bout 5, 6pm UK time) and brother Garan Croft boxes Istvan Gerzsenyl of Hungary at Under 71kg (Ring B, bout 7, 6:30pm UK time) in the evening session.
You can access the live stream by clicking here.