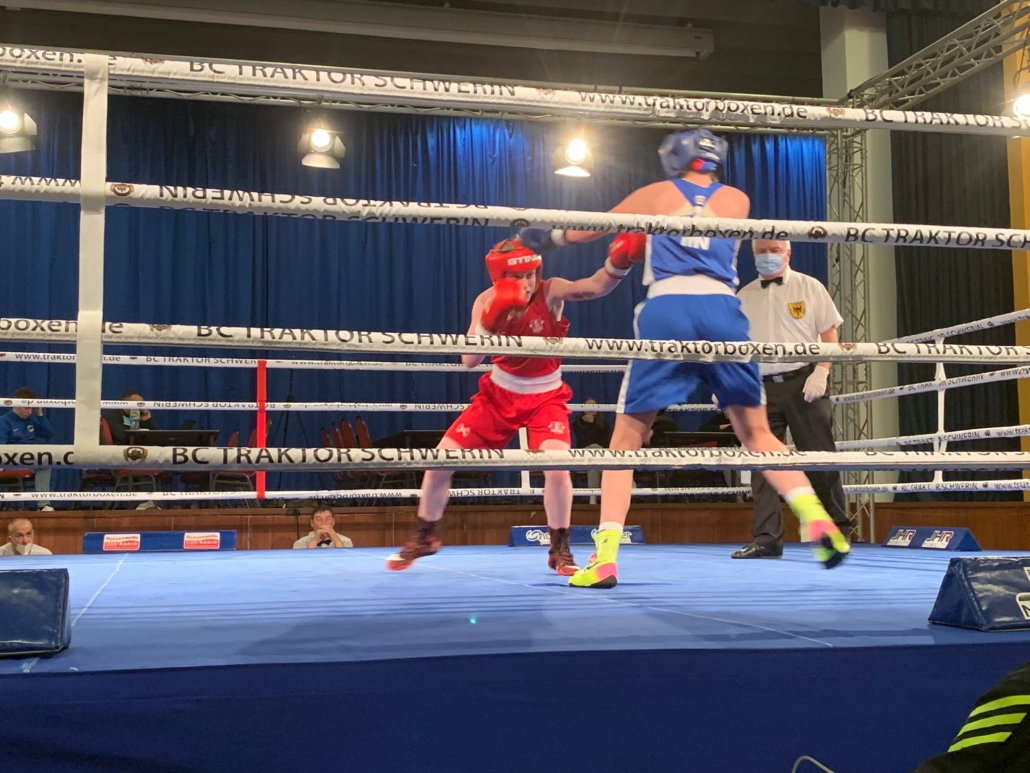 Excellent day for England Youth squad at Demen Tournament
March 18, 2022 | by Matt Halfpenny
England's European Youth Squad enjoyed an outstanding first day at the Demen Round-Robin Tournament, which they are using to fine tune their preparations for Sofia next month, as 12 out of 15 boxers were victorious in their bouts.
It was St Paul's BA's Madi Gittins who had the honour of opening the tournament from an England point of view and she secured a unanimous win over Poland's Olivia Jakuibczyk at Under 48kg.
Next through the ropes for the Three Lions was Mikie Tallon (Lee Jones) at Under 51kg, but he just missed out in dropping a close 3-2 split to Nikolas Pawlik of Poland.
Nelson Birchall ensured England quickly got back to winning ways as the Sharpstyle boxer won his Under 60kg contest 4-1 against Germany's Hassan Moussa, while Damar Thomas, of Powerday Hooks, won the penultimate bout of the morning session for the Three Lions with a 5-0 win over Arinat Krasniqi at Under 92kg.
The positive momentum was maintained moving into the afternoon session as Lauren Mackie (Burton Park) and Emily Whitworth (The People's Gym) – who met in the Under 54kg final at the England Boxing National Championships 2022 in February – both secured unanimous verdicts.
Mackie was too strong for Laura Helms of Germany at Under 52kg, while Whitworth got the better of another German Vanessa Fuss at Under 54kg.
A fourth straight win for the England girls was secured by Under 75kg boxer Amber Moss-Birch, of Golden Ring, who stopped German opponent, Meilina Meier, in the second round.
The run of England success continued as Owen Ketley of Lionheart sent his German opponent Jan Richmeier to the canvas on the way to a 4-1 split decision win in the Under 54kg category and Osama Mohammed produced a third-round stoppage to see off Canel Gunal, also of Germany, at Under 63.5kg.
There was disappointment for Luke Turner, of Phoenix Fire, who was withdrawn by his coach from his Under 75kg encounter with Matti Aussler because of a second-round injury.
But the afternoon session ended on a high as Over 92kg boxer, Enriko Itauma, from Westree was a unanimous victor over Amin Ouchaou.
Four more boxers contested bouts in the evening session, with two girls going first and two boys following.
Jayne Bardauskas, of the Almond's Club, triumphed in the third round of her Under 57kg bout by stopping her opponent, Poland's Julia Wasiakowska.
Paige Howarth, meanwhile, of M31 Boxing, was pushed harder but nevertheless prevailed on a 4-1 split against Germany's Asya Ari, also at Under 57kg.
Boxing at the same weight on the male side of the tournament was West Ham's Frankie Wood, who faced a very physical German opponent in the shape of Arian Gohan.
And though the Londoner gave his all for the Three Lions cause, the judges scored the bout a 3-2 split in favour of the German.
Concluding the day's action from and England point of view was Lewis Lawton, and the Team Impact boxer wasted little time in winning his Under 67kg contest, with the coaches of German opponent Denis Kwiatkowski throwing in the towel in the first round.
The team will be back boxing again tomorrow (Saturday), with more coverage via the England Boxing Instagram account.