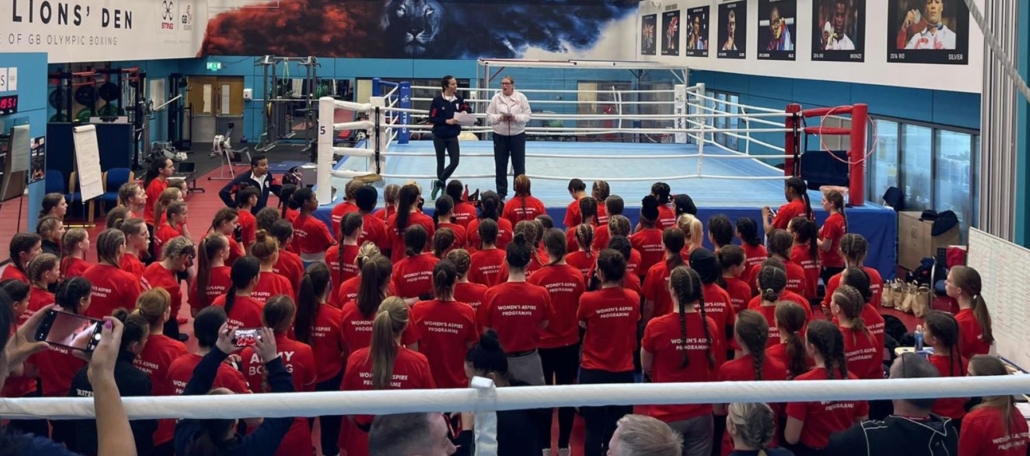 Women's Aspire Programme returns in style
March 7, 2022 | by Matt Halfpenny
A total of 117 women and girls were invited along to the English Institute of Sport for the eagerly-awaited return of the England Boxing Women's Aspire Programme on Sunday (6th March).
The programme was created by the England Development Coach Amanda Coulson, and is headed up this year by Talent Pathway Coach Laura Sargeant, having been temporarily sidelined during the Covid-19 pandemic.
Aspire's return after a two-year absence was in some style as 65 Schools and Junior boxers, alongside 52 Youth and Elite boxers, made the trip to Sheffield.
They were drawn from 12 regions across England, who each invited participants, in what was an early boxing-style celebration of International Women's Day 2022, which takes place tomorrow (Tuesday 8th March).
The session featured practical sessions, including working with Tommy Munday and the team at Boxing Science.
All participants received a T-shirt to mark the experience and will attend another two sessions later on in the year.
"What an amazing day it was," said Sargeant. "I feel absolutely privileged to have been given the role to lead the programme this year.
"I really hope they all enjoyed the day as much as they seemed to and the feedback on social media so far has been very positive."
Coaches nominated from the regions were also in attendance, along with a pool of Talent Pathway Coaches and the recently graduated women from the Female Coach Development Programme.
Sargeant added: "I can't thank every single coach enough for all of their help yesterday. All the help is really appreciated.
"Everyone really pulled and worked together to make sure it was an enjoyable experience for the boxers and that's what it's all about, their enjoyment!"
The next sessions will be split into Schools/Junior and Youth/Elite separately to be able to give all boxers greater developmental opportunities.
All boxers filled out a form with areas for development and the next sessions will be designed around those needs.