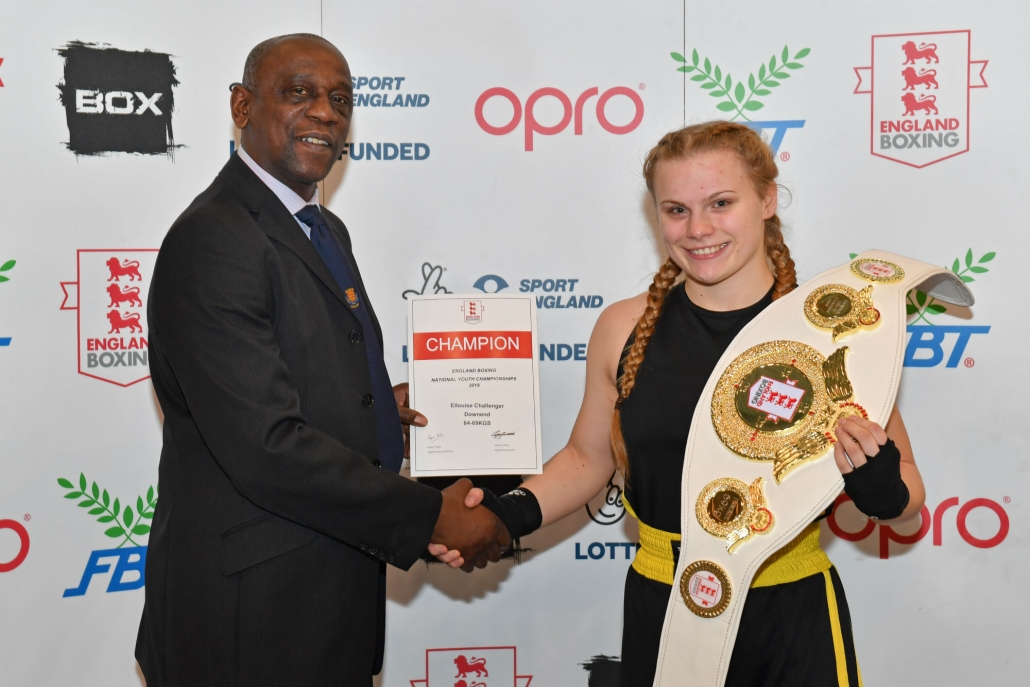 Bristol DiSE trio making great strides in the ring
March 6, 2019 | by Matt Halfpenny
The three teenagers are all studying at South Gloucestershire and Stroud College, while also undergoing regular boxing training in a bid to perform at the highest level.
Taylor Andrew of Downend ABC has been making impressive progress, winning seven of his last nine bouts and reaching the semi-finals of the NAGBC Championships and the quarter-finals of the England Boxing National Youth Championships.
Fellow Downed boxer Ellouise Challenger (pictured above) has established herself as a regular member in the England set-up.
She also once again secured herself a national title by beating Selby's Jessica Williams in the final of the England Boxing National Youth Championships at 69kg.
Another DiSE boxer, Brooklyn Chamberlain, of Western Warriors (pictured below), also reached the final at the same competition, held in Banbury, boxing at 91kg+.
However, he fell short in that bout against a more experienced opponent in William Howe of Phil Thomas, losing by a RSC.
All three started their course in September last year, where the early focus has been on fitness and muscular endurance through strength and conditioning.
"It is extremely rewarding for me to see these young boxers furthering their boxing career," said Michael Biggs, DiSE Head Coach at South Gloucestershire and Stroud College.
"All three are extremely talented and they have coupled this with a strong worth ethic, which is allowing them to compete on the national stage.  
"Taylor has become a very composed boxer with an adaptable style, which has enabled him to adjust when faced with opponents who are different stylistically.
"Ellouise has been working on her explosive power through sport-specific conditioning and this has contributed an increase in punching power and stoppage victories.
"Brooklyn has been training extremely hard and pushing himself, training to improve his fitness physically and technically developing his head movement to ensure he can be an effective pressure boxer."
DiSE runs at six establishments across England. Aside from Bristol, the other locations are Birmingham (University College), Brighton (Greater Brighton Metropolitan College), Manchester (The Joe Gallagher Academy) and Gateshead (Gateshead College).
For further information on DiSE, please contact, in the first instance, Adam Haniver viaadam.haniver@gbmc.ac.uk