Youth Worlds 2022: Seventh Heaven for Team England on day eight
November 22, 2022 | by Matt Halfpenny
Team England are guaranteed seven medals at the IBA Youth World Championships 2022 in La Nuncia, Spain as four more boxers secured at least a bronze in La Nucia, Spain.
Having already claimed three medals on day seven, Lauren Mackie, Emily Whitworth, Nelson Birchall and Enriko Itauma all produced the goods for the Three Lions to reach the last four.
Ebony Jones was the only one to miss out as she ran into an in-form European champion in the shape of Serbia's Sara Cerkovic.
The haul of seven is a record for an England team at a Youth Worlds, beating the six won in 2018.
Ebony Jones was first to go for the Three Lions, but she was not able to get her country off to a flier as she would have hoped.
Up against Serbia's Cirkovic, the Scunthorpe boxer certainly gave it a good go and gave a good account of herself, she was unable to find the answers against a talented opponent.
Jones had her success across the bouts, particularly with her strong jab, but Cirkovic was able to use her speed to land the more telling shots and edge each of the three rounds, eventually prevailing 30-27, 30-27, 30-27, 30-26, 30-27.
England's next two boxers were both on in quick succession, with Lauren Mackie first to go in Ring A against Dragana Jovanovic at Under 52kg.
it was the battle of the European medallists, with Mackie winning silver and Jovanovic the bronze – and it proved to be a competitive encounter.
Mackie's forward pressing style certainly unsettled her opponent and she was able to claim the opening round unanimously.
The Serbian got more of a foothold in the second round but the Burton Park boxers nevertheless had the better of things to take it 4-1.
Both boxers gave it their all in the final round, but Mackie was once again adjudged to have put together the cleaner work to take it 4-1 and with it an overall 29-28, 30-27, 30-27, 30-27, 29-28 unanimous success.
Emily Whitworth, at Under 57kg, faced a tall and tricky opponent in the shape of Ireland's Rebecca Leech, where she knew she would have to overcome a significant reach disadvantage.
The first round was a cagey affair, with neither boxing wanting to over-commit, but Whitworth was able to nick it 3-2.
She got on top in the second round managing to get past her opponent's long jab and land with some precise close range hooks.
It was a pattern that continued into the final round, where the People's Gym boxer took it 4-1 to claim a 4-1 verdict overall by the scores 30-27,30-27, 30-27, 29-28, 28-29.
Nelson Birchall was up next for Team England, facing Ivan Ahapov from the notoriously tough country of Ukraine in an under 60kg bout.
The Jennings gym boxer made an excellent start, constantly looking for the angle on his opponent and using his speed to land punches without being hit. It was comfortable for Birchall at this point and he took the first round unanimously.
The second round was much tougher, however, as the Ukrainian Ahapov kept on the inside of Birchall, allowing no distance between them and consistently holding for which he received a warning. Despite the mounting pressure, Birchall remained composed and dealt with the situation well to secure another unanimous round.
Ahapov had no choice but to go for it in the final round, but Birchall dealt with the danger well and his mature display saw him guarantee a bronze medal at the least, with a unanimous victory.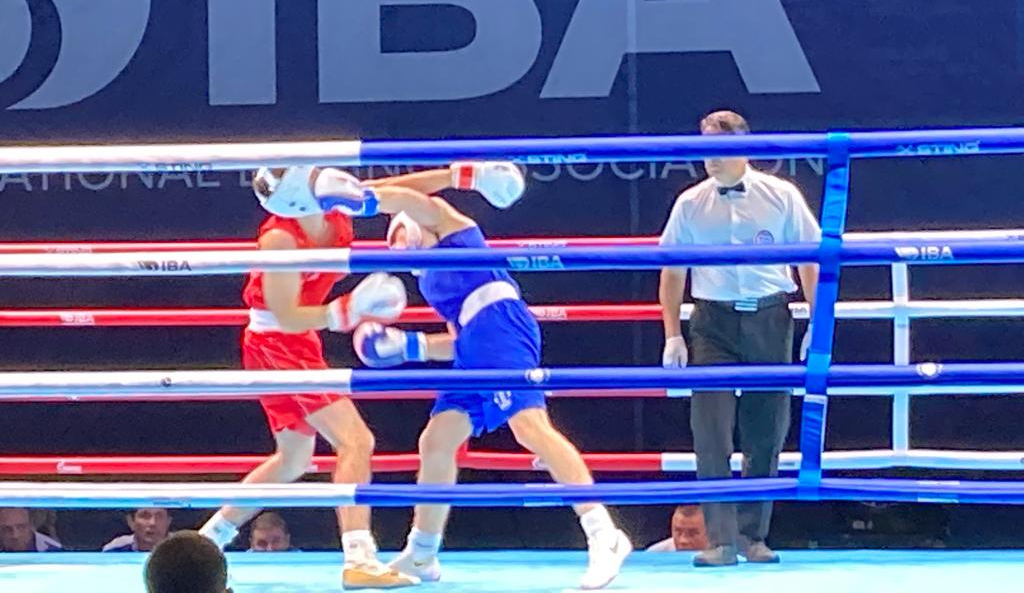 The fifth and final boxer on day eight for Team England was Enriko Itauma, who was competing in the final bout of the afternoon in Ring A against Germany's Younes Ouchaou.
The Westree boxer started on the front foot, stalking his over 92kg opponent around the ring while landing huge shots and combinations to take the round unanimously.
Itauma continued to impose himself on his German opponent throughout rounds two and three, proving he has the speed to partner his size and power as he repeatedly landed without reply to guarantee himself a medal via unanimous decision.
Day nine England bouts
Session 1 (2pm start, 1pm UK time)
Ring A, bout 2: Under 52kg – Miyu Suzuki (Japan) v Lauren Mackie.
Ring A, bout 6: Under 81kg – Amber Moss-Birch v Dearbhla Tinnelly (Ireland).
Ring A, bout 10: Under 67kg – Javokhir Ummataliev (Uzbekistan) v Levi Barnes.
Ring A, bout 13: Over 92kg – Stylianos Roulias (Greece) v Enriko Itauma.
Ring B, bout 3: Under 57kg – Emily Whitworth v Guadalupe Perez (USA).
Ring B, bout 9: Under 60kg – Erik Israyelan (Armenia) v Nelson Birchall.
Session 2 (6pm start, 5pm UK time)
Ring B, bout 12: Under 92kg – Damar Thomas v Florin Ionita (Romania).