Coach Sally to the rescue for England Youth squad in Germany
October 6, 2022 | by Matt Halfpenny
The England Youth Squad competing at the Brandenburg Cup in Germany last week was indebted to a late dash to the tournament from Midlands coach Sally Webb.
A few hours after arrival, regular England Talent coach Laura Sargeant was taken seriously ill, leaving Lead Coach Q Shillingford, rushing to get a doctor, who advised hospital treatment was necessary.
It left a huge gap in the coaching team, especially from a female safeguarding perspective which Lead National Coach Amanda Coulson quickly tried to full.
She put out a late-night plea for help on the RAIR WhatsApp group, which includes female England Talent coaches and the coaches from the first Female (now Women's) Coach Development Programme.
As luck would have it, Sally Webb from Priory Park ABC was up for the challenge – and has a very understanding boss, who allowed her to take the time off at extremely short notice.
Part of the original FCDP, she has massively developed her skill-set due to the programme and the ever-continuing support of her club and coaches.
The very next day Sally was on a plane and bound for Frankfurt.
Despite being a little nervous of what to expect and not really knowing anyone on the team, she immediately set to work and did as the coaches requested working behind the scenes and also helping out in the corners where needed.
The England Boxing Level One coach, who is soon to take the Level Two course, said: "I have learnt so much. Being able to hand up and listen showed how different it was to club shows, and being able to listen to the coach/boxer conversations pre-bout.
"The coaches asking my opinion mid-rounds made me feel valued and included.
"I witnessed how the boxers are reflecting and becoming independent. How all the boxers' different styles are nurtured and developed. I watched how all the countries train and spar… there was so much!"
"I feel motivated to push myself to a level I wasn't sure I could ever reach. I know I can achieve this now.
"Laura is amazing and my inspiration so I'm so happy she is on the mend. I just loved every second and would do it all again tomorrow!"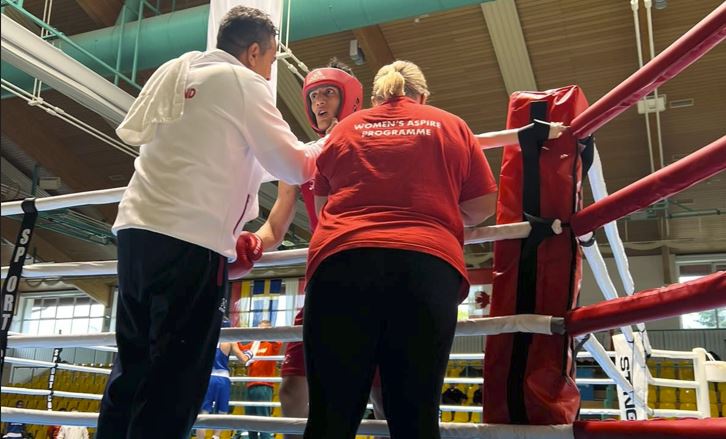 Laura was diagnosed with having Pancreatitis and, after almost five days, she discharged on Saturday and headed straight to the venue, more than ready to see the team.
"The welcome from the team was absolutely amazing and made my whole week… they nearly had me in tears! said Laura.
"Then I was able to sit in on two of the last three corners which was an absolute bonus.
"It's unfortunate that I was taken ill, but I was absolutely over the moon for Sally to be able to have this experience. She is such an amazing coach in her own right.
"It's only just a year since we held the first FCDP residential and Sally, along with the other coaches, are barely recognisable these days, always confident and willing to learn and develop themselves and others. This is the epitome of what the programme is about. It's amazing to see."
England Boxing Lead Talent Coach Amanda Coulson said: "I would like to thank Sally for taking up this last-minute opportunity to support our Youth World team's preparation in Germany.
"I hope this experience has given Sally a great insight into how the England team perform both in and out of the ring, and to be able to make some connections to her own coaching knowledge and behaviours."
Find out more about the Women's Coach Development Programme.