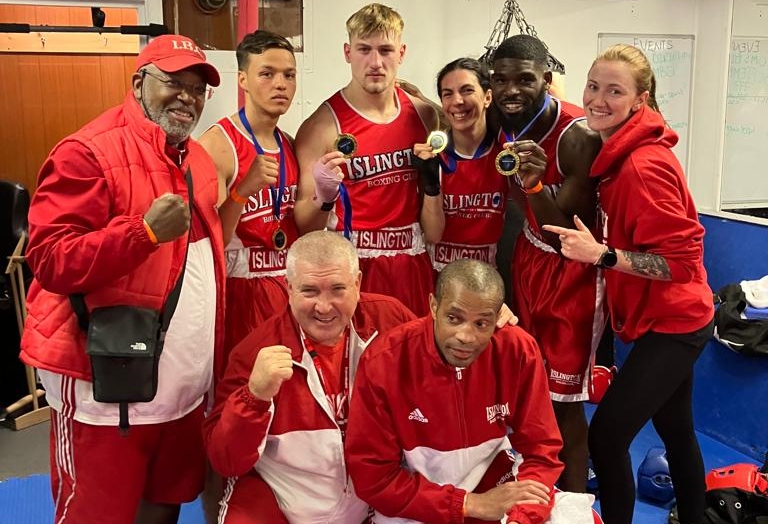 Successful first outing of season for Islington quartet
October 6, 2022 | by Matt Halfpenny
Islington Boxing Club started the 2022-23 season with a bang, with some excellent results at the joint Belvedere ABC / Royal Resistance BC show held at Belvedere Working Men's Club.
The North London club based a Hazellville Road, N19 had four boxers competing – and each of the quartet emerged victorious.
First up was Kai Brown (70kg, age 17) against Markus Sourbah (Royal Resistance BC) with both boxers making their respective debuts.
In an entraining three rounds, the Islington Youth boxer had to go to war with his opponent before  being declared the winner via a 3-2 split decision.
It was a relief for the club to finally get Brown out to box, after three bouts on three separate shows all fell through at short notice last season.
Next up for IBC was Amy Joseph (55kg) who is one of the club's most dedicated senior boxers, who narrowly lost her first two previous contests last season.
Jessica Ruiz (Royal Resistance BC), who was making her amateur boxing debut, provided the opposition.
Joseph kept Ruiz at bay and was busy throughout the bout, meaning she got her first win via unanimous decision.
The Islington boxer is now set to compete in the England Boxing Winter Women's Box Cup in December and enter the Golden Girls Box Cup in Sweden again in the new year before competing in the Development Championships this time next year.
Another boxer making their debut in red and white after transferring from another club was Cruiserweight, Elliot Elimasi (84kg).
He conceded three kilos against opponent David Clement (Royal Resistance BC) and had a good warm up contest for the forthcoming National Development Championships which he and his teammates weighed in for two nights previously.
Elimasi came away with a 4-1 split decision win against a strong game opponent, which will give him confidence going forward.
Last up on the show was Ethan Frost (92kg), with the young heavyweight coming up against Aggelos Onyenakazi (Royal Resistance BC).
Frost put in a strong performance and slowly his confidence is starting to build up after an up and down start to his amateur boxing career.
He stopped Onyenakazi at the start of the third round after the ringside doctor examined up close the Royal Resistance boxers' nose which appeared to be broken.
The victory will set Frost up for a busy season ahead and is among the team of senior male boxers that is due to box in Sweden at the King of the Ring Box Cup in early November.