Week six winners of Strava Challenge revealed as 5k mini-challenge awaits
February 15, 2021 | by Matt Halfpenny
Week 6 of the England Boxing Strava Running Challenge sees congratulations go to Bradley Smith (Schools), Shae Gowler (Junior), Oli Rhymes (Youth), Tommy Ledwidge (Senior) and Tommy Reid (Coaches and non-boxers) as weekly mini-challenge winners.
The cold snap that has seen many across the country encounter more snow and ice was far from ideal for setting quick times, yet there were still plenty who stepped up to the challenge with aplomb.
However, ahead of this coming week's new 5k mini challenge (Monday 15th February to Sunday 21st February), participants are reminded to take note of two elements in particular that have caused some times to be omitted in recent weeks.
Firstly, make sure that you cover at least the required distance (this week 5k, last week 3k), as 4.99k, (or 2.99k), will and did not count.
Bear in mind that the distance detailed on Strava is the one used and counted, and other methods of recording can sometimes register differently. The best way to check you have the correct Strava distance is to mark out the correct distance first over a practice run.
Secondly, make sure that the moving time and elapsed time are the same or similar. Overall times showing significantly different moving times and elapsed times have had to be discounted, as it opens up the possibility of individuals stopping, and not completing their run in one go.
Not for the first time, it was Smith of Bishop Auckland who powered to victory in the Schools category with a time of 11.10.
He finished ahead of the fast-improving Charlie Aldous (Barum), whose 11.42 saw him benefit from regular training sessions to knock 50 seconds of his personal best.
Also making great strides was Aldous' clubmate Joe Lane (pictured below), who clocked 13.15 for third place.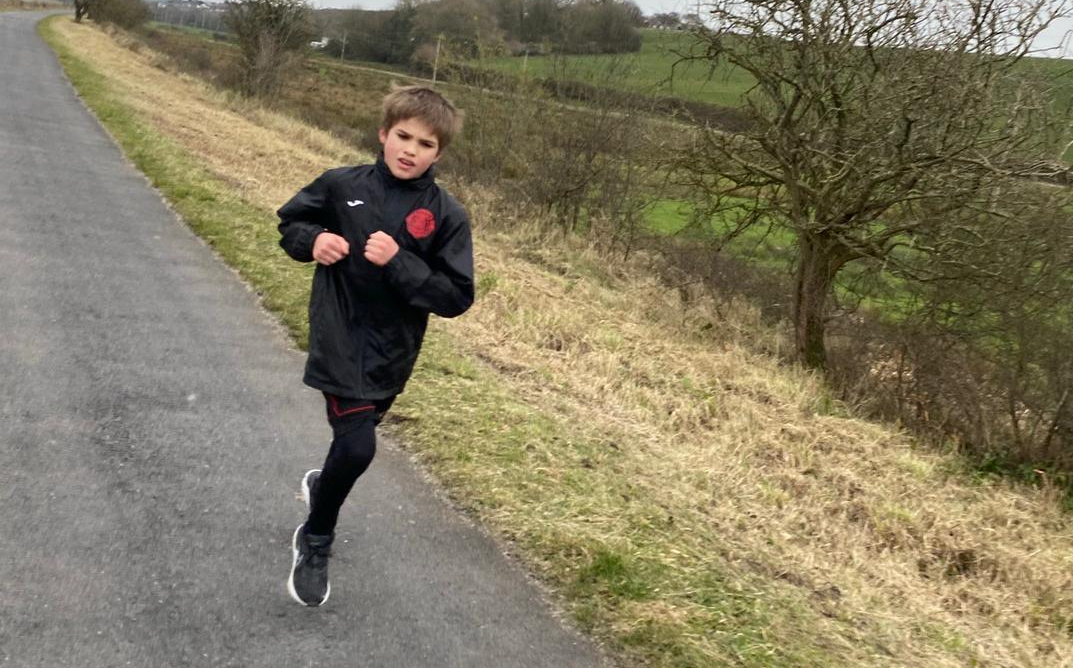 Others to come in under 15 minutes were Aamir Shirazi, Caden Jones, Jaylen Powell, Joe Glenwright, Leo Powell and Reggie Baker, while the ultra-consistent Mya Ash (Gosport) 21.44 was the leading girl.
There was another high-class, close run thing in the Junior category where Gowler, of Peterborough Police, came out on top with 10.42.
That was ahead of the ever-consistent Liam Rennocks (Heart of England) with 10.56, while newcomer Connor Yates (Majestic) recorded an impressive 11.15.
In the girls' section, Emily Anderson (Peterborough Police) was the top performer with 15.46.
Others to record a time under 15 minutes were Alfie Baker, Callum Levitt, Findlay Lloyd, Imraan Shirazi and Kian Quinn.
Recording a 3k mini-challenge double in the Youth category was Crawley's Rhymes, who followed up last week's 11.34 with a time almost a minute quicker of 10.38.
In second place was Keanu Scowen (Peterborough Police), who ran 11.34 and third was Stanley Walton (Colchester) with 12.44.
Christ The King's Ledwidge (pictured below) was quickest in the Senior category as he ran a time of 11.01.
30 seconds further back was Connor Quinn (Braunstone Golden Gloves) with 11.31, while John Seopela (Jewellery Quarter) was a close third with 11.42.
For the women, Kayleigh D'Arcy (Blue Flames) was the quickest in 17.12, followed by Rachel Frances (Poseidon) 18.42, and Zulaikha Khan with 25.16.
There was double success for Colchester in the Coaches and non-boxers category, with their runners taking first and second.
Tommy Reid, in 12.51, finished ahead of namesake Charlie Reid in 15.37, with Kevin Brownlow (Holmes Chapel) in third with 15.57.
Dee Cowey (Market Drayton) was triumphant in the female section, clocking 15.03 to see off the challenge of Kerry Chalk (Holmes Chapel) with 19.59 and Tracey Hayne (Downend) with 20.43.
"It's not been the easiest weeks to get runs in with the wintry weather we've had, but I take my hat off to all those who have recorded times, many of them excellent," said Amanda Coulson, England Talent Development Coach.
" We now move on from the 3k to the 5k – a distance a lot of people will be familiar with and, I'm sure, keen to show they can run well at.
"I would just urge people to make sure they record the correct Strava distance and do so in one go to avoid and disappointment at runs not counting. Wishing everyone the best of luck!"
You can set as many 5k times as you like, but it must be done in one continuous run, automated through Strava or, if on a private treadmill or inputted manually, must be supported by pictorial evidence of the data created.
Please see below the example of Mackenzie Waker for how your 5k should show up on your Strava page.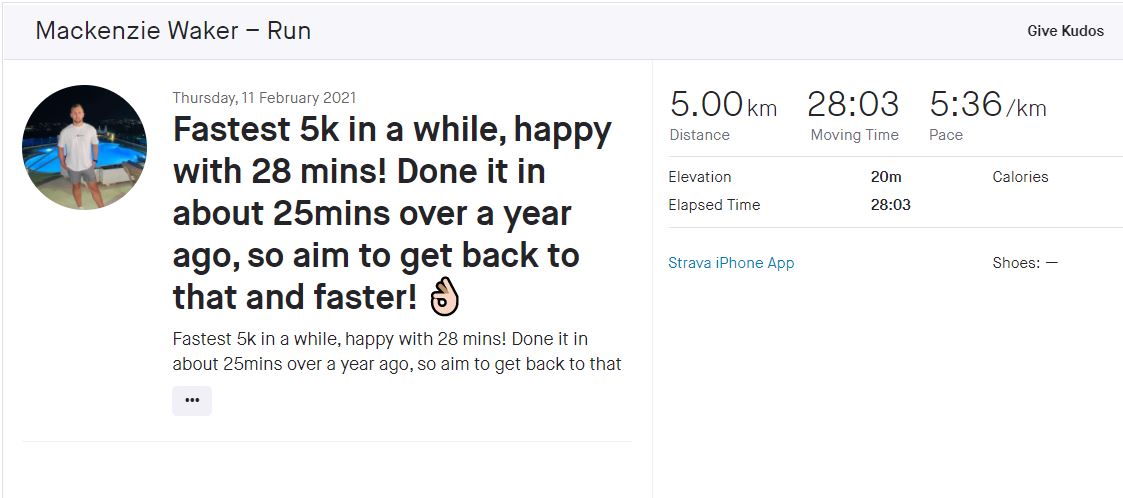 In the example, the time that will be measured is the 'moving time', which in this case would be 28.03.
In order not to lose any time, it is in your interest to make sure that you run as close to 5km as possible. Equally, make sure you run at least 5km, as if you run 4.99k, your time will not count.
To get the best results, follow these pointers:
Always find an-off road route away from traffic.
Try to find a route as straight as possible, which prevents loss of time on cornering.
Try to find a route with little or no inclines that will slow you down.
Measure out the 5km exactly on a slow practice run, so you know where to start and stop to record the correct distance.
Don't forget to stop the timing of your run immediately after reaching 5k!
For the 5k mini-challenge, participants must ensure they have their Privacy Controls under Settings set to 'Everyone' both for the Profile Page and Activities in order that results can be viewed.
For avoidance of doubt, you must complete your 5k without stopping and only those who were specifically targeting this challenge, and running no more than 6k, will be considered.
Please note that while boxers' overall mileage will continued to be displayed on group leaderboards, these results will not be acknowledged on England Boxing promotion and results.
In the meantime, don't forget to post your best 3k time for week six's mini-challenge, which finishes on Sunday (14th February).
How to join in
If you want to begin your 2021 by getting in running shape but not entered yet, there is still time to join with Challenges running each week from Monday morning to Sunday evening.
To join in with the England Boxing Strava Running Challenge 2021, first sign up to Strava at https://www.strava.com/, if you haven't already.
Then head over to the relevant group to complete your registration. Runs will automatically be logged in the challenge once you are registered:
Schools boxers – https://www.strava.com/clubs/englandboxingschools
Junior boxers –  https://www.strava.com/clubs/englandboxingjunior
Youth boxers – https://www.strava.com/clubs/englandboxingyouth
Senior boxers – https://www.strava.com/clubs/englandboxingsenior
Coaches and Non-boxers – https://www.strava.com/clubs/englandboxingcoaches
Please state your club and position on your Strava profile. For example, put 'Army boxer', 'Steel City Coach', 'Aberfeldy Welfare Officer' or 'Wearmouth Administrator'. If you are an official with no specific club, please state your region and role, such as 'Eastern Counties Judge'.
Should you have any problems with registering, please email: matt.halfpenny@englandboxing.org
Key Information
Important: Please note that boxers and participants taking part are doing so their own risk and must ensure they have adequate footwear and clothing and no injury or health concerns.
It is recommended that participants do not to run alone in the dark or in adverse weather (such as snow or ice) and parents and coaches are requested to monitor the activity of under 18s and ensure that those taking part do not push themselves beyond their running capabilities, while also giving themselves adequate rest. Adults should also be careful to run within their limits and rest when appropriate.
You can also post pics that you'd like to share of you running in your England gear on our Instagram, Facebook and Twitter channels using the hashtag #EBStravaChallenge.