Four winners confirmed of England Boxing Strava Running Challenge 2021 week one
January 11, 2021 | by Matt Halfpenny
Congratulations go to Tyrell Fowler (Senior), Sahil Khan (Youth), Kylan Keating (Junior) and Rowan Caldwell (Schools), who have emerged as the four overall winners in the first week of the England Boxing Strava Running Challenge 2021.
Burmantofts boxer Fowler (below) represented Yorkshire with pride as he clocked up 120.5 miles to win the senior category ahead of Whitehaven and District's Alfie Poole (101.6 miles) and Cristovao Rodrigues (72 miles) of Jersey Leonis.
Topping the pile of senior women was Victoria Azzaretti, of Sweatbox, with 43.9 miles, as she finished ninth overall, followed by Jessica Barry (31.8 miles) of Christ The King and Jerry-Lee Palmer (27.4 miles) of West Warks.
The Youth category overall winner, Khan (pictured bottom), was back for more success, having won one of the weekly events run before Christmas for Youth boxers on the England Talent Pathway.
The Merridale boxer recorded a grand total of 129.5 miles – more than anyone else in any category during the week – to beat off the challenges of Jadon Prior (83.1 miles) of Golden Ring, Southampton in second and Leo Ellis (68.7 miles) of Fitzroy Lodge in third.
Holmes Chapel's Amalia Morris (18.6 miles) was the winner of the female section, edging out Kelsey Oakley (18.1 miles) of Priory Park and Sophia Maycroft (14.7 miles) of Catterick.
Another to top the three-figure mark was Junior winner Keating, of Essex University (pictured right), who posted 100.1miles.
There were commendable efforts in completing the top three from Heart of England duo Liam Rennocks (83.2miles) and Cole Connolly (50 miles).
Fourth junior overall and lead female was Paige Howarth (43.7 miles) of Clayton, not far ahead of Ruth Huntley (40.1 miles, sixth overall) of Kent Gloves and Ruby Atkinson (38.9 miles, seventh overall) of Birtley, who had the misfortune of having to discontinue her challenge because of injury.
In the Schools category, Plympton boxer Caldwell notched up an impressive 95.4 miles in his seven-day stint (pictured below, with dad Gavin).
That was enough to see off the challenge of Bradley Smith (90.7 miles) of Bishop Auckland in second place, while Mya Ash (47.8 miles, pictured top) of Gosport was third and also top female.
The effort of Ash was all the more inspired given the fact that because father Mark had unfortunately contracted COVID-19 in the lead-up to her bid, she was forced to isolate, meaning she could only get in her miles by running around her garden.
He said: "I test positive the day before the Challenge started, so Mya has been forced to adapt her training around the garden and both myself and her club are so proud that she hasn't let this get in her way, or given up.
"As they say, winners train and losers complain, and she has shown a great attitude to get so many miles in with her 'dizzy' runs (see graphic below)."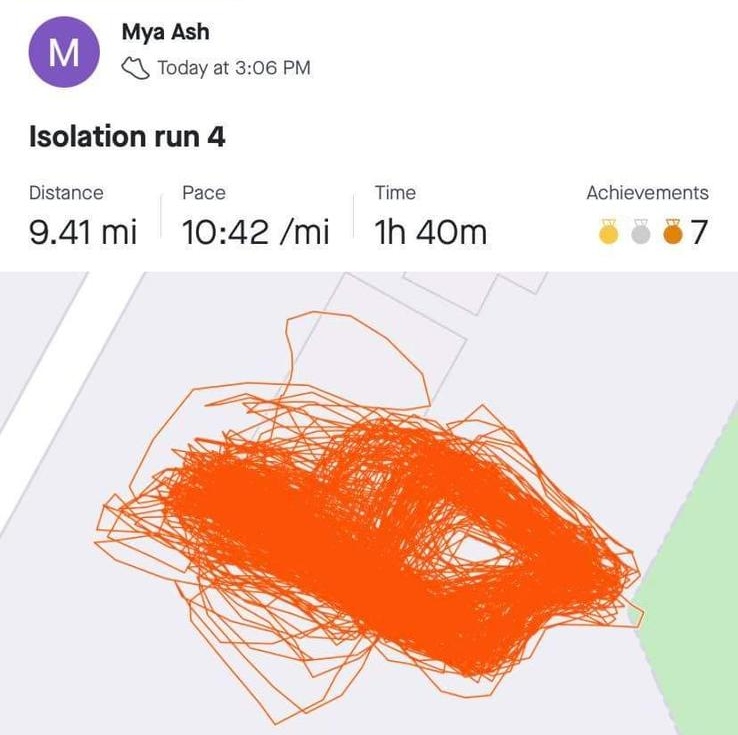 Second and third females were The Right Stuff club-mates Eva Cadwallader (35.4 miles) and Erin O'Shea (15.4 miles).
The England Boxing Strava Running Challenge, as a way to start the New Year off in healthy style, has proven a big hit at a time when a government lockdown means clubs and gyms are closed.
More than 425 people of varying ages and abilities putting their best foot forward during week one across the four age categories – Schools, Junior, Youth and Senior.
And a new category has started this week for Coaches and Non-boxers, with more than 40 participants having signed up already.
England Boxing Development Coach Amanda Coulson says she has been hugely impressed by the commitment on display and added: "I am absolutely delighted with the response to this challenge across each age category.
"The effort and miles put in by each and everyone is fantastic. There may not be any boxing happening at the moment due to Covid restrictions, but this challenge has proven the mental toughness and commitment shown by all who have taken part.
"Watching the daily activity and healthy competition unfold has become an addiction for me as I give each some kudos following every activity.  I'm looking forward to week 2 and the inclusion of a coaches and non-boxers group. Good luck to all!"
How to join in
If you want to begin your 2021 by getting in running shape but not entered yet, there is still time to join with Challenges running each week from Monday morning to Sunday evening.
To join in with the England Boxing Strava Running Challenge 2021, first sign up to Strava at https://www.strava.com/, if you haven't already.
Then head over to the relevant group to complete your registration. Runs will automatically be logged in the challenge once you are registered:
Schools boxers – https://www.strava.com/clubs/englandboxingschools
Junior boxers –  https://www.strava.com/clubs/englandboxingjunior
Youth boxers – https://www.strava.com/clubs/englandboxingyouth
Senior boxers – https://www.strava.com/clubs/englandboxingsenior
Coaches and Non-boxers – https://www.strava.com/clubs/englandboxingcoaches
Please state your club and position on your Strava profile. For example, put 'Army boxer', 'Steel City Coach', 'Aberfeldy Welfare Officer' or 'Wearmouth Administrator'. If you are an official with no specific club, please state your region and role, such as 'Eastern Counties Judge'.
Should you have any problems with registering, please email: matt.halfpenny@englandboxing.org
Key Information
Please note that boxers and participants taking part are doing so their own risk and must ensure they have adequate footwear and clothing and no injury or health concerns.
Important: It is recommended that participants do not to run alone in the dark and parents and coaches are requested to monitor the activity of under 18s and ensure that those taking part do not push themselves beyond their running capabilities, while also giving themselves adequate rest. Adults should also also be careful to run within their limits and rest when appropriate.
Make sure under 'Privacy Controls' you choose 'Everyone', otherwise your results might not show up in the leaderboard, which lists the top 100. In larger groups, results do not always show up immediately.
You can also post pics that you'd like to share of you running in your England gear on our Instagram, Facebook and Twitter channels using the hashtag #EBStravaChallenge