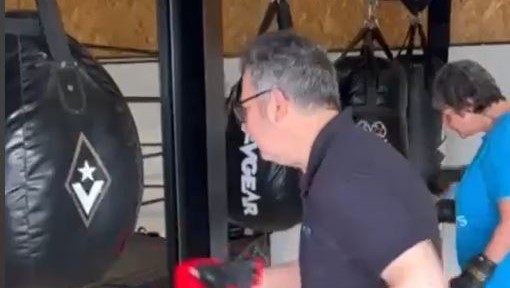 Non-contact sessions to help those with Parkinson's at Northants clubs
February 22, 2023 | by Matt Halfpenny
England Boxing and Parkinson's UK are launching two new boxing programmes for communities in Northamptonshire.
The fun, social and friendly version of the sport for those with Parkinson's and other neurological conditions – dubbed Neuro Boxing – involves high intensity, non-contact boxing with fully-qualified and affiliated coaches.
It helps people improve their strength, balance, coordination and general movement, while the high intensity activity can also help people with to manage their symptoms and improve their wellbeing.
The two sessions are the result of a new physical activity partnership which is hoped to get more people living with the condition to be active in the Northamptonshire area.
Local boxing clubs, Team Shoe-Box in Northampton and Little Oakley Boxing in Corby, will start the classes in March and run them on a weekly basis, with attendance fees costing £5 per person.
Team Shoe-Box sessions will start on Thursday 9th March from 11am until 12.30pm at Unit 4, Pan Depot, Harlestone Road, Northampton, NN5 6NU and will continue every Thursday.
Sessions at Little Oakley Boxing Club will start on Friday 17th March from 10.30am until 12pm at The Boxing Shed, Little Oakley, Corby, NN18 8HA and will continue every Friday.
"Being diagnosed with Parkinson's can be a shock and adapting to life with the condition can be hard for the person involved and their loved ones too," said Katie Smith, Area Development Manager at Parkinson's UK. "But we know that getting the right information and support at the right time can make all the difference.
That's why our local groups and networks have an important part to play for people in Northamptonshire. It is vital that we can support everyone affected by Parkinson's, so that together, we can move towards everyone with the condition feeling empowered to take control of their life with Parkinson's."
Parkinson's is the fastest growing neurological condition in the world, and currently there is no cure.
It affects around 145,000 people in the UK and every hour two more people are diagnosed.
There are over 40 symptoms, from tremor and pain to anxiety. Parkinson's UK is the largest charitable funder of Parkinson's research in Europe, leading the way to better treatments and a cure.
Alex Le Guevel, Club Support Officer for the East Midlands and Eastern Counties at England Boxing, said: "High intensity exercise is proven to promote neural changes in the brain – with boxing sessions often leading to participants improving their balance, quality of life and mobility.
"The sport has received a lot of positive attention for its potential to help manage the progression of Parkinson's, with a number of extremely popular projects now being delivered across the country.
We're delighted to be working in partnership with Parkinson's UK and Northamptonshire Sport on this initiative, which has been funded by Sport England's Together Fund, helping to tackle inequalities and improve participation opportunities for target audiences disproportionately affected by the pandemic."
For more information about joining a Neuro Boxing session, visit the Neuro Boxing registration portal or contact Alex Le Guevel on 07741 149815.