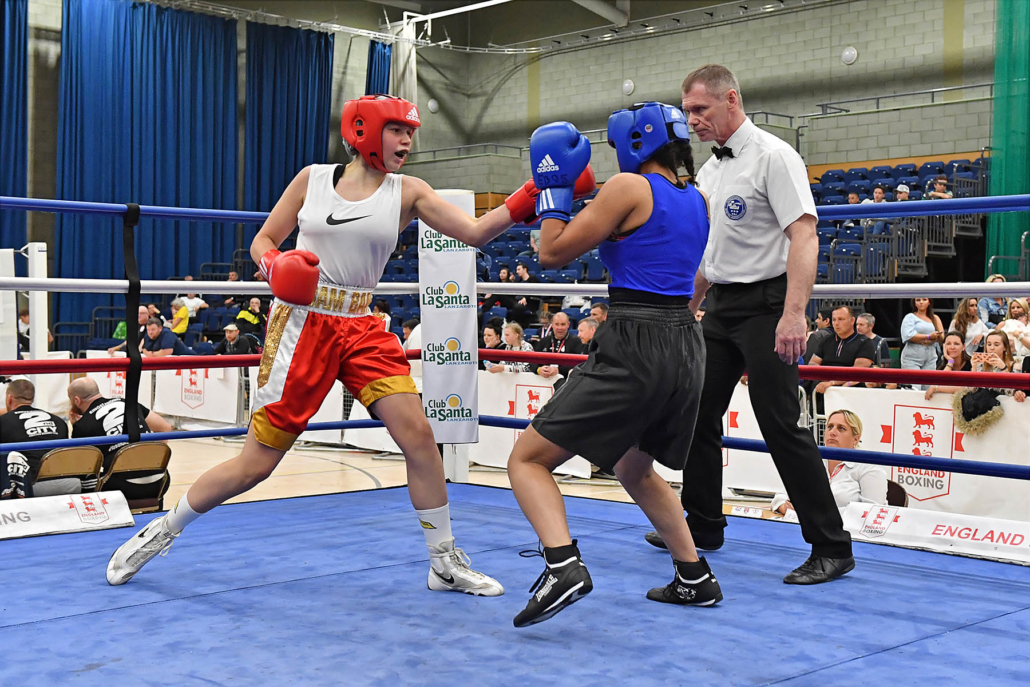 Girls take centre stage at Euros
August 6, 2019 | by Matt Halfpenny
It was an up and down, but ultimately reasonably successful, day three for the England team at the EUBC European Schools Championships 2019 in Tbilisi, Georgia.
As the girls took centre stage, Jocelyn Kilkenny was beaten 5-0 at 42kg by Kate O'Keefe of Ireland in Ring A's first bout.
But the Three Lions bounced back as Abby Briggs defeated Turkey's Fatma Erol of Turkey at 60kg after her corner threw in the towel in the first round.
And there was further success at 46kg in Ring B as Jessica Keeton defeated Scotland's Madison Clarkson with a unanimous 5-0 verdict.
In the evening session, three more England boxers were in action, starting with Alice Pumphrey, who was a convincing 5-0 victor over Lithuania's Aureja Adomaityte at 48kg.
But Gracie Holland was unable to follow suit at 54kg as she was beaten on a 4-1 split decision by Ukraine's Alina Maliar.
However, things ended on a high as Amber Moss-Birch (pictured) produced a convincing display to overcome Beatrice Benini thanks to a unanimous 5-0 decision.
The members of the team boxing tomorrow are:
Afternoon session
Ring B 
Bout 2
38.5kg Denaeo George ENG  V  Armandas Kregzde  LTU
Bout 6
50kg Hatamov Sanan AZE  V  Ellis Panter ENG
Bout 9
59kg Anthony Connors ENG  V  Milan Stanojevic SRB
Bout 12
65kg Ziya Hasanov AZE  V  RJ Draper ENG
Evening session
Ring A
Bout 2
40kg Armen Pilosyan ARM  V  Thomas Varey ENG
Bout 9
54kg Yehor Artomov  UKR  V  Sam Hardy ENG
Ring B 
Bout 5
48kg Serghei Cononov MDA  V  Joe Cooper ENG