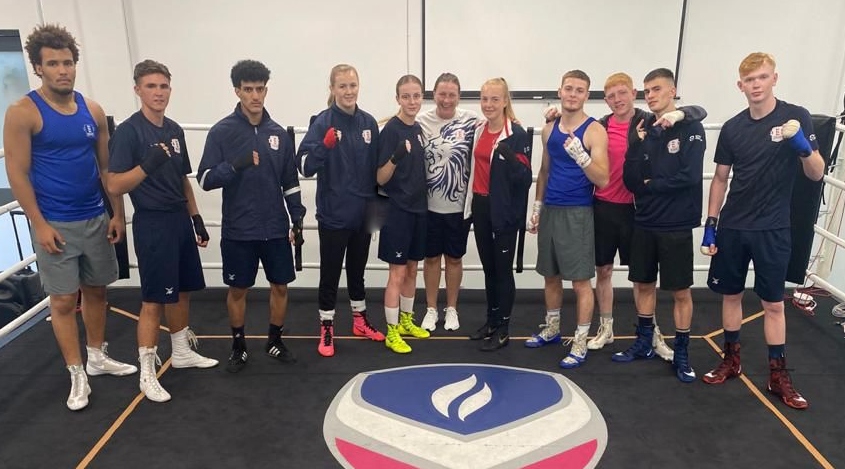 England team confirmed for Youth Europeans
August 17, 2021 | by Matt Halfpenny
England Boxing can now confirm the team who will compete in the EUBC Youth European Boxing Championships 2021 in Montenegro this October, subject to there being no government Coronavirus travel restrictions at that point.
The following boxers have been selected following two training camps at the English Institute of Sport (EIS) in Sheffield, followed by a selection meeting to ratify decisions.
Female
Under 48kg – Megan Bainbridge (Brandon, Tyne, Tees and Wear)
Under 52kg –  Libby Ellis (Rumbles, Southern Counites)
Under 60kg – Sacha Hickey (Peacock's, London).
Male
Under 54kg – Shaun Huddart (Birtley, Tyne, Tees and Wear)
Under 57kg – Jack Dryden (Birtley, Tyne, Tees and Wear)
Under 60kg – Ellis Price (Hunslet, Yorkshire)
Under 63.5kg – Osama Mohammed (Lions, Midlands)
Under 67kg – Andra Manning (Phil Thomas, Tyne, Tees and Wear)
Under 71kg –  Jimmy Dean Wood (Rainham, London)
Over 92kg – Enriko Itauma (Westree, Southern Counties).
Preparations underway
The team came together for its first preparation camp ahead of the tournament this weekend and will continue to assemble regularly for intensive training over the next nine weeks.
The camp was held in Sheffield and Loughborough, utilising the GB Boxing Gym at the EIS and the Loughborough Boxing Centre of Excellence.
The team stayed overnight at the Loughborough Elite Athlete Centre and Hotel, a world-class venue with expert nutritionists and chefs preparing the team's meals.
They were coached by Amanda Coulson, John Stubbs, Ivan Cobb and Laura Sargeant.
"We have an intensive training programme in place for the boxers to ensure they are fully prepared for the tournament and can perform to the best of their potential," said England Boxing's Interim Talent Pathway Manager.
"At this stage, we have to emphasise that their participation is dependent on Coronavirus travel rules at that time, but we are optimistic we will compete and are preparing as such."