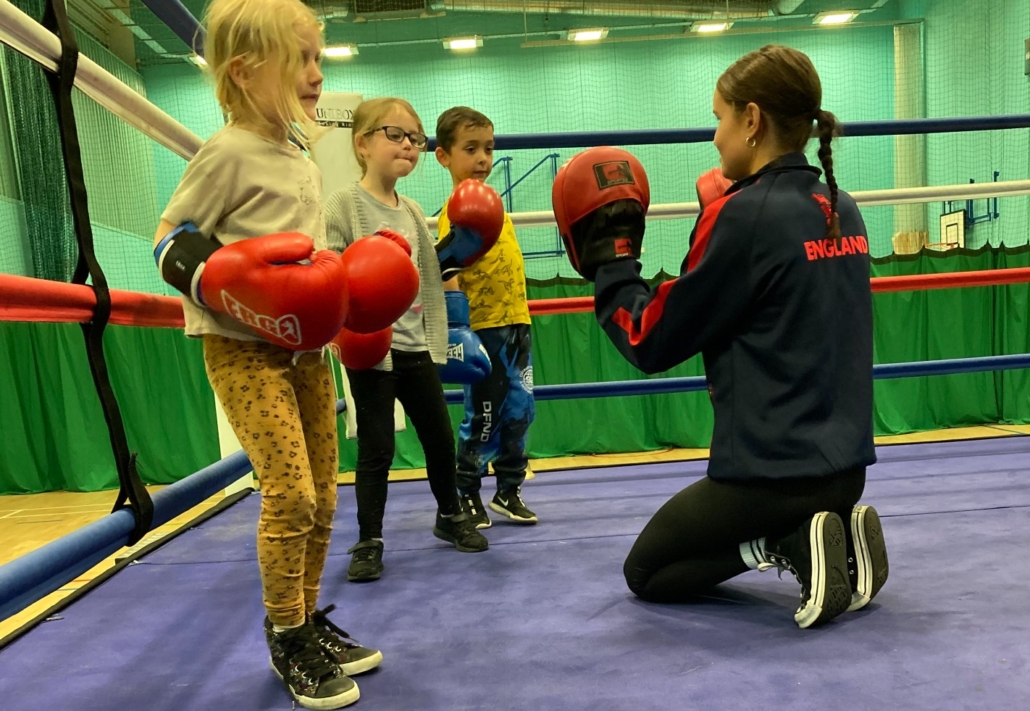 Kids 'love' boxing taster organised by apprentice Gittins
October 26, 2022 | by Matt Halfpenny
England Boxing's Madi Gittins has successfully ticked off the latest challenge in her ongoing apprenticeship.
Along with all the other apprentices around the country, the Yorkshire region representative has been tasked with organising a community event.
Madi – who boxed for England in this year's Youth European Championships – arranged to deliver a taster session for primary school children, from those in reception class through to year 6.
It saw young people from a number of schools in the Hillsborough area of Sheffield try out boxing as part of the Arches School Sport Partnership's Half Term Camp.
With support from England Boxing member club Sheffield City and fellow apprentice Alys Ball (Tyne, Tees and Wear), she arranged for them to take part in a series of non-contact games, skipping and a pads session.
The youngsters even got the chance to step onto the canvas, as a ring was hired for the occasion.
As part of the apprentice's role with England Boxing they have to plan and deliver a variety of different events to engage new people into the sport of boxing," said Yorkshire Club Support Officer, Alicia Winbolt.
"The apprentices have never done anything like this before and this was the first of many events which will be taking place around the country.
"Madi did an amazing job planning the event and it went really well. We introduced boxing to over 60 primary aged children and, with the help of the Sheffield City coaches, the children loved it… they all got a great taster of how fun boxing can be.
"We hope now that some of these children will eventually join Sheffield City Boxing Club and continue with the sport."