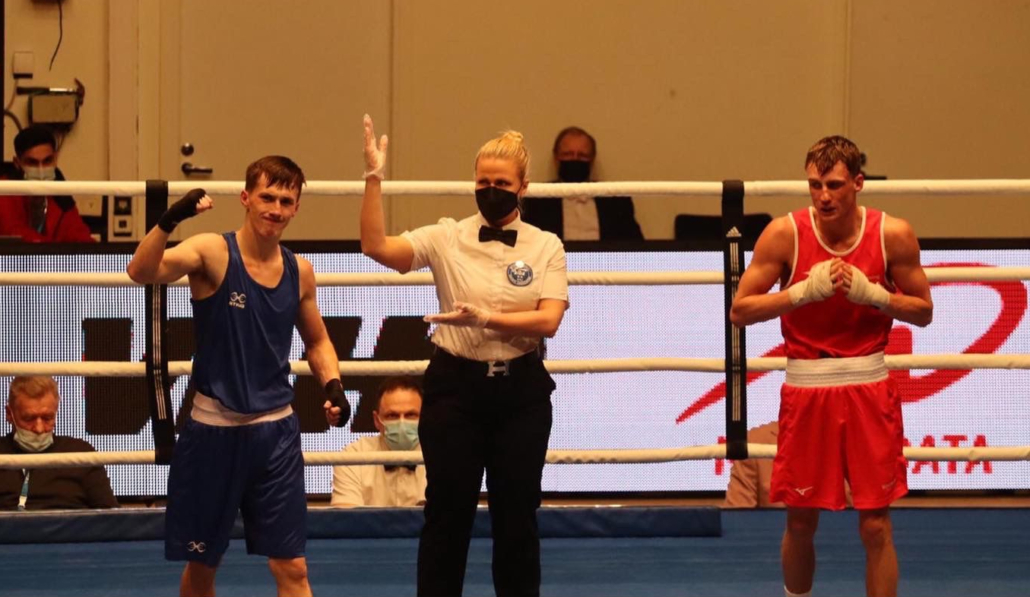 NACs: Male Under 57kg quarter-final preview
April 7, 2022 | by Matt Halfpenny
Whether the accent is the Geordie or Scouse, Londoner or South coast, the name of the game this weekend for all boxers in a stacked England Boxing National Amateur Championships 2022 Under 57kg category is identical… clinch a Finals Day place.
Eight contenders from across England head to the capital's University of East London SportsDock believing they have the tools to lift a coveted national title belt that will put them in the same illustrious company as the likes of Henry Cooper, Nicola Adams, Frank Bruno, Stacey Copeland, Nigel Bell, Savannah Marshall, Carl Froch, Natasha Jonas, Anthony Joshua, Lisa Whiteside, Tyson Fury and Karriss Artingstall.
Only two of that talented octet will retain that hope after this weekend's captivating shoot-out, going forward to Manchester Central on Saturday 23rd April to vie for Championship glory.
Just who that will be, however, remains anyone's guess, and finding out will be a source of enjoyment for those who come along to watch the action unfold.
Some terrific entertainment is most definitely on the cards.
Hoping to go one better than his last appearance in this Championships in 2019, when he reached the final only to lose out on a split to Bury's Ibrahim Nadim, is number of seed John O' Meara.
Known as JP (John-Patrick) to family and friends to avoid confusion with his old man, also called John, the GB Boxing Programme athlete is looking forward to a rare chance to box competitively on home soil, having recently be involved in competitions in the likes of Macedonia, Finland and Spain.
"I thought that last time I was in the final that I should have got the decision, but it wasn't to be and is what it is, but I'm glad to be back on home soil ready to have another shot at it," said 22-year-old O'Meara.
"A lot has happened since then, with lockdown, which came at completely the wrong time, and I eventually got on GB in February last year after the assessments.
"Now I'm pretty much living the dream because I get to box around the world and compete internationally at major Championships.
"But one thing I've always wanted to do is win a national Championships at the top level. It's still a big target for me and one I can hopefully achieve over the next couple of weeks or so.
"I was looking to get it ticked off at the end of last year, when I was due to enter, but I had to have an MRI scan on a thumb injury and I couldn't compete in the end.
"But everything is good this time and I'm looking forward to getting going. I know that being the number one seed means nothing once you get in the ring.
"There are some very good boxers in the draw with me, so I know if I am going to win this Championships, I am going to have to earn it."
O'Meara assembled his own gym in his back garden to train during lockdown and his efforts were subsequently rewarded with his GB place, after initial assessments were interrupted by the onset of the Covid-19 Pandemic.
He now trains predominantly at the programme's headquarters at the English Institute of Sport in Sheffield, but does also return, when possible, to his home club, Dale Youth, which was based in the Grenfell Tower complex until tragedy struck in June 2017.
Heartbreakingly, a total of 72 people lost their lives and hundreds more were injured as a huge fire broke out in the 24-storey building, with the first floor boxing gym also destroyed in a disaster that shocked the whole nation.
Although a brand-new boxing facility has been rebuilt yards from where it once stood, with the help of the BBC's DIY SOS team, O'Meara says what happens has made him reassess what really matters in life.
He said: "It really hit me hard. When I woke up the morning it happened and we had only be training there the night before.
"I know people in the gym who knew people who died and it was a terrible time for everyone involved, but I know the community there is really strong and they are determined to come back from it… so many people have come together.
"The new gym and community hub they have built is fantastic and hopefully, over time, it is going to help the recovery as best it can be after what was obviously a terrible time."
(Picture by Gloves Off Boxing Photography)
Bidding to upset O'Meara's plans is proud Yorkshireman Edward Hardy, who combines his training with looking after the family farm close to Doncaster.
A national champion at both Junior and Youth levels, the Highfields boxer is no stranger to success on the big stage.
The 20-year-old is now eyeing a senior belt to add to his collection, having clinched his place in the quarter-finals with unanimous and stoppage victories in the Yorkshire regional stages.
"It was good to get those bouts under my belt and I've been training pretty much non-stop in preparation for this, including some good sparring with Jason Cunningham and Codie Smith," he said.
"I like to box on the front foot and put the pressure on. My (quarter-final) opponent is a southpaw who also likes to come forward, so it should make for an interesting bout.
"I'm not worrying about him being the number one seed because everyone is one the same level at this stage and it is up to you to go out and perform.
"It is exciting to be part of it and I am ready to go. I enjoy the big stage and I am in it to win it."
Coaches by John Loosemore and Andy Roberts, Hardy manages to combine long days outdoors with his boxing training.
He said: "I work with my dad on the farm, which is both arable and with some livestock. It's a full-time, 24/7 job, but it also helps me keep fit all the time.
"Even when I'm not training as much, because of its physical nature it helps to keep me fit, so I see it as a benefit."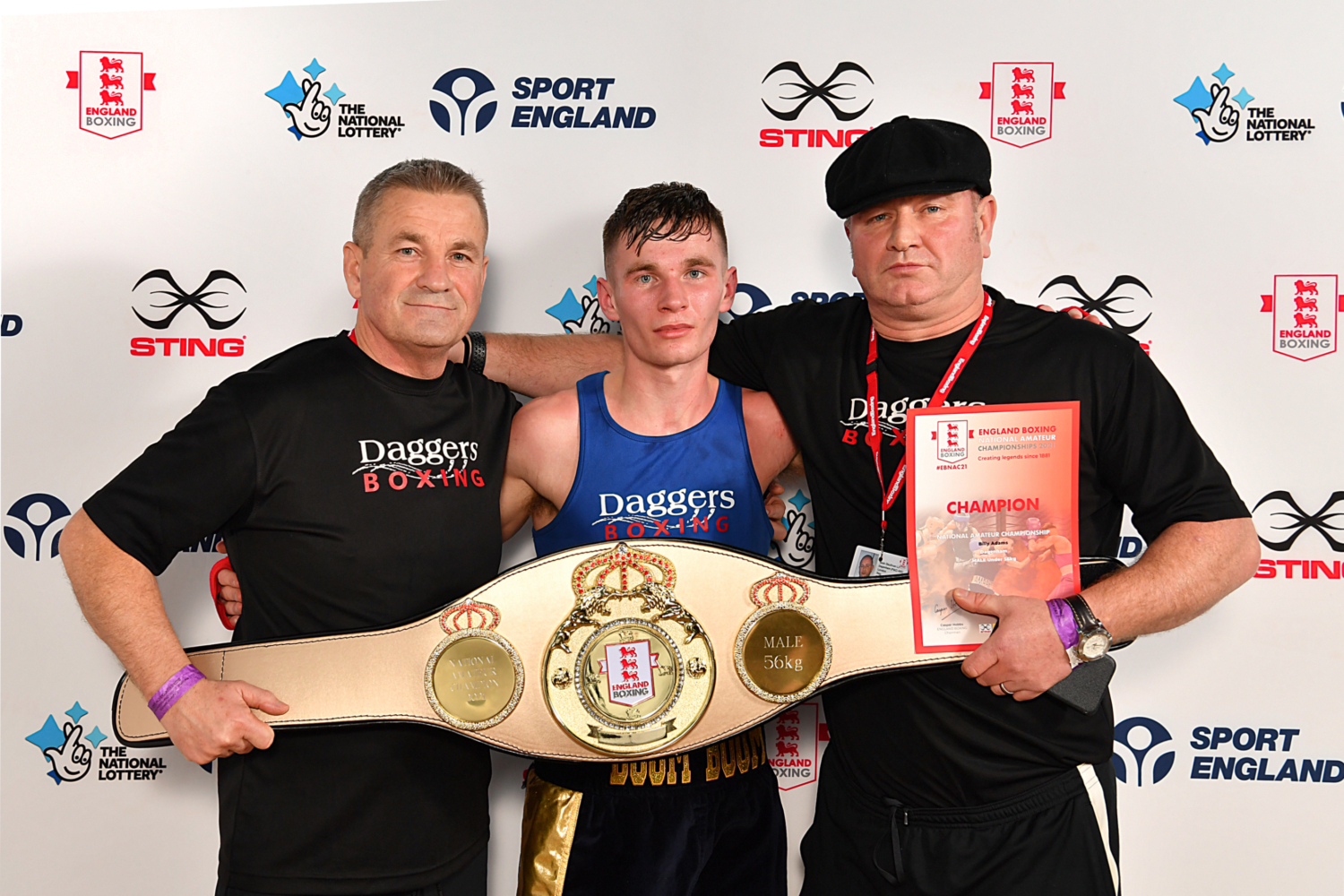 Last year's champion at this weight – which has been changed from Under 56kg to Under 57kg for 2022 to fit in with IBA's new weight categories – was Londoner Billy Adams.
Less than five months after winning his final against Josh Babb of Ward Degnan's at the age of just 18, the Dagenham teenager is back at the scene of that triumph (the Finals were boxed at the SportsDock in November after being put back because of Covid-19 restrictions) with the intention of retaining his title.
Should he do so, it will bring jealous glances from much of his family, several of whom boxed but struggled to reach the same heights.
Adams said: "I've been putting in the work with my dad, who's my coach, because I want to win it again, which would mean so much to me.
"Pretty much the whole club came to support me last time,as it is only just up the road for us, and I'm sure they will be out in force again.
"My four uncles and my dad all boxed, but none of them won the ABAs as was, so it was great to get one up on them while still a teenager!
"Getting onto GB and going to the Olympics is my main goal… I want to win medals at major championships.
"I was lucky enough to meet Anthony Ogogo through SportsAid and it was good to chat to him about it and what to expect if I were to get on the programme. It has just fired me up for it even more."
Normally a returning champ would go in as the number one seed, but Adams – a successful graduate of the DiSE programme – was forced to concede that honour to GB representative O'Meara.
It has only strengthened his resolve, however, and the possibility of an all-London final, should the first and second-rated boxers make it through, is one he is relishing.
"It was a bit frustrating not to be number one as the title holder, but I understand why and you have to go and beat anyone who comes your way anyway if you want to win it.
"It would be a bit weird if it happens, boxing another London boxer, especially as it would be up in Manchester, but I'm ready to rock.
"But at the same time, I know I have to get through these rounds first and it is not the easiest of draws I have, so I have to stay focused."
The draw Adams refers to pairs him with Tyne, Tees and Wear champion Jack Dryden, who hails from the renowned Birtley club that has produced Olympians Pat and Luke McCormack, among others, in recent years.
The 19-year-old came through last weekend's pre quarter-finals where he earned a hard-fought 3-2 split decision victory over fellow former Youth starlet Hassan Ishaq of Lucky Gloves.
It followed a unanimous points triumph over Babb in the regional stages – the same man next opponent Adams beat in the final last year.
"I'm happy with the way I have started in the seniors and I've drawn confidence from those wins, but I feel I've got more to give as I relax into it," said Dryden.
"It was disappointing that I couldn't go to the Youth Europeans last year (in Montenegro, due to government Covid-19 restrictions at the time), but this has given me a new focus.
"It's obviously going to be a tough bout in the quarters against a past winner, but there are some good lads in the gym who I train with, such as Calum French and Cyrus Pattinson who are helping me prepare right for it."
That Dryden is in a position to compete at all is a testament to his determination after he was the victim of a hit-and-run incident in the lead-up to last year's Championships, where he was expected to make his senior bow.
After going out for a meal, he fell off the edge of the kerb and was hit by a passing car, which failed to stop, leaving him with head injuries that required a number of stitches and significant hospital treatment.
Dryden said: "After the incident I had what pretty much amounted to a big whole in my head and they had to sew it back up.
"But it has healed up well and I'm pretty much back to normal now, though it had made me appreciate things a bit more and that things can so easily change in just a few seconds."
Representing the Merseyside and Cheshire region is another boxer with a sizeable reputation at Youth level in Jack Turner.
He was a winner at what proved to be the final completed national championships before onset of Covid-19 – the England Boxing National Youth Championships 2020 – where he was victorious at Under 52kg.
Since then, it's been a frustrating time for the 20-year-old because of Pandemic inactivity, but he has secured regional success over Kurtis Wiggins, of Salisbury, to reach this stage.
"I've been training hard for months and months and sparring too… all the time I've had the goal to win this and I'm just ready to get in the ring now," said Turner.
"I can come forward, but I can also box. I like to mix it up depending on my opponent.
"It's a long way down to London from where I am, so I might not have that many people down to watch me, but there is the incentive of trying to get to the final, which would be in Manchester and a lot nearer for people to come along.
"I'm training three times a day, it's all about this for me at the moment, and hopefully I can show my true abilities."
Turner is a keen student of boxing and likes to watch videos of Floyd Mayweather, Manny Pacquiao Ricky Hatton, Canelo Alvarez, Gennady Golovkin and others to pick up tips he can use in his own bouts.
"I'm always watching the videos to see what the best do in certain situations and how they handle things.
"If I can take some of those bits into the ring with me, then it might just make a difference in the key moments."
Facing Turner will be a boxer from the other end of the country in Southern Counties' Lennox Gill.
Wearing the colours of the Golden Ring Club, the 21-year-old believes he is well capable of winning a national title, despite never having managed it before.
He said: "I've won the Southern Counties title 14 times since I started boxing and I was always there or thereabouts at Junior level, and got to finals twice, but it never quite happened.
"I boxed the best boys in Dennis McCann, Adan Mohamed and Barney Doherty so the competition was tough, but I feel I am a lot better boxer now than I was then. I'm always improving.
"I've been running 10k four or five times a week in addition to the training in the gym to maintain my boxing weight and I feel that this is my time."
Gill made his way through to the quarter-finals with a 4-1 split decision victory over the Army's Shamim Khan last weekend.
He has been able to draw on the inspiration of a European Schools Champion (who is shortly heading out to Sofia for the European Youths) in Amber Moss-Birch, as he has readied himself for his NACs campaign.
"She trains in the same gym as me and is the best female boxer I have ever come across," said Gill. "It's great to have someone like that to give you a lift.
"Even though she is younger than me, I look up to her in many ways because of what she has achieved and one day I hope that I can be competing internationally, as she already is."
At just 25, Cain Morris is the oldest of the men left in the tournament at Under 57kg, and is hopeful that his experience can come to the fore.
The Leigh boxer reached the semi-finals in 2019 before losing to eventual winner Masood Abdullah of Islington, boxing at the higher weight category of Under 60kg.
This time around he has dropped down a category, but is feeling strong and happy for doing so.
Already he has disposed of clubmate Ethyn Weaver en route to the North-West regional title and then saw off Impact's Cameron Lavery by a unanimous decision in the pre quarter-finals.
"At first Covid-19 wasn't great because I felt I was just starting to get somewhere with my boxing, but in the end it has ended up being a bit of blessing in disguise.
"Because of the situation with lockdown I was able to use the time to get in more training and I got my weight and body fat right down.
"I used to hover around 62.5kg as my natural weight and found it quite hard to make Under 60kg, but now I am finding it much easier to stay on weight at Under 57kg.
"A lot of folks in my gym have been joking, saying what was I messing around at before!
"I feel really good at this weight and hopefully the benefits of it will show in the ring."
Morris, who works for a company who manufactures skirting boards, won an England Boxing Title Belt in 2019 with a win over Jordan Flynn and also has a win over Ricky Hatton's son, Campbell, on his CV.
He is part of a three-pronged Leigh assault on these championships alongside the Hewitt brothers of Patrick and Will.
"Paddy won the title at his weight last year and Will came through the pre quarters like me, so we're hoping we can have lots to celebrate in a couple of weeks' time," said Morris.
"We have a really good team and a top coach in Adrian Fleming, who I have been with for six years now, so we are hoping to go well down in London.
"I've always come up just short in the past, but I'm optimistic things can be different for me this time."
Completing the quarter-final line-up and going head to head with Morris, is 21-year-old Eastern Counties boxer Taylor Jackson-Smith.
Like his opponent, he can count on support from club-mates in London as both Louie O'Doherty and brother Reegan, 18, are also competing for a place in the semis and finals.
It is a friendly rivalry with his sibling that ensures both of them continue to push hard for excellence.
"My training is going well, but I would have preferred to have boxed to reach this stage, rather than have a bye straight through, as other boxers have had bouts to ease themselves into it," said Jackson-Smith.
"There's definitely a bit of competition between my brother and I, but in a good way. We spar and train together a lot and if he's training really hard then I can't not, can I?
"It drives you in and pushes you to be a better boxer and I think that has helped us both."
Jackson-Smith won a Central Area Youth Title belt before stepping up to the senior ranks and says 'it would be a dream' to have similar success at this level.
By day, he works at a leisure centre, which has its perks when it comes to his boxing.
He said: "Working as well as training is a good little getaway, and it has the advantage that I can use the gym there for free and also get to do a lot of swimming for fitness.
"I watched the last bout of my opponent in the pre quarters, but I don't look too much into it. I am just concentrating on myself and making sure I perform as well as I know I can."
More on the NACs 2022
Key info circular (London): Click here. Spectator info (London): Click here. Live Streaming (London): Click here. NACs home page: Click here.