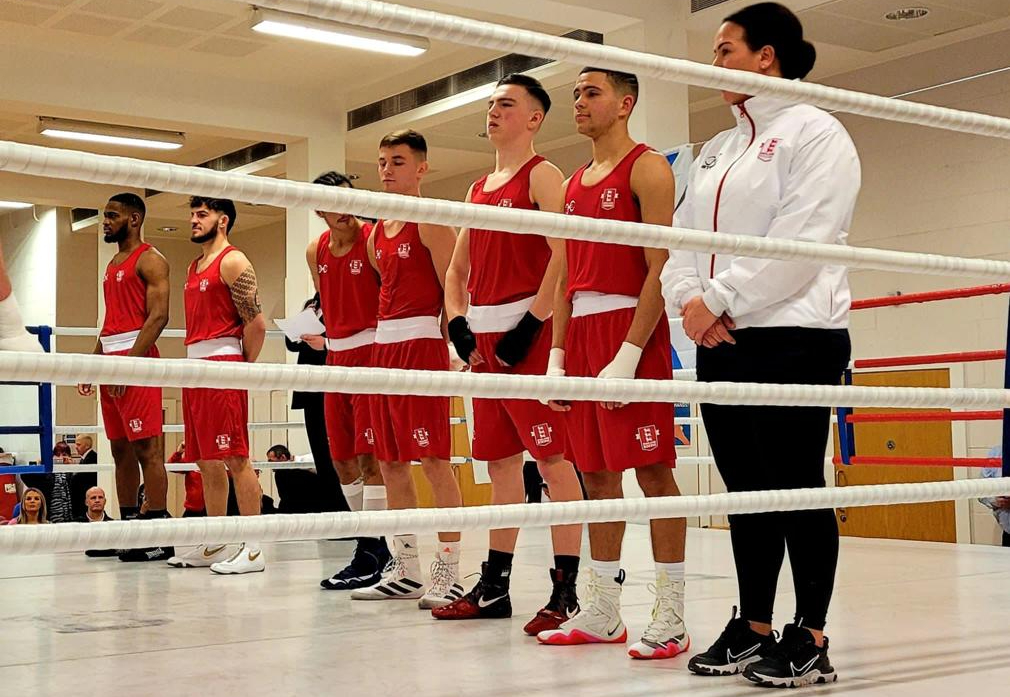 England's first international for more than two years ends in Scotland draw
March 5, 2022 | by Matt Halfpenny
England's first international in amateur boxing in more than two years saw them secure a 3-3 duel draw against Scotland in Glasgow.
Ellis Trowbridge boxed first for the Three Lions and was on the wrong end of a tight 3-2 split and the visitors went 2-0 down as Danny Lynch (Sherrington's) was beaten unanimously in the only Youth bout of the evening.
But Billy Adams pulled it back to 2-1 after an excellent display against an aggressive opponent to win unanimously and Ibraheem 'Spider' Sulaimaan levelled things up with clean punches and keeping on the move to secure a 4-1 split decision victory.
Billy Le Poullian, the boxer from the Amalgamated club in Guernsey stopped his opponent in the third round after the referee intervened following a bad cut before Omar Augustine was defeated unanimously.
Yusuf Thahmin (Haringey) was left without a bout after his prospective opponent Matthew McHale pulled out with a hand injury.
"It was a great experienced for all those who pulled on the England vest and it's fantastic to be back boxing internationally after such a long absence because of Covid," said England's Lead Coach for the duel, John Stubbs.
"It was a great way to start the year ahead of the upcoming Euro Under-22 Championships for three of our female boxers and the Youth Europeans in Croatia.
"Hopefully, this is now the first of many internationals."
Results
Male, Under 51kg – Lennon Mulligan beat Ellis Trowbridge (Hodbox, Home Counties) by a 3-2 split decision.
Male, Under 58kg –Billy Adams (Dagenham, London) beat Fawaz Aborode by a unanimous decision.
Male, Under 60kg – Patrick Paton beat Danny Lynch (Sherrington's, Midlands) by a unanimous decision.
Male, Under 63.5kg – Ibraheem Sulaimaan (Eastside, Midlands) beat Luke Bibby by a 4-1 split decision.
Male, Under 71kg – Billy Le Poullain (Amalgamated, Western Counties) beat Luke McFadyen by a RSC.
Male, Under 81kg – Sean Lazzerini beat Omar Augustine (Earlsfield, London) by a unanimous decision.