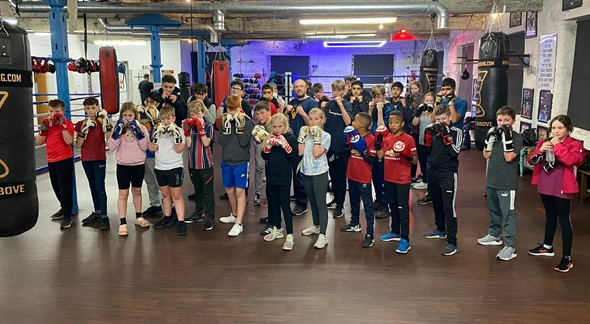 Club case study: Rawthorpe putting community at heart of everything they do
February 3, 2022 | by Matt Halfpenny
From knife crime projects to mother and toddler sessions, Rawthorpe ABC are using the power of boxing to focus on the needs of the community in all the work they do.
Mark Reynold's opened the RABC in 1998 and since then the Yorkshire club has attracted members of all ages, with the youngest participants being just months old and the oldest being 79.
He aims for the club to be more than just a boxing gym and wants to provide a space where boxing can make a difference to everybody's lives in the community.
"Some clubs want to create boxing champions and that's all they are bothered about. That's great, and good luck to them, but it's not my style," said Mark.
"I am not bothered if none of our kids goes on to become a world champion. What I want to create is a whole community of champions and to create that sense of togetherness and belonging. That's what gives me a buzz, to think I've helped somebody make a good choice in their life."
"Boxing is a brilliant tool, it is the most disciplined sport in the world, and I am very proud of what we do as a club."
Rawthorpe are currently working on a project about how to tackle knife crime with a company called Knife Crime Matters, which Mark is 'really excited about'.
They already go into schools and deliver boxing sessions whilst also teaching young people about making the right life choices including knife crime.
Mark adds: "I try to make a positive impact on the kids… I don't act or speak like their teacher, and I run sessions in a way where the kids are also having fun.
"I work with around 1,000 kids every month. Even if 10% get something from it, learn something new or think about a choice they've made and the consequence of that, then I'm doing my job."
The club is now based in a 'superb' facility now at Bridge Croft Mills in Tanyard Road, Milnsbridge, which has three floors, with heating installed and the three-year planned refurbishment complete.
It means the club can work with more members of the community and engage with different groups of people, with boxing classes for children and teen' starting at the age of three.
"As well as boxing we want to develop the life skills off the young people, and we open the gym straight after school so the kids and teens can come in and get help with homework before boxing," added Mark.
"We also have boxing and boxercise classes for adults, where our oldest member is 79, and we do women's-only classes, including a mother and toddler class once a week, where mums bring babies who are just a few months old. We really do offer something for everybody.
"The pandemic was definitely a struggle for the club, and when the lockdowns came, we had to shut down and we were one of the industries that was closed for the longest.
"We could have gone out of business for sure, but our amazing band of volunteers rallied round and helped to make the best of things and luckily, because of their time, dedication and hard work, we are still here today to help people in our community through the power of boxing."
You can find out more about Rawthorpe on the club website by clicking here, or on their Facebook, Instagram and Twitter pages.