Sheffield residential boosts Female Coach Development Programme 2021 learning
September 21, 2021 | by Matt Halfpenny
The first residential of the Female Coach Development Programme 2021 took place at the weekend, with the 10 selected coaches coming together at the home of England Boxing and GB Boxing – the English Institute of Sport in Sheffield.
Since its launch in April, the programme has delivered online virtual sessions and one-to-one-mentor sessions focusing on  individual development areas.
But this was the first time – because of the Covid-19 lockdown earlier in the year – that all were meet face-to-face for coach development and learning.
Sessions included practical elements such as coaching from the corner, padwork, shadow boxing, plan-do-review of a session plan, coach-boxer relationships and a focus on southpaw boxers.
This was all alongside scheduled reflection sessions to maximise retention of the learning that had taken place.
The weekend was made possible thanks to the generosity of Charlotte Gilley of the Maverick Stars Trust, who allowed the coaches to stay over in accommodation.
The FCDP has been created and delivered by Tyne, Tees and Wear and Lancashire Club Support Officer Laura Sargeant and England Talent Development Coach Amanda Coulson.
Sargeant said: "Amanda and myself would once again like to thank Maverick Stars Trust for their support in this truly amazing programme.
"Extended thank yous also go out to Talent Pathway Coach Phil Knight and his boxers from Lionheart Boxing Academy, who helped with the practical elements of the sessions and Chris Porter, England Boxing's Coaching Consultant, for delivering a great session on boxer-coach relationships.
"Finally, we'd like to thank Lorna Moser, Rachel Bower, Caroline Dent and Vicky Connor for their continued fantastic mentorship to the coaches during this programme."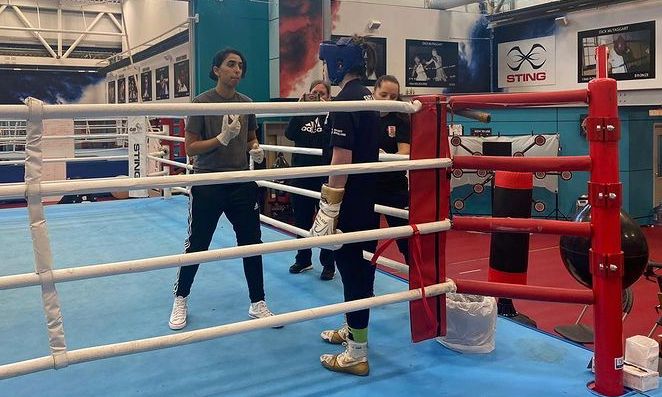 Coulson added: "This weekend has been incredible to witness, with so many female coaches willing to be open-minded and challenge themselves in every task set.
"The key for the coaches now is to connect the learning with their own coaching world and take ownership of continuing their development to another level, as well as using this new network to support that growth. A massive well done to all of them."
England Boxing's Head of Community Development, Charlie Ford, has been delighted to see the programme taking off as it has.
"England Boxing's vision is to 'Inspire and transform lives through boxing'," he said. "Our work centres around ensuring the sport is inclusive and positioned to recruit and retain participants into the sport regardless of age, gender, ethnicity or capability.
"The female coach development programme provides an integral step forward in not only increasing the number of female coaches but advancing their learning and practice so that they can go back to their clubs and inspire/support the next generation of female boxers."
"Laura and Amanda embody everything that we are trying to achieve through our Female development programmes and are leading the FCDP superbly."
Coaches on the 2021 FCDP programme are Kate Newton – Rathbone (London), Igne Vaitkunaite – High Wycombe (Home Counties), Naadrah Hafeez – Gladiators (Yorkshire), Kara Mikolajczyk – Mikey's (Midlands), Claire Salisbury – Jewellery Quarter (Midlands), Donna Harvey-Arnell – Ipswich (Eastern Counties), Louise Vidor – Bright Star (Midlands), Sally Webb – Priory Park (Midlands), Kerry Norfolk – Norwich City (Eastern Counties) and Samantha Fawcett – Warrington (Merseyside and Cheshire).
Their feedback for the weekend included:
"Looking around the room and watching everyone today was a pinch yourself moment! Thank you for such a carefully planned out residential."
"It's honestly one of the best times I've ever had."
"Thank you Amanda and Laura for organising such a jam-packed, thought-provoking and challenging weekend. I can't wait to get back into my gym and just keep developing my coaching."