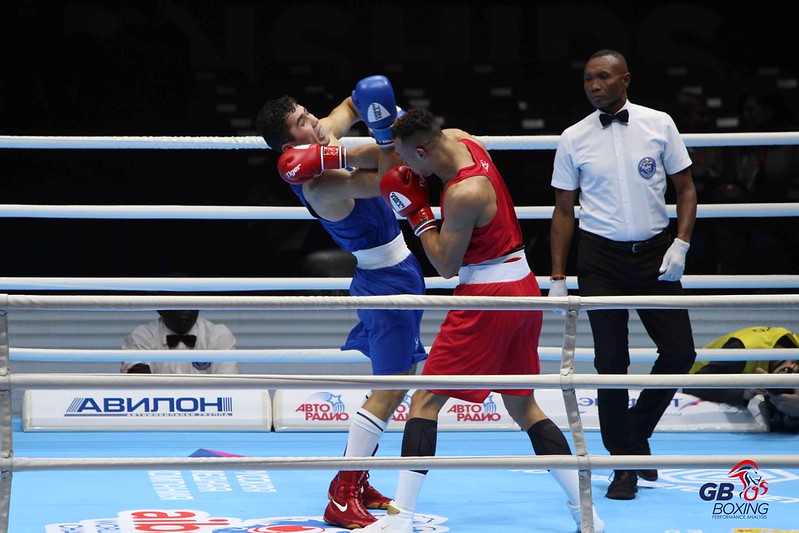 Olympic boxing returns to London
January 10, 2020 | by Matt Halfpenny
London will host the biggest Olympic boxing event to be held in England since the 2012 Olympic Games when the Boxing Road to Tokyo Olympic Qualifying event takes place at the Copper Box Arena on the Queen Elizabeth Olympic Park from 14th to 24th March 2020.
Up to 450 men and women from as many as 50 countries will compete at the event, which has 77 Olympic places at stake.
The competition will feature eight men's weight categories and five for women. 50 qualification places are available for the men and 27 for women.
Eight men and five women from the GB Boxing squad will be selected to compete in London which is the first opportunity for the boxers to qualify for Tokyo 2020.  The second and final chance will be at the final Boxing Road to Tokyo World Qualification Event in Paris, 13th to 24th May 2020.
Tickets for Boxing Road to Tokyo in London go on sale at 09:00 on Friday 17 January 2020.  Prices starts at £5 (adults) and £2.50 (concessions) for weekday sessions and people can register their interest now at www.boxingroadtotokyolondon.org.
Boxing Road to Tokyo in London is an IOC event which is supported by funding from the National Lottery and The Mayor of London and will be delivered in association with a range of partners including UK Sport, GB Boxing, the British Olympic Association (BOA) and the Queen Elizabeth Olympic Park.
The IOC's decision to stage the European qualifier in London was welcomed by the Mayor of London, Sadiq Khan.
The Mayor of London, Sadiq Khan, said: "London is the sporting capital of the world and it's fantastic we're hosting yet another world-class event. Londoners and visitors alike can look forward to a thrilling spectacle at the Olympic Park in March, as Europe's best boxers compete for a place in the Tokyo 2020 Games."
Boxing Road to Tokyo will be officially announced today at a media event at BXR London, which will feature two members of the GB Boxing squad that have high hopes of being selected to compete at the qualifier, light-heavyweight, Ben Whittaker (top) and heavyweight, Cheavon Clarke.
Whittaker, who enjoyed the best year of his career in 2019 winning bronze at the World Championships and silver at the European Games, said: "Last year was huge for me as I felt I really proved myself as a top international boxer, so it has given me a lot of confidence coming into the qualifying campaign.
"Having the first event in London is a bonus. I remember watching the boxing at London 2012 on television and the atmosphere was just electric. If we can get anywhere close to that it will be absolutely amazing."
Clarke, who lives on the border of London and Kent, said: "I have grown-up and spent a lot of my life in London so to have the Olympic qualifier here is fantastic.
"As part of the GB Boxing squad we usually compete abroad so to have such an important event on home soil is fantastic. All of the boxers in the squad are pleased about it and really excited at the prospect of competing in London."
GB Boxing's women were not able to attend the launch as they are at a training camp in the USA. Speaking earlier in the week, Lauren Price, who won the World Championship in November 2019, said: "Last year was amazing for me winning the World Championship and going unbeaten throughout the whole 12 months, so I am just going to continue to work hard and do everything I can to keep on winning.
"Going to the Olympic Games has been a dream since I was eight-years-old. It's why I got into sport in the first place and I am determined to take this opportunity to book my place for Tokyo at the first time of asking."
GB Boxing's Performance Director, Rob McCracken, said: "Our boxers had a very good year in 2019, when the men and women won 16 medals at four major competitions, so they are coming into 2020 in a good run of form.
"The qualifier will be very tough, as a lot of the European nations are strong in boxing, so it is good that it is taking place in this country. Hopefully the home support will spur our boxers on and help them to perform at their best."
Simon Morton, Chief Operating Officer at UK Sport, added: "Our ambition is to remain a world leading host of major international sporting events and with the help of significant National Lottery investment we are excited to be welcoming Europe's best boxers to London in March.
"Supporting the International Olympic Committee in delivering such an important event and ensuring that the athletes can pursue their Olympic dreams is something we are particularly proud of. We wish our British boxers the best of luck in their quest to qualify for Tokyo and would urge the public to get behind the team."