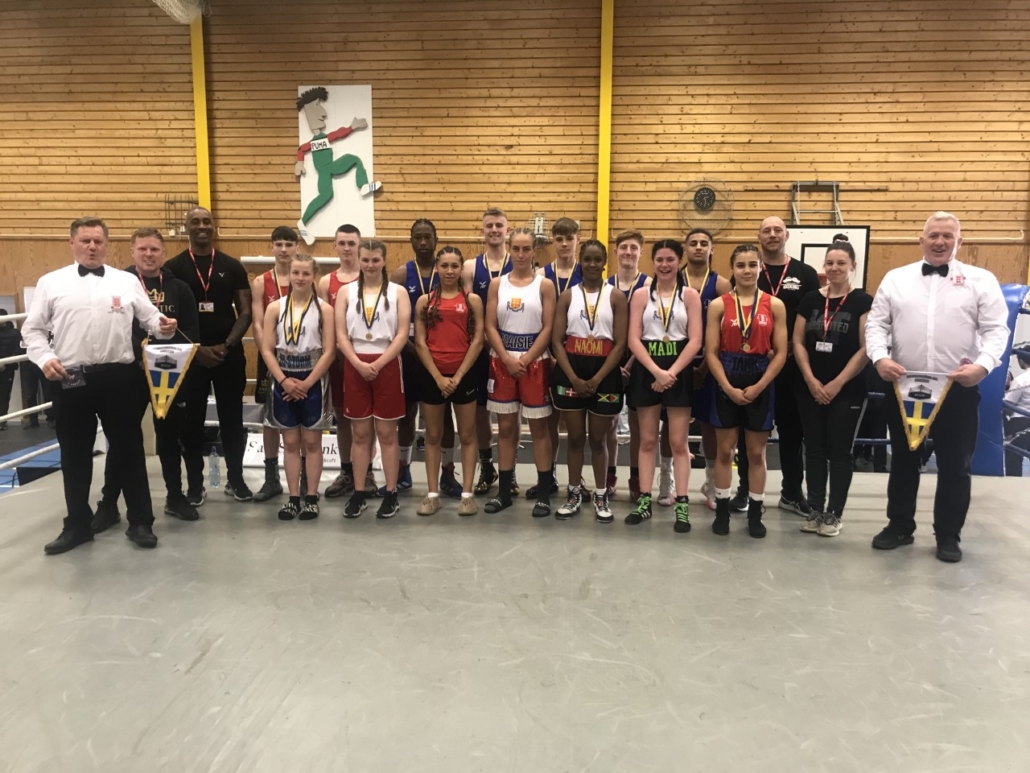 North West Region triumph in Sweden
May 9, 2022 | by Harry Judd
North Western Counties Squad come out on top at the Sala Sparbank Box Open Tournament.
Seven Boxers and five coaches from 12 North West counties clubs travelled to Uppsala in Sweden to compete over two days on 30th April and 1st May 2022.
Both men's and women's teams were managed by the North west region Coaches – Haroon Headley and Alan Smith (Male), Phil Robinson and Kerry Chalk (Female).
Steve Sharkey, the Northwest Region's Head Coach, oversaw the whole operation, and official duties undertaken by Steven Tallo-Brady.
Sharkey said of the squad's success: "It was a great team effort by all… we all worked together and led by example for the North West Region.
"All the boxers gained huge amounts of experience with most having their first international contest.
"There were some close decisions and some fantastic boxing by everyone. "
The men's team came first out of 26 clubs in attendance, with the North West Region Males earning a total of 21 points.
The women's team came eighth, which was another significant achievement.
Awards were also given out at the end of the tournament and the North west region scooped up a further three awards.
Best Male Junior  – Jayden Leach 
Best Female Junior – Faye McCormick 
Best Male Youth  – Emilio Headley 
The team of coaches also got together and awarded Naomi Kalu – Best Female Boxer of the whole Tournament and awarded her the Captain's Position.
Overall it was a really positive experience with each boxer taking home vital international boxing knowledge, and following the success of the tournament, the North West Region team have booked to compete next year.
Here are the results from the Saturday and the Sunday.
Sala Sparbank Open – Sweden ,Morgongava – Saturday Results – Northwest Region Teams.
Northwest Region Male Team
54 kg
Semi Final
Red
Omar Kassem
AIK Boxningsförening
Blue
Jayden Leach
Majestic
Blue
3-0
Northwest Region Female Team
57 kg
Final
Red
Elda Mustafa
IK Ymer
Red
3-0
Blue
Kellisha Dodds
Collyhurst and Moston ABC
Northwest Region Female Team
60 kg
Final
Red
Natalie Özgun
BK Rapid
Red
3-0
Blue
Maddison Mckay
Halliwell ABC
Northwest Region Male Team
71 kg
Semi Final
Red
Callumn Levitt
Holmes Chapel
Red
3-0
Blue
Mohammed Mahmoud
BK Falken
Northwest Region Male Team
63,5 kg
Semi Final
Red
Ardwan Rashid
Tensta BK
Blue
Emilio Headley
Northside
Blue
2-1
Northwest Region Male Team
60 kg
Final
Red
Adam Tegström Dahmani
Umeå BK
Blue
Billy Hervey
Team Kaobon
Blue
2-0
Northwest Region Female Team
60 kg
Semi Final
Red
Johanna Svensson
BK Älgen
Blue
Naomi Kalu
Oldham Boxing
Blue
3-0
Northwest Region Male Team
75-2 kg
Semi Final
Red
Anton Yazdani
BK Falken
Blue
Daejaun Sandcroft
Bowden
Blue
3-0
Northwest Region Male Team
75-1 kg
Semi Final
Red
Mohamed Yusuf
Eskilstuna BK
Blue
Jack Gregory
Technique ABC
Blue
3-0
Northwest Region Female Team
57 kg
Final
Red
Rianna Doforo
The people's gym
Red
3-0
Blue
Medina Zaman
Haninge BK
Northwest Region Female Team
54 kg
Semi Final
Red
Faye McCormic
Hyde & District
Blue
Isabelle Josefsson
AIK Boxningsförening
Blue
3-0
Northwest Region Female Team
63 kg
Semi Final
Red
Mansilla Esmeralda Aurora
Helge IF Boxning
Blue
Gracie Farnworth
Halliwell ABC
Blue
3-0
Northwest Region Male Team
54 kg
Semi Final
Red
Omar Kassem
AIK Boxningsförening
Blue
Jayden Leach
Majestic
Blue
3-0
Northwest Region Female Team
60 kg
Final
Red
Natalie Özgun
BK Rapid
Red
3-0
Blue
Maddison Mckay
Halliwell ABC
Northwest Region Female Team
63 kg
Final
Red
Jenny Lundberg
Narva BK
Red
RSC-R1
Blue
Maisie Hodkinson
Boarshaw
Sala Sparbank Open – Sweden ,Morgongava – Sunday Results – Northwest Region Teams.
Northwest Region Male Team
54 kg
Final
Red
Jayden Leach
Majestic
Red
3-0
Blue
Said Mamergov
Haninge BK
Northwest Region Male Team
71 kg
Final
Red
Wilheim Söderlund
AIK Boxningsförening
Blue
Callumn Levitt
Holmes Chapel
Blue
RSC-R3
Northwest Region Female Team
63 kg
Final
Red
Rebecca Rapp
BK Ängeln
Blue
Gracie Farnworth
Halliwell ABC
Blue
2-1
Northwest Region Male Team
Final
Red
Adam Tegstrom
Umea BK
Blue
Emilio Headley
Northside
Blue
3-0
Northwest Region Female Team
60 kg
Final
Red
Antonia H. Martin
Djurgårdens IF
Blue
Naomi Kalu
Oldham Boxing
Blue
3-0
Northwest Region Male Team
75-1 kg
Final
Red
Hassan Jafari
BK Trim
Red
02-Jan
Blue
Jack Gregory
Technique ABC
Northwest Region Male Team
63,5 kg
Final
Red
Connor Yates
Majestic
Blue
Ardwan Rashid
Tensta BK
2-1
Northwest Region Male Team
75-2 kg
Final
Red
Jonas Jansson
BK Masen
Blue
Daejaun Sandcroft
Bowden
Blue
3-0
Northwest Region Female Team
57 kg
Final
Red
Rianna Doforo
The People's Gym
Red
3-0
Blue
Isabelle Josefsson
AIK Boxningsförening
Northwest Region Female Team
54 kg
Final
Red
Faye McCormic
Hyde & District
Blue
Medina Zaman
Haninge BK
Blue
2-1
Northwest Region Female Team
60 kg
Final
Red
Elda Mustafa
IK Ymer
Red
2-1
Blue
Maddison Mckay
Halliwell ABC