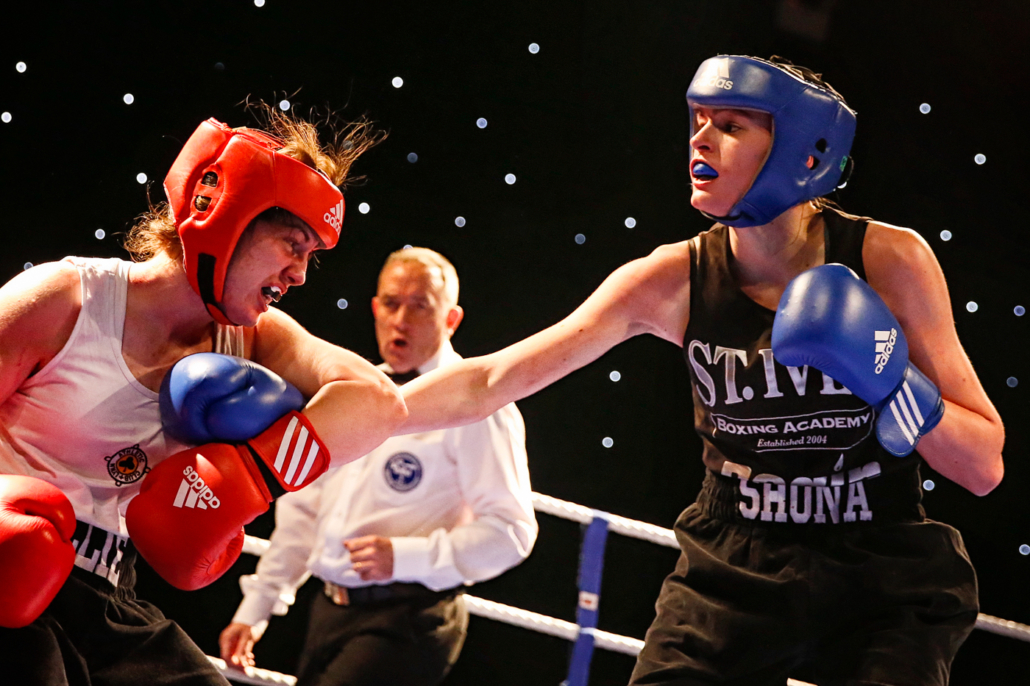 England Boxing Women's Winter Box Cup: former national champion Whitwell relishing return after injury
December 6, 2018 | by Matt Halfpenny
It's been a long road back, but now the big day is almost here, Shona Whitwell is buzzing with anticipation about her return to the ring – which comes at the England Boxing Women's Winter Box Cup this weekend (8th and 9th December).
It was back in August last year that the St Ives Boxing Academy boxer headed to the European Championships to make her senior international debut representing England.
The call-up had come as a result of Whitwell underlining her potential by winning the Elite National Championships, beating the highly-rated Sandy Ryan along the way, to win the National Championships in her first senior outing.
Things initially went well as the southpaw outpointed Swedish champion Agnes Alexiusson, a former World and European champion at junior level, to progress to the semi-finals of the 60kg weight division.
But things did not go according to plan as she then faced Finland's Mira Potkonen, the woman who knocked Katie Taylor out of the 2016 Olympics, for a place in the final.
While defeat to a vastly more experienced boxer came as a disappointment to Whitwell, of far greater significance was the injury she sustained. Although she finished the bout, and picked up a bronze medal for her efforts, she suffered migraines and dizziness after suffering concussion.
Since then she has been through a long period of rehabilitation so that now, 15 months later she is ready for her comeback in Urmston, Manchester.
"It's taken me over a year to recover from what happened, but I'm ready to go again now and I can't think of anywhere better to make my return than at the England Boxing Women's Winter Box Cup," said Whitwell.
"It's a really good opportunity for me and all the other boxers there to show what they are about and help make it an entertaining weekend.
"I'd had a great season leading up to those Europeans when I got injured, including that victory over Sandy, who was the GB number one and one of the top-ranked boxers in the world. It was a massive achievement and the highlight of my career so far.
"But I have missed out on a lot while I have been away, including the Commonwealth Games and World Championships, but hopefully I can make up for lost time now."
Whitwell is delighted to be boxing at the country's first all-female show, will bring together boxers of different ages and abilities across 18 weight divisions over two days, and believes it will help to grow and increase the reach of the sport among women.
She is also relishing the chance to appear at the George H Carnell Centre, which famously hosted the British light middleweight title fight between Jamie Moore and Matthew Macklin in 2006.
She added: "It will be nice to box at what is a historic venue, especially as you tend not to get that many bouts domestically, they're usually international.
"It's my chance to show I have the ability to step back up to GB level and at the same time enjoy boxing alongside so many other women boxers from across the country."
You can click to see a full list of boxers and their weights here and check out the full list of rules and regulations for the competition.
Coaches are asked to check that all information listed on their boxer is correct here and should email lynsey.lockey@englandboxing.org is the case of any discrepancies.
You can go along to support the boxers on both days of competition, with doors for spectators open from 10am.
Admission price is £15 for adults and £5 for concessions (under-5s are free).
Event weigh-in
Event weigh-in, registration and draw will take place from 6pm to 9pm on Friday 7th December.
England Boxing Women's Winter Box Cup timetable (for both Saturday and Sunday)
8am – access available to the venue for boxers.
8am to 10am – all boxers to collect accreditations and complete medicals.
10am – doors to main hall open for spectators.
11am – session one commences.
2pm to 2.30pm – break in boxing.
2.30pm – session two commences.