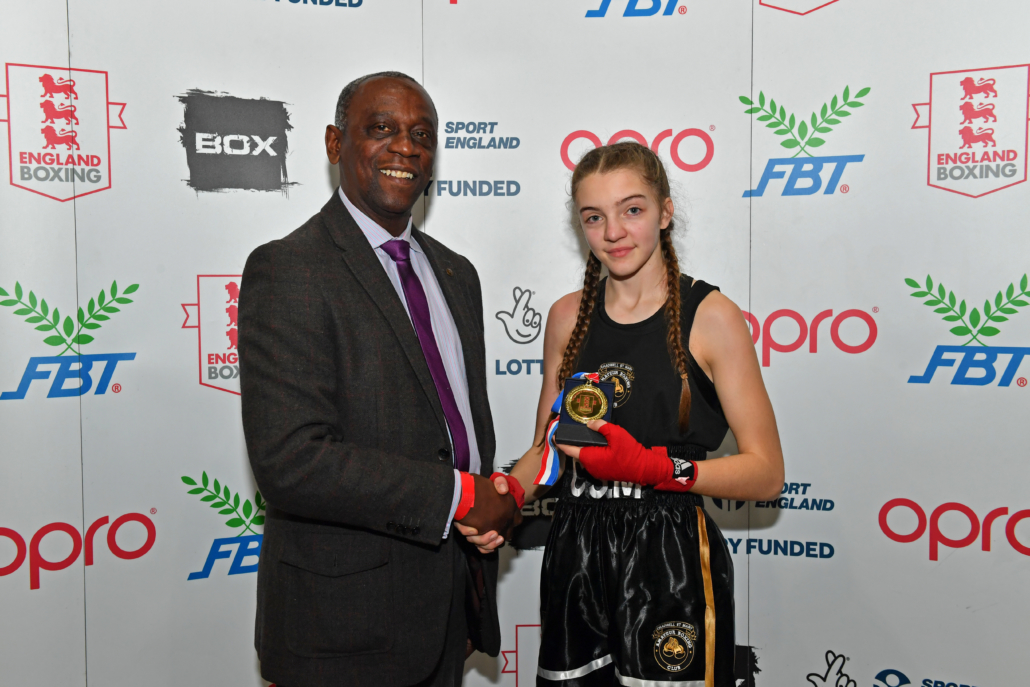 England Boxing Women's Winter Box Cup 2018 – day one round-up
December 8, 2018 | by Matt Halfpenny
Courtney Partridge made history by becoming the first boxer to win a title at the inaugural England Boxing Women's Winter Box Cup – the UK's maiden all-female event.
The Chadwell St Mary's boxer stopped opponent Paige Risker of TTW Golden Girls to win the straight final in the Junior B 48kg category at the George H Carnall Centre in Urmston, Manchester.
It was just one of a host of memorable moments in a session that saw some fantastic bouts staged in front of a knowledgeable, supportive and appreciative crowd.
"I'm so pleased to be the first person to win at this Cup because this is brilliant competition and shows how well women's boxing is progressing now," said Partridge.
"I've trained so hard for this and I congratulate everyone else that's in it too because this is female boxing is at its best and I'm very pleased to be part of it."
The day began with Shassan Dutton, of Salisbury ABC, taking the honour of winning the first England Boxing Women's Winter Box Cup match as she saw of the challenge of Amee Griffiths from Brookside Boxing Club by way of RSC.
The bout at Elite A 60kg between 2017 Commonwealth Youth Games representative Sadie Thomas and Sian O'Toole, who has appeared at a World Youth Championships and is a former GB squad boxer, promised fireworks and delivered an intense contest.
Headland ABC's Thomas was adjudged to have produced the better work, though, seeing off the challenge of O'Toole, from Frankie Gavin's Ringside ABC, by a unanimous verdict.
European Gold medallist and boxer of that tournament in Russia, Courtney Scott, made her expected progress to the final of the Junior A 60kg category.
She made sure Thomas wasn't the only delighted Headland ABC boxer as she won a unanimous points decision against Tommy Coyle Boxing Academy's Kelsey Uscroft.
Gemma Richardson has enjoyed a stellar year, winning the World and European Youth Championships – and she was determined to win on a high.
She did so in the Youth A 64kg straight final by stopping St Ives Boxing Academy's Harli Whitwell, who put in a gutsy performance in defeat.
"It's great to top off what has been a very good year for me by coming here to win the Women's Winter Box Cup in its first year," said Richardson, 17.
"I've won the Worlds and Euros, but to be able to box among only females in England is an amazing feeling, and I'm over the moon with it."
Reigning ABA and GB champion Nina Hughes, who retired, married and had children before deciding to return to the ring, was a convincing unanimous victor over Ceri-Anne Casey of O'Dell's Community Pride ABC in the Elite A 54kg category.
Amy Timlin, of Cleary's ABC, and a competitor for England in the World Championships in India, went through in the Elite A 57kg category, while double European Champion Elise Glynn of Hook and Jab also made smooth progress with a unanimous verdict against White Rose's Maya Robertson.
Winner in the penultimate bout of the day to be contested, making her the Youth C 57kg champion after a straight final, was Tamworth Boxing's Georgia Keast.
She said after her unanimous victory of TTW Golden Girls' Amy Burgess: "It's an amazing experience for me, I've loved every second of it, and I would love to do it again.
"I've boxed on shows with men and women before, so it's nice to just be with women for a change, which has given us a chance to show what we can do."
You can check out day one's results and day two's programme here.
PLEASE NOTE: All boxers boxing on Sunday must weigh-in and have a medical between 8am and 10am.