England Boxing shadow boxing drills – week eight
May 11, 2020 | by Matt Halfpenny
England Boxing Performance Coach Mick Driscoll and guests are putting together weekly shadow boxing drills that can be used to help keep fit at home and improve your skills during the Coronavirus pandemic – and here are week eight's drills.
With clubs and gyms across the country having been now instructed to close their doors until further notice, these regular sessions will help maintain sharpness while regular training is on hold.
"A lot of boxers of all ages have been training hard over the winter and we don't want to let their efforts go to waste during this unfortunate and enforced period of club inactivity," said Driscoll.
"These exercises are designed to help boxers stay strong and practise outside of their comfort zone. Be Adaptable, be Independent, be Robust, be Resilient; be AIRR with England Boxing."
This week's drills come courtesy of five well-known club coaches with England Boxing clubs – Nigel Travis (day one, Moss Side Fire), Ricardo Williams (day two, Repton), Peter Brisland (day three, Golden Ring), Billy Rumbol (day four, Rumbles Boxing Academy) and Russell Gerard (day five, West Ham).
By using these drills, boxers are doing this at their own risk and must ensure they have adequate and non-slip floor space in which to participate. They must also have no health concerns.
Recommended exercise durations
3x3mins for Youth and Elite boxers.
3x2mins for Juniors boxers.
3×1.5mins Schools boxers.
Day one (Nigel Travis, Moss Side Fire ABC)
R1: Two phase attack. Throw a straight 1-2, then step to the side and throw again, a straight rear hand.
R2: Box on the back foot, throwing only straight shots to keep opponent at distance.
R3: All inside work. Stay close and in the pocket, work on close defences, using hands and trunk movement only.
Day two (Ricardo Williams, Repton ABC)
R1: Control the range with your jab, and only through combinations of…
Jab – block – jab
Jab – push away – jab
Jab – lay back – jab
Double Jab
R2: High tempo round. All combinations to be 2 or 3 punch combinations.
R3: Footwork-based round, working around an object on the floor. Work around the object by moving in both directions.
Day three (Peter Brisland, Golden Ring ABC)
R1: Opponent is a strong southpaw, who likes to counter and is boxing on back foot. Move forward, cutting the ring down as he attacks.
R2: Using an object on the floor, work around this, adjusting angles of attack.
R3: Using a mirror, shape up in your boxing stance and place a mark on the mirror where you face is. Now shadow box in the mirror using head and trunk movement to slip the mark on the mirror, reflecting a punch from your opponent. Try to move your head and trunk while throwing to also change the angle of attack.
Day four (Billy Rumbol, Rumbles Boxing Academy)
R1: Opponent is an aggressive, come forward boxer. Can you hold the centre of the ring, using straight shots?
R2: The opponent has now changed tactics and is boxing on the back foot, setting traps when you attack. Using faints behind a high guard and changes of angles when attacking, command the centre of the ring.
R3: This needs to be a high tempo round as its now one round each. So, working behind a high tempo, but cautious of not getting hit, out-work your opponent.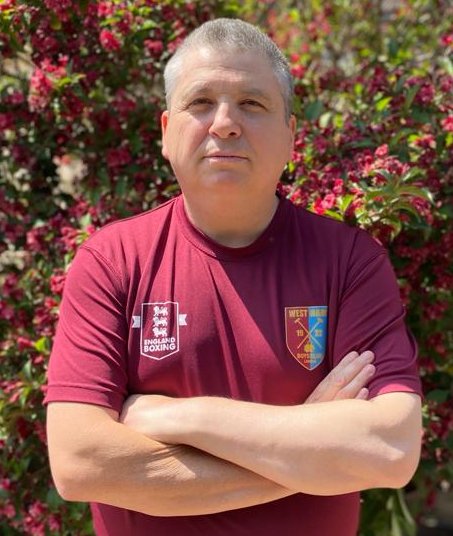 Day five (Russell Gerard, West Ham ABC)
R1: Feint is key in this round, you must feint or defend before throwing.
R2: Switch of attack is key in this round. Only throw Head – body – head, or Body – head – body.
R3: You are boxing a right-handed southpaw, so moving to the left brings you onto his strongest punch, the right hook. Using feints, head and trunk movement, control the centre of the ring.