Club case study: VIY SOS sees Kingfisher ABC benefit from refurb
April 15, 2022 | by Harry Judd
Kingfisher ABC, are swapping buckets and spades for more traditional tools as part of a new partnership with Volunteer It Yourself (VIY).
The Easter Counties region club are fortunate beneficiaries of a facility refurbishment up to the value of £25,000 thanks to the Government's UK Community Renewal Fund (CRF), with VIY being granted funds for targeted pilot projects across parts of the UK, including Norfolk.
As recipients of CRF funding, VIY are delivering nine projects across the East Anglian county during the first six months of this year.
Projects range from three to six weeks long in duration and are spread across the county, including in Norwich, Kings Lynn and West Norfolk, Great Yarmouth and North Norfolk.
VIY combines DIY and volunteering by challenging young people aged 14 to24 to help repair and refurbish youth and community facilities, whilst learning vocational trade skills on the job.
Participants are mentored by local professional tradespeople and can work towards and gain Entry Level City and Guilds trade skills accreditations. The majority of young people who take part are disengaged or excluded (or at risk of disengagement/exclusion) from mainstream education and training, and/or unemployed.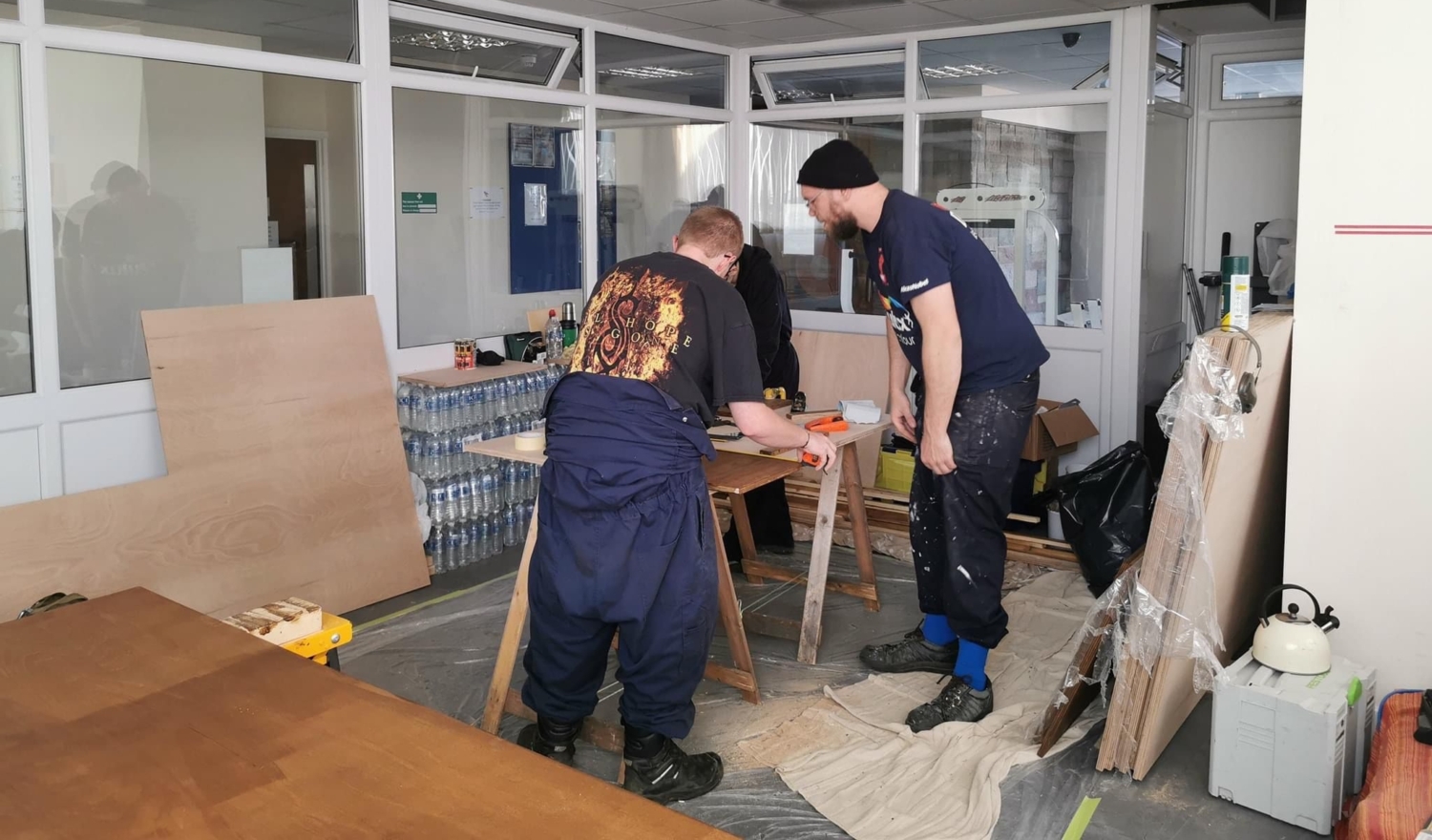 "Each project provides a variety of skills and trades opportunities, from painting and decorating, to carpentry and plumbing", said Alice Whitney, Senior Project Manager for VIY in Norfolk.
"Young people work alongside our professional trade mentors, as well as encountering the work of our partners at Travis Perkins, Dulux, Toolstation and Wickes, making lots of new friends along the way", she added.
"Opportunities like this are not commonplace in the region. Norfolk is a large county, with few large population centres and many rural and coastal populations.
"It has many areas of social deprivation and a lot of challenges caused by rural isolation. The infrastructure in Norfolk isn't great and the impact of the pandemic has, and continues to prove, a challenge to young people in the region."
Following a recent visit to the project, Alex Le Guevel, England Boxing Club Support Officer (East Midlands and Eastern Counties), was suitably impressed with what he saw.
"It really was a pleasure to meet Andy (Gray), Brandon (Hannon) and to visit such a worthwhile project – it's a no brainer for all parties", he said.
"Kingfisher ABC are having their much-used facilities upgraded and the young people involved in the refurbishment are obtaining valuable skills, qualifications and experiences to steer their lives in a positive direction – it's fantastic."
"In terms of the bigger picture, I'm delighted that five of the 32 VIY pilots across Nottinghamshire and Norfolk are England Boxing member clubs – Clifton ABC, Epic Golden Gloves ABC, Newark ABC and Norwich Lads ABC – and I can't wait to go and visit the others as they get their own projects underway."
Kingfisher ABC: in focus
Established in 1964 by lifetime servant Cecil Page – still an active coach at the club into his seventies – Kingfisher ABC have become a mainstay of the Norfolk boxing scene in the ensuing years.
The gym regularly welcomes anywhere in the region of 70 to 80 young people through its doors every night and has produced numerous England representatives over the years, some of which now hold coaching roles at the club.
Alongside their strong competitive boxing offering, Kingfisher are keenly involved in a host of community initiatives.
hey deliver sessions in several local schools, run inclusive boxing classes for people with varying disabilities, engage with NEET young people through a range of outreach schemes – one of which won an Active Norfolk Award in recent years – and host fitness sessions for two girls football teams.
In addition, the club has very strong links with the Armed Forces, with all current or ex-servicemen receiving free training at any time and various fundraising initiatives being coordinated throughout the course of every season. Their most recent appeal raised £200 for the Project Nova Quick Reaction Fund for the support of Military Veterans.
With a view to the future, Kingfisher have plans to develop a new parent viewing area, as well as a larger project outside, which would see an outdoor multi-use / sheltered training area being built. This will not only increase capacity for more sessions to be hosted at one time, but also futureproof the club in the event of another pandemic.
On the boxing side of things, the club have plans in place for the latest in a long line of regionally renowned club shows at the famous Hippodrome in Great Yarmouth.
The future most certainly looks bright for this longstanding beacon of Norfolk boxing.
You can find out more about Kingfisher ABC on their Facebook and Instagram pages.