Youth Euros 2022: Day seven – England's fantastic five go for European Glory in tomorrow's final
April 20, 2022 | by Harry Judd
Five talented England boxers will compete for European gold tomorrow after a knockout performance from the Three Lions' in the semi-finals in the EUBC Youth European Championships 2022 in Sofia, Bulgaria.
We started the day with Under 54kg, Owen Ketley who thrilled in each round to win 10-9 on all judges' scorecards, which resulted in Ketley being victorious 30-27 overall on all five scorecards in what was an epic display from the Yorkshireman.
Owen dazzled in his display against Turkish fighter, Ahmet Pekel, and hopes to continue this form to claim European glory.
This was shortly followed by hard-hitting Under 92kg, Enriko whom once again came out strong to claim another first round stoppage against Ukrainian boxer, Oleksandr Zelenskyi, making it 3 stoppages out of 3 now en route to the final.
He was too strong and powerful for his opponent and overpowered him in every exchange and is likely favourite going into tomorrow's final.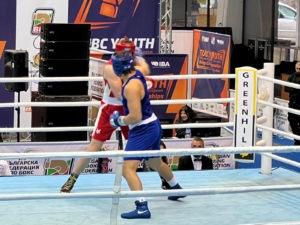 Burton Park's, Lauren Mackie was next to deliver a stunning performance at Under 52kg to win by a 4-1 split decision against Serbian fighter, Dragana Jovanovic.
Mackie, nicknamed 'Mack Attack' has impressed all through this competition and is now only one fight away from coming away with the ultimate prize in the Youth European Championships.
The evening session started off with disappointment as Osama's valiant effort was unable to impress the judges and he lost by unanimous decision to a very talent Georgian fighter in Demur Kajaia.
However, Team England's form was restored shortly after as Damar was dominate from the off, able to come off better in the exchanges and deliver enough to win every round and secure an unanimous victory over Elwin Mayue-Belezika (Sweden).
Thomas was able to deal with his opponents physicality, picking him off with scoring shots and influencing 4 judges enough to score it 30-26 overall in favour of the Powerday Hooks boxer.
Another performance of the day was from Emily Whitworth, who was fast and accurate from round one. The Peoples Gym boxer stalked her opponent, cutting the ring off and delivering powerful combinations, which caught the eyes of the judges.
Whitworth was roared on by the Three Lions' as she came storming in round two during which she forced a standing count and won it unanimously against Teresa Sannino (Italy).
The final bout of the day was a 75kg  bout between Amber Moss-Birch and Norwegian boxer, Sunniva Hofstad. Birch came on strong winning the first round, but she was unable to get the better of her opponent in the following rounds and loss by unanimous decision.
Wednesday Schedule
Afternoon session (12noon start, 10am UK time)
*Bout 2 Owen (blue) v Metodiev Lyuboslav (BUL) approx 10:15am, UK time
*Bout 7 Enriko (blue) v Borisov Kiril (BUL) approx 11:30am, UK time.
*Bout 9 Lauren (red) v Mopin Kaelya (FRA) approx 1:00pm, UK time.
Evening session (5pm start, 3pm start UK time)
*Bout 8 Emily (blue) v Lovasova Bibiana (SLV) approx 3:00pm, UK time.
*Bout 6 Damar (blue) v Ionita Florin  (ROU) approx 4:30pm, UK time.