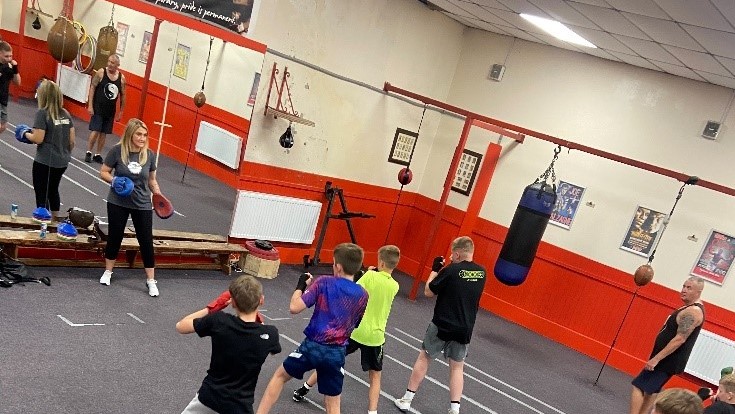 Women's Coach Development Programme spotlight: Stacey Errington (North Road Gym)
August 12, 2023 | by Chris Boyd
Stacey Errington, based at Tyne, Tees and Wear club North Road, hopes the England Boxing Women's Coach Development Programme will give her the confidence and boxing IQ to go for her Level Two.
---
How did you first get involved in boxing?
I got involved in boxing six years ago through my son, Kye, who was 12 at the time. He has a diagnosis of severe ADHD and autism and has never been able to get into any sport… football, swimming etc.
I started Kye off in boxing by doing one-to-ones and the difference in his attitude and behaviour was phenomenal. Kye continued with those sessions for about six months before attending group sessions, which was a massive deal for him.
Seeing the impact it had on my son made me want to play a small part in helping other children achieve their goals. I've never looked back since.
How pleased are you to be involved in a programme that is actively bidding to push women's and girls' boxing forward?
The programme is fantastic, and I've wanted to apply for a couple of years. After our first session in Sheffield, I felt at ease… all the mentors and England coaches are amazing and the other 11 participants are brilliant. Everyone raises one another's game.
I feel that, over the past few months, I have learned so much more about myself and the sport and I'm really looking forward to the next seven months.
What do you hope to get out of the WCDP that can improve you as a coach?
I hope to believe in myself more as a coach. I am confident, but I always doubt myself and once this is over, I hope to go for my England Boxing Level Two and not be worried that I might fail. I also hope to learn new things and develop my boxing IQ.
How much will attending the WCDP help you in your club environment?
Like I said, after that first session my confidence just grew, and I felt a lot more knowledgeable. Everything I learn throughout this programme; I'll be able to take home and pass on to the boxers.
Who are your biggest boxing inspirations?
Every single boxer that gets in the ring is an inspiration to me. It's not like another sport, two people enter the ring but only one wins. It's a hard sport but any two boxers should be proud of themselves for just getting through those ropes.